San Francisco Tops List Of Cities With Most College Degrees (CHART)
Recent John Carrol University graduate Rob Pitingolo was interested in finding out the "educational attainment density" (read: number of college degree-holders) in American cities. So he gathered the data and charted it -- and what he found is visually revealing if not surprising. San Francisco leads the pack by a considerable margin with more than 7,000 degrees per square mile, followed by New York, Boston and Washington, D.C.
Pitingolo lays out the data and more on his blog Extraordinary Observations.
What's your take on this chart? Let us know in the comments section.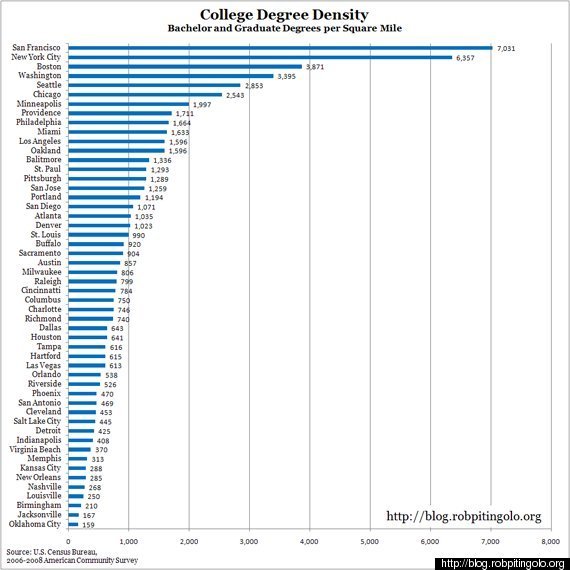 MORE:
San Francisco
,
Smartest Cities
,
Most College Degrees Per Capita
,
Most Educated Cities
,
Rob Pitingolo Smart People
,
Degree Density By City
,
Most College Educated Cities
,
Most Degreed Cities
,
Intelligent Cities
,
Cities With Most Degrees
,
Cities Most College Degrees
,
Graduate Degrees Per Square Mile
,
Cities With Most College Degrees
,
College Degree Density
,
Degrees Square Mile
,
Per Capita College Degree San Francisco