Update 9:15 p.m. It seems that the "Eat Less" t-shirt is no longer available on Urban Outfitters' website. Read more here.
Urban Outfitters' "Eat Less" V-Neck Tee is one of the more, well, interesting things we've seen on the chain's website since its Obama/Black t-shirt. Printed on the gray v-neck are the words "Eat Less" in white cursive. But the description of the item reads: "Eat less or more or however much you'd like in this seriously soft knit tee cut long and topped with a v-neck." Perhaps they should have printed all of that on there.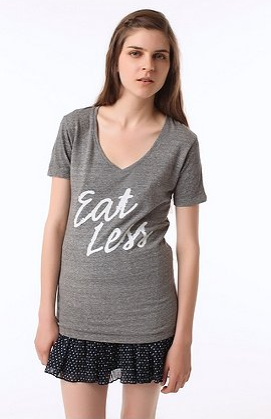 SUBSCRIBE AND FOLLOW
Get top stories and blog posts emailed to me each day. Newsletters may offer personalized content or advertisements.
Learn more