Outside Magazine feels no remorse about their photoshopped cover featuring Lance Armstrong.
Armstrong was definitely not pleased with the text "38. BFD" ("big f--ing deal") that the magazine photoshopped onto his plain blue T-shirt, tweeting that the stunt was "lame bullshit" and "weak."
The editorial response? "BFD."
Outside's editorial staff posted a message Monday in which they acknowledged that their addition to the T-shirt "caused a bit of a ruckus."
"Yes, it's true that, following our cover shoot with Lance, we had some Photoshop fun on the T-shirt he was wearing. BFD," the editors responded.
But the magazine did not seem to be bothered by Armstong's reaction, citing the small print on their cover as evidence against foul play:
We cop to it right there on the cover — see the line reading, "Note: Not Armstrong's real T-shirt". We wanted to create a provocative image and make a bold statement about the fact that, because of Armstrong's age, many cycling fans are skeptical of his chances in this year's Tour de France.
The editors also included the below image, featuring a call-out of the disclosure: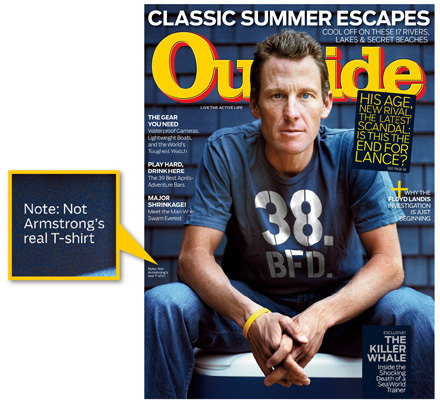 FOLLOW HUFFPOST