The 19 CRAZIEST Craigslist Missed Connections Ever: Thongs, Gorilla Suits, And More (PICTURES)
The "Missed Connections" section on Craigslist can be romantic, rude, or just downright bizarre.
We've compiled the craziest Craigslist Missed Connections posts ever in the slideshow below. There are hopefuls searching for another chance at romance with that gorilla-suit-wearing cutie on the bus, the intriguing woman yelling about candied yams at Safeway, the mysterious individual who planted porn in the mailbox, and much, much more.
Check them out below, then send us the strangest Craigslist post you've seen.
Share other outrageous and inappropriate Craigslist Missed Connections with us using the "Add a Slide" tool below!
Crazy Craigslist Missed Connections
Take a screenshot or find an image of a Missed Connection, click "Add a Slide," then upload the picture!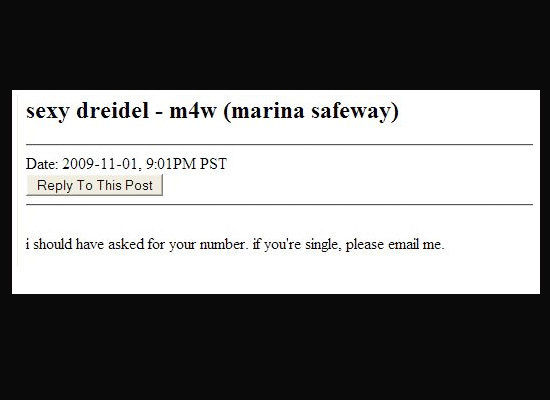 Total comments:
30
|
Post a Comment
Craigslist Missed Connections