Senate Republicans are demanding hearings into a leaked Department of Homeland Security memo that has stoked conservative fears that the Obama administration is pursuing de facto amnesty for millions of undocumented immigrants.
But a closer look at the issue, and the circumstances surrounding the memo, suggest that the calls for hearings are more likely driven either by politics or paranoia.
On Tuesday, the Republican members of the Senate Judiciary Committee sent a letter to Chairman Patrick Leahy (D-VT) insisting that he "schedule a hearing as soon as possible" into an internal memorandum leaked last week from Citizenship and Immigration Services, a subset of DHS. The memo in question laid out a variety of available options the agency could take to "reduce the threat of removal for certain individuals present in the United States without authorization."
Sen. Chuck Grassley (R-Iowa), who reportedly released the document, insisted that the White House was planning to skirt congressional authority in efforts to grant amnesty to a wide swath of immigrants. Soon conservative media outlets began howling with discontent. "Smoking Gun Amnesty Memo Discovered," blared Fox News.
Hoping to quiet the noise, the Obama administration noted early on that the memo in discussion has no date on it, is an internal draft without an official sign-off and goes against the grain of actual administration policy -- there have been after all, a record number of removals of undocumented immigrants under the Obama administration.
And while the administration has already taken steps to make obtaining citizenship easier for those undocumented immigrations who have spouses or relatives in the armed services, it has done so at the behest of Republicans and Democrats. If the White House is secretly planning to legalize a large class of people in the absence of Congressional action, logic dictates that they would have done it by now.
As one aide told the Huffington Post, the president has, on several occasions, told grassroots groups lobbying the White House that his obligation is to enforce federal laws and not use executive powers to grant de facto relief.
"Some of the grassroots groups lobbied us to provide large-scale administrative relief in a meeting directly with the President and he told them no," the aide relayed. "He said, in no uncertain terms, that he needs to enforce the law and that the administration was trying to get a bill through Congress that resolves the situation."
Perhaps the most persuasive form of pushback, however, was provided by the White House to the Huffington Post. In a letter written to Sen. John Cornyn (R-Tex) back on May 13, Department of Homeland Security Secretary Janet Napolitano explicitly ruled out the idea that the executive branch could give blanket amnesty to an entire class undocumented workers.
"While we continue to work with Congress to enact reform, this Department is focused on smart, effective immigration enforcement that focuses first on criminal aliens who pose a threat to our communities. DHS has the authority to grant a deferral of removal action based on the merits of cases while considering humanitarian circumstances and other factors in the interest of the Department's overall law enforcement mission. However, this discretionary authority is implemented on a case-by-case basis and DHS does not grant deferred action without a review of relevant facts. To be clear, DHS will not grant deferred action to 12 million illegal immigrants."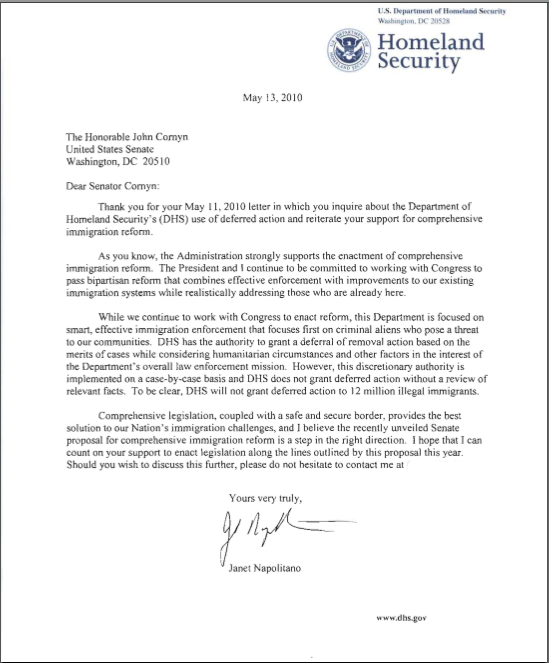 Cornyn, apparently was not persuaded, having been one of seven Republicans to sign the letter demanding hearings from Leahy. "A hearing," he and his colleagues wrote, "will help reveal whether the Administration plans to circumvent Congress and 'offer administrative relief options... for certain individuals present in the United States without authorization."
If the entire episode has the vague scent of déjà vu, it's because the Department of Homeland Security has been embroiled in a similar flare-up before. In April 2009, the Washington Times got hold of a memo the department put together that warned of potential security threats, including the rise of right-wing extremists. Though subsequent events would suggest that that memo was, to a certain extent, prescient, at the time the department downplayed the document as a non-official draft that was crafted primarily for preparatory and brainstorming purposes.
Roughly a year and a half later, the department's pushback against the "smoking gun" immigration memo is very similar.
"As a matter of good government, U.S. Citizenship and Immigration Services will discuss just about every issue that comes within the purview of the immigration system," said Christopher Bentley a USCIS spokesman. "To be clear, D.H.S. will not grant deferred action or humanitarian parole to the nation's entire illegal immigrant population."
SUBSCRIBE TO & FOLLOW TRUMP'S FIRST 100 DAYS
How will Donald Trump's first 100 days impact YOU? Subscribe, choose the community that you most identify with or want to learn more about and we'll send you the news that matters most once a week throughout Trump's first 100 days in office. Learn more