Tim Tebow has done it again. The rookie quarterback can claim yet another resounding marketing victory after the limited edition Nike cross-trainer shoes that bear his name sold out early Friday morning in just 5 minutes.
Fanhouse reports that Nike started selling the limited-edition shoes online last night at 1:50 and were sold out less than 5 minutes later.
The rush for Tebow's shoes seems a bit more justified when one finds out their resale value. The shoes are already being listed on sports memorabilia sites for $999.00.
Tebow, a charismatic former Heisman Trophy winner at the University of Florida, has yet to take a snap in the NFL, and is not projected to start this season. Nonetheless, he's already led the league in jersey sales and signed endorsement deals with companies like Jockey.

PHOTO: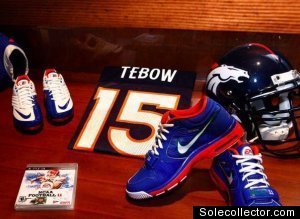 FOLLOW HUFFPOST