8 Surprising Facts About The Shrinking Middle Class From 'Third World America' (PHOTOS)
The American dream may in fact be slipping away. The white picket fence, Social Security, sending your children to college -- what was once an attainable reality has become increasingly hard to achieve.
The harsh reality for today's middle class is that many of them go to work just to get by. Arianna Huffington's new book, "Third World America", sheds light on many of the crucial ways in which it has been short-changed. From our failing education system to the runaway greed of the financial services sector, America's middle class is facing on onslaught from all sides.
Below, we've compiled eight surprising and disturbing facts about America's shrinking middle class from Arianna's book:
Income Inequality Is Soaring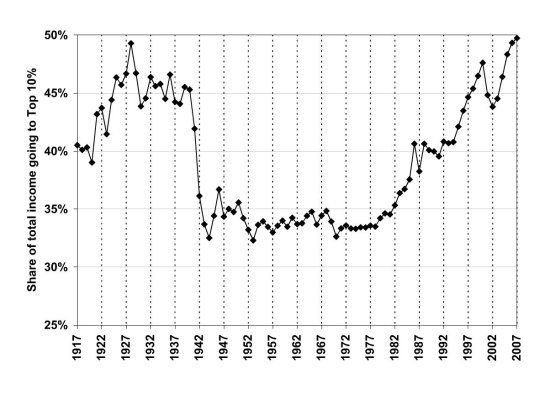 BigJohnfromMN

said on 7 Tuesday 2010 pm30 1:44 pm:


How do republicans keep getting away with saying raising taxes kills jobs? Is America really that stupid? Because HISTORY IS NOT ON THEIR SIDE: In 1951, the highest individual income tax rate was 91% by 1959 it was still 91%, top corporate tax rates peaked in the 1950s 52% And? Total private sector employment increased by 22% in the 1950's In 2000, the highest individual tax rate was 39.6% and in 2003 it dropped to 35% where it remains today, the top corporate is 35%. And? Total private sector employment fell by 2.9% in the 2000's. By Republican logic the reverse should be true (http://www.taxpolicycenter.org/taxfacts/displayafact.cfm?DocID=543&Topic2id=30&Topic3id=39) (http://www.economagic.com/em-cgi/data.exe/blsce/ces0500000001) The only way to create and keep a middle class in America is by taxing the rich – and investing that money in the infrastructure, basic research, and education that creates the high paying jobs of the future. During the war the government invested in basic research at unprecedented levels. After the war the government employed millions on infrastructure (the interstate freeway system, airports, etc.). The government educated an entire generation of young people through the G.I. bill, and then put those people to work on basic research (space program, defense initiatives, etc). This created a true historical anomaly, a middle class, and the only way to maintain it is to keep doing the same things that created it.
Total comments:
1225
|
Post a Comment
Top Facts About The Shrinking Middle Class
How have you been impacted by the financial crisis -- and how are you bouncing back? What are you doing to help prevent America from ever becoming a Third World nation?
SHARE YOUR STORY!
We want to hear how you and those you love have been affected, how you are recovering, and what you're doing to improve your own community -- and, by extension, the entire country. Let us know in writing or upload a video to YouTube and send us the link, and we will add your story to the map!
Pledge for the American Dream!
I pledge to spend at least 4 hours this month strengthening my community so America never becomes a Third World nation.
Subscribe to the HuffPost Money newsletter!