The Most Ridiculous Bootleg DVD Covers Of All Time (PHOTOS)
You've seen them being sold on blankets on the streets of New York, on shelves in other countries, or even in your friend's living room: bootleg DVDs. Whether actually bootleg or just in foreign packaging, these DVD and VHS covers all have one thing in common and that is extreme misinformation. Take a look at that "Battlestar Galactica" DVD for example. Not only do they call it a "tween comedy" but they actually Photoshopped in the U.S.S. Enterprise from "Star Trek" on the front. On the front. Of the DVD. That they sell. It's a crazy world out there people, so next time you buy a movie or DVD of your favorite TV show, make sure you're buying the real thing.
Tween Comedy? "Saw" Twist?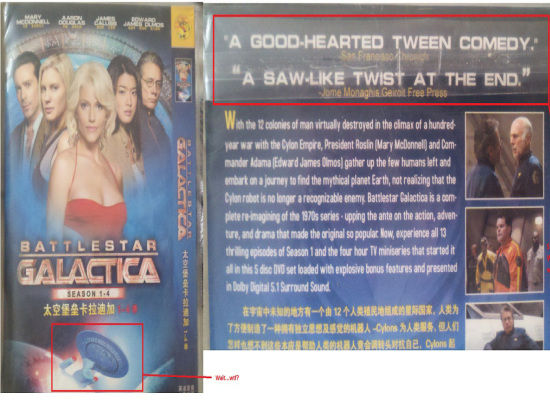 Total comments:
122
|
Post a Comment