It may just be the bouncing ball of randomness at work but new polls in California, Nevada, Ohio and Kentucky released over the weekend gave Democrats something to smile about, or perhaps just a little less to wince at. Specifically, a new California poll confirms a slight rebound by Senator Barbara Boxer, while a new Nevada survey conducted by a Republican firm is more positive than other recent surveys, giving Senator Harry Reid his biggest edge since August.
In California, a new survey sponsored by the Los Angeles Times and USC and conducted by a bipartisan team of campaign pollsters finds Democratic Senator Barbara Boxer leading Republican challenger Carly Fiorina by eight percentage points (51% to 43%). While the result is a bit better for Boxer than some other recent surveys, the difference is slight -- polls by Field and SurveyUSA conducted last week both showed Boxer leading by six point margins. The new survey nudges our trend estimate, which also considers slightly older polls, up to a 3.7 point margin for Boxer (47.9% to 44.2%), just enough to push California into the "lean Democrat" column.
The new LA Times/USC results also show Democrat Jerry Brown with a five-point edge (49% to 44%) over Republican Meg Whitman in the California governor's race, a slightly better margin than on the SurveyUSA and Field polls last week. The new poll narrows Whitman's lead on our trend estimate to a single percentage point (45.7% to 44.8%), confirming this race as one of the closest in the nation.
A new poll sponsored by the Retail Association of Nevada produced a bit of a man bites dog story: The survey, conducted by the respected Republican campaign polling firm Public Opinion Strategies shows Democratic Senator Harry Reid with a five-point advantage (45% to 40%) over Republican Sharon Angle. Four previous polls conducted over the last two weeks have shown a slightly narrower race, all ranging between a tie and a one-point Angle advantage. Our trend estimate splits the difference and shows Reid with a "toss-up" worthy one-point edge (45.4% to 44.3%). Although individual polls have shown variation, our trend lines in the Nevada race been remarkably flat since July.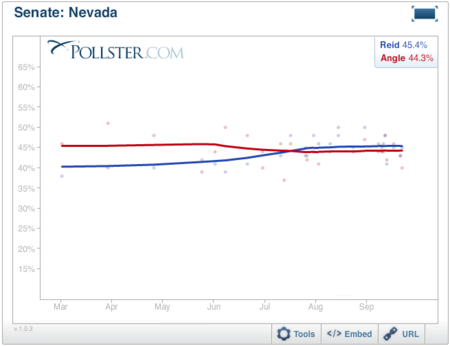 In Ohio, the latest results from the respected University of Cincinnati Ohio Poll show Democratic Governor Ted Strickland trailing Republican challenger John Kasich by just four percentage points (45% to 49%). That margin is much closer than the 17 point blow-out reported by a Quinnipiac University poll two weeks ago, but only a few points narrower than recent surveys by Fox News, CNN/Time and Rasmussen. Our standard trend estimate, which also factors in the surveys that showed Kasich leading by double-digit margins in August and early September, continues to give Kasich a roughly ten-point advantage (50.6% to 40.8%).
Kentucky is another state where Republican margins may have narrowed slightly in recent weeks. A new SurveyUSA poll shows Republican Rand Paul running just two percentage points ahead of Democrat Jack Conway (49% to 47%). That's a significantly closer margin than the 15-point blowout they found in late August, but it's within a stone's throw of other recent surveys by Daily Kos and Democratic-affiliated Public Policy Polling and an internal survey sponsored by the Democratic Senatorial Campaign Committee (DSCC). Our trend estimate is still skeptical about the more recent polls and shows Paul leading by 7.4 points (47.5% to 40.1%), but that is a narrow enough margin to move Kentucky from "strong" to "lean" Republican.
In Massachusetts, a new Boston Globe/University of New Hampshire poll shows the Governor's race in a virtual deadlock -- the closest margin measured to date -- with Democratic Governor Deval Patrick running a single percentage point ahead of challenger Charlie Baker (35% to 34%). Meanwhile, a new Western New England College poll (.PDF) gives Patrick a six point advantage (39% to 33%). Our trend lines split the difference, showing Patrick ahead by just 5.4 (39.6% to 34.2%).
Elsewhere, new polls generally confirm previous findings. In Iowa, for example, a new Des Moines Register Iowa Poll conducted by Selzer & Associates shows Democratic Governor Chet Culver is trailing Republican challenger Terry Branstad by roughly the same comfortable double digit margin (52% to 33%) as previous polls conducted earlier in the year.
Finally, in Florida, a new Mason-Dixon poll shows Republican Marco Rubio leading with 41%, ahead of independent Charlie Crist (30%) and Democrat Kendrick Meek (23%). Its results are virtually identical to recent surveys by Rasmussen Reports and Reuters/Ipsos. While Crist's support has dropped sharply since the August primary, the critical question now is whether that erosion has ebbed or will continue. As Mason-Dixon pollster Brad Coker told the Miami Herald, Rubio is in "a solid position to win" needing "to gain 2-3 points to wrap up the race," adding that Meek could "pull off a major comeback, but it is largely predicated on his ability to convince Crist's new-found Democratic friends that the former Republican's campaign is hopeless and it is time for them to come back to their party."
SUBSCRIBE TO & FOLLOW TRUMP'S FIRST 100 DAYS
How will Donald Trump's first 100 days impact YOU? Subscribe, choose the community that you most identify with or want to learn more about and we'll send you the news that matters most once a week throughout Trump's first 100 days in office. Learn more