Yesterday marked the release of more than a dozen new statewide surveys covering contests for the U.S. Senate that mostly confirm previous polling. The most important, however, may be two new automated surveys showing very close races in West Virginia and Washington, two states that are critical to any Republican strategy to win control of the Senate.
In West Virginia, a new Rasmussen automated poll shows Republican John Raese with a 2 point edge over Democrat Joe Manchin (48% to 46%) that falls well within the survey's reported 4.5% margin of error. The only public polls on this race since July have come from Rasmussen and Democratic-affiliated Public Policy Polling (PPP), and all indicate a close race. Just last week, Rasmussen showed Manchin leading by seven (50% to 43%), while PPP had Raese up by 3 (46% to 43%).
Our trend line gives greatest weight to yesterday's new Rasmussen poll, but whatever way you slice the data, this race falls into the toss-up category and has clearly become a key to Republican hopes for winning a Senate majority. Both the Democratic and Republican party committees have started investing heavily in television advertising in the state, suggesting that their internal polls tell a similar story.
Consider where West Virginia now falls in the overall Senate standings. Republicans need to pick up 10 Democratic Senate seats to win absolute control. A nine-seat Republican pickup would create a 50-50 tie. Under that scenario, Democratic control of the Senate would depend on Vice President Joe Biden's tie breaking vote and the continuing loyalty of Joe Leiberman, who has caucused with the Democrats since 2006.
Right now, Republican candidates lead in all of the states they currently represent. As the following table shows, they also hold strong leads in five states currently represented by Democrats (North Dakota, Arkansas, Indiana, Pennsylvania and Wisconsin) with one more (Colorado) leaning Republican.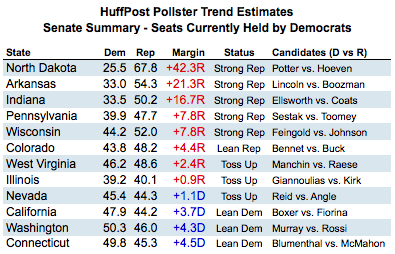 We classify three more states represented by Democrats -- Nevada, Illinois and West Virginia -- as toss-ups based on close margins on our trend estimates. If Republicans carry all three, it would take just one more state (or a party switch by Lieberman) to flip the Senate to Republican control.
We currently classify Washington as "lean Democrat", but the new Fox News/Pulse automated survey shows Democratic Senator Patty Murray holding a slight, non-significant edge over Republican challenger Dino Rossi (48% to 47%). Another automated SurveyUSA poll released last week put Murray up by two (50% to 48%).
Automated polls have typically shown a closer race in Washington than those using live interviewers. Our trend lines continue to give Murray a roughly four-point advantage (50.3% to 46.0%), but that estimate splits the difference between the live interviewer surveys that give Murray a wide lead (50.2% to 42.9%) and the automated surveys that give Murray a considerably narrower advantage (48.8% to 47.6%)
In other results from yesterday's polls:
The relative consistency of the Ohio results comes despite the very different methodologies used. The Rasmussen and Fox News polls, fielded by Rasmussen subsidiary Pulse Opinion Research, both use an automated, recorded voice method to ask questions, while the live-interview surveys conducted by CBS News/New York Times and Reuters/Ipsos and the University of Cincinnati use more traditional live-interviewer methods.
While the Ohio Senate results generally confirm earlier trends, the new surveys produced good news for Democratic Governor Ted Strickland. While a flurry of public polls in August and early September showed Strickland trailing Republican challenger John Kasich by mostly double-digit margins, including an eye-popping 17 point outlier from Quinnipiac University, the new polls show Kasich with an edge of between 1 and 4 percentage points. Our standard trend estimate now gives Kasich an eight point lead (49.6% to 41.5%), but our more sensitive trend estimate, which gives greater weight to the more recent polls, shows Strickland narrowing Kasich's lead to less than 3 points (46.1% to 43.8%).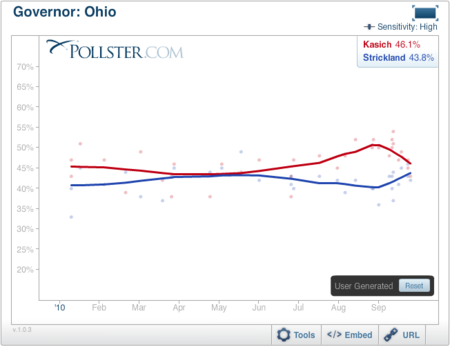 In Colorado, the new Fox News/Pulse survey shows Republican nominee Dan Maes fading fast, independent conservative Tom Tancredo rising sharply and closing in on Democrat John Hickenlooper. The new surveys shows Hickenlooper leading with 44% to 34% for Tancredo and just 15% for Maes. These results are consistent with the trend seen on a survey conducted a week ago by CNN and Time.
SUBSCRIBE TO & FOLLOW TRUMP'S FIRST 100 DAYS
How will Donald Trump's first 100 days impact YOU? Subscribe, choose the community that you most identify with or want to learn more about and we'll send you the news that matters most once a week throughout Trump's first 100 days in office. Learn more