Rescue efforts to bring 33 miners trapped underground to the surface have been successful, with the last of the miners being pulled up late Wednesday night.
The miners had been trapped underground for more than two months. Efforts to surface them took place on an individual basis using a specially-built cage.
When the 33 miners were determined to be alive in late August, it was said that it could take up to four months to get them all out alive.
Live updates will continue to flow below, so keep checking back for the latest information. A big thanks to HuffPost's Roberto Alamos Moreno (@ralamosm) for keeping us updated on the local news as it plays out in Antofagasta, Chile.
10/13/2010 11:47 PM EDT
It's OVER
70 days later, Chile's long national nightmare is over.
All miners and rescuers are up. They left behind a camera, but don't expect to see anybody going back down there.
10/13/2010 10:38 PM EDT
Update On The Miners' Health
A doctor from Copiapo Hospital tells TVN (Chile's state TV channel) that the miners are no longer using sunglasses as their eyes have adjusted. They are eating normally and it seems they have only lost fat, 10-13kg each, not muscle. Their protein state is better when they entered the mine, thanks to all the care they've received.
10/13/2010 10:11 PM EDT
Celebrations Ongoing
Thousands of people are celebrating in Plaza Italia in Santiago, Chile's capital.
Twitter user
@alejandrohertz
posted this picture of the Plaza Italia celebrations via his Blackberry: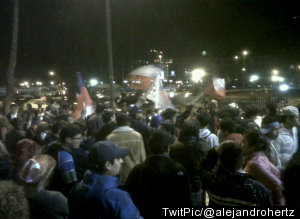 10/13/2010 9:14 PM EDT
President Receives "Shift" From Last Miner
President Piñera symbolically received the "shift" from Luis Urzúa, the last miner to come up.
The exchange as per State TV in Chile:
Luis Urzúa: "I give you the shift, President, and I expect this won't happen again... I'm proud of being Chilean."
President Piñera: "Señor Luis Urzúa, I receive the shift from you."
Those around the hole where the capsule was broke out in song with Chile's national anthem.
10/13/2010 8:48 PM EDT
At Least One Miner Already Looking Back Toward The Mines
The wife of just-rescued Ariel Ticona says he wants to go back to work in the mines within a couple of months.
10/13/2010 8:34 PM EDT
32 Out, One To Go
Ariel Ticona Yanez has now been freed from the mine, the 32nd successfully freed. In the 69 days Yanez has been underground, his wife has given birth to a baby girl named Hope.
Luis Alberto Urzua, the shift foreman, is the last man left underground.
10/13/2010 5:38 PM EDT
25th Miner Is Out
Renan Ávalos has just been pulled up from the mine successfully. He is the brother of Florencio Ávalos, the first miner rescued, who emerged from the shaft at approximately 11:16 p.m. EST last night.
Renan is the 25th miner to be rescued of the 33 total trapped miners. According to reports, the 33rd miner should be rescued late tonight.
10/13/2010 4:31 PM EDT
Veteran Engineer Raves At Rescue Process
HuffPost reader René Boisselle has emailed in the following:
I am a ropeway engineer since more than 25 years and I am amazed how simple and efficient are the mechanisms use for extracting the miners.

People from Chile should be proud today. A lesson to many other country where Government respect in its own people is doubtful.
Send us interesting angles and tips to this story here.
10/13/2010 4:22 PM EDT
Fútbol Stars Show Support
The official state TV channel TVN just showed Pelé, the Brazilian soccer star, send a signed Brazilian T-shirt for the miners, saying "Dear friends, I'm praying for you."
The gesture from Pelé is hugely meaningful for this part of the world, where soccer is very, very important. In addition, Argentine soccer star Diego Maradona has also addressed rescue efforts, saying: "There are not different flags, all of us are Chilean rescuers and relatives."
Soccer has been a recurring theme in the rescue efforts. The fifth miner to emerge, Jimmy Sanchéz, was holding a "Universidad de Chile" flag (well known for its soccer team) when he came out of the capsule. And trapped miner Omar Reygada received a Colo-Colo (Chile's most popular soccer team) flag from his son, which he showed off and kissed with great pride.
Another interesting soccer connection: the first rescuer Manuel González was a professional soccer player during the 80's, just like Franklin Lobos, one of the trapped miners.
10/13/2010 3:47 PM EDT
21st Miner Freed Is 'The Doctor'
Yonny Barrios, dubbed "the doctor" by his fellow miners, is now free. He had taken the lead on tracking each miner's health the last 69 days and communicated closely with outside medical personnel.
Barrios embraced his mistress Susana Valenzuela upon leaving the capsule and not his wife of 28 years Marta Salinas, which was expected and previously reported by ABC News.
A health professional said to Barrios after he emerged, "The Medical Department welcomes one of its members!"
FOLLOW HUFFPOST