BUDAPEST, Hungary (AP) -- An aerial photo taken months before a gigantic reservoir unleashed torrents of toxic sludge shows a faint red trail trickling through the container wall.
Police are looking at the photo as part of an investigation into how part of the wall containing the caustic slurry could have given way without structural weaknesses being detected by inspectors who visited the site two weeks ago.
Disaster commissioner Gyorgy Bakondi said Wednesday that claims by inspectors that they had found everything in orders were being investigated.
The photo shows an apparent leak of red sludge on the northern wall of the reservoir - the same wall that collapsed eight days ago unleashing the flood that inundated three villages. It was taken by Interpect, a Hungarian company which invests some profits on environmental projects.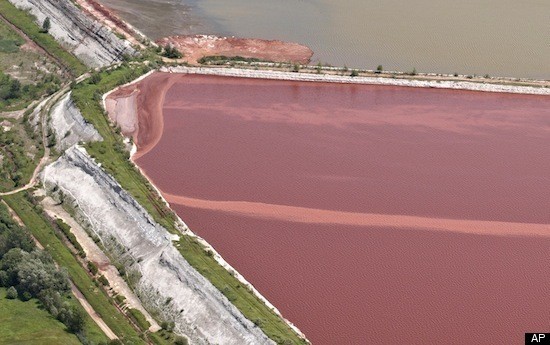 SUBSCRIBE AND FOLLOW
Get top stories and blog posts emailed to me each day. Newsletters may offer personalized content or advertisements.
Learn more