Monday was likely the calm before the polling storm, but two new automated Senate polls from the Democratic firm Public Policy Polling (PPP) in Colorado and West Virginia provide Democrats with some encouraging news, as they confirm a neck-and-neck battle in Colorado and a possible rebound by Democrat Joe Manchin in West Virginia. Meanwhile, the daily tracking poll in Pennsylvania bounces back toward Republican Pat Toomey.
In West Virginia, a new automated survey from the Democratic firm Public Policy Polling (PPP) shows Democrat Joe Manchin with a six-point lead (50% to 44%) over Republican John Raese, a result similar to a Manchin campaign internal poll released over the weekend. As noted yesterday, we have seen a consistent difference in West Virginia between the automated polls conducted by Rasmussen Reports and its Pulse Opinion Research subsidiary (for Fox News), which typically give Raese the advantage, and the other polls, which are typically better for Manchin. As such, this week's coming releases from Rasmussen may tip the balance back to Raese, but for now, Manchin holds a slightly better than two point advantage on our trend estimate (47.7% to 45.5%), enough to classify West Virginia as "lean Democrat."
In Colorado, another PPP survey yields exactly the same result -- a 47% to 47% tie -- as the automated poll by SurveyUSA and the Denver Post released over the weekend. Republican Ken Buck has led Democratic Senator Michael Bennet on our trend estimate all year long, but the new polls narrow Buck's lead to roughly one percentage point (46.9% to 45.7%) and his probability of winning to just 64%, well within what we consider the "toss-up" range. For the moment, Colorado stands as the second closest Senate race in the nation, just a whisker behind the race in Illinois.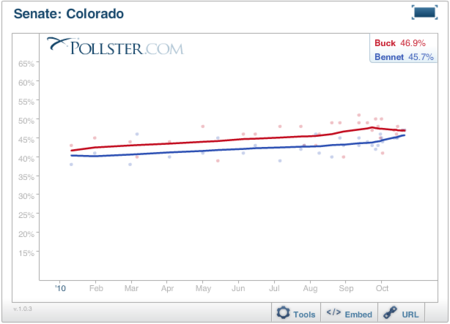 In Pennsylvania, the latest update of Muhlenberg University's daily tracking poll now shows Republican Pat Toomey leading Democrat Joe Sestak by eight points (48% to 40%). Muhlenberg's first batch of interviews a week ago gave Sestak a three-point edge (44% to 41%). Toomey's lead on our trend estimate is now slightly better than two-points (46.6% to 44.4%), enough to rate Pennsylvania as "lean Republican."
Each new release of the Muhlenberg tracking poll is based on just 400 interviews, with a margin of error of +/-5%, so their daily numbers will bounce around. Over the full 10 days of their tracking so far, Toomey is averaging a slightly better than two-point lead very close to our trend estimate, and all of their daily releases over the last week have been within sampling error of that average.
Pennsylvania has been the most polled Senate race in the nation, with 63 surveys in our database so far (counting only two non-overlapping Muhlenberg tracking polls). As such, we are likely to see more than a few new Pennsylvania pols over the next few days that will clarify where the Toomey-Sestak race stands.
With torrent of new statewide polls still to come, all of these snapshots are subject to change. Stay tuned.
Note: Our newly-updated trend estimate model assesses the trends across all races, so whenever we add a new poll in any state, the probabilities and trend estimates for all races will change very slightly (usually no more than a tenth of a percent or two for the trend estimates).
SUBSCRIBE TO & FOLLOW TRUMP'S FIRST 100 DAYS
How will Donald Trump's first 100 days impact YOU? Subscribe, choose the community that you most identify with or want to learn more about and we'll send you the news that matters most once a week throughout Trump's first 100 days in office. Learn more