Christine O'Donnell One Night Stand: Twitter Reactions
Twitter is abuzz with reactions to a tell-all posted anonymously today by a man claiming to have had a one-night stand with Christine O'Donnell three years ago.
In one of the most-retweeted reactions, journalist Dave Weigel called the account the "sleaziest... story in memory."
Blogger Meghan McCain took particular umbrage in a series of posts:
Wow gawker, just wow. This is the exact reason why women don't want to run for office in this country. Posting that is vile and disgusting.
I am no fan of O'Donnell but what gawker has done is disgusting and vile and once again not showcasing the real issues in this election.
anybody that says there isn't a double standard for how the media treats women versus men running for office isn't living in reality.
Over at The Upshot, Michael Calderone spoke with Gawker editor Remy Stern, who defended the piece as "a great story" that had "nothing to do with her being a woman."
Check below for more Twitter reactions!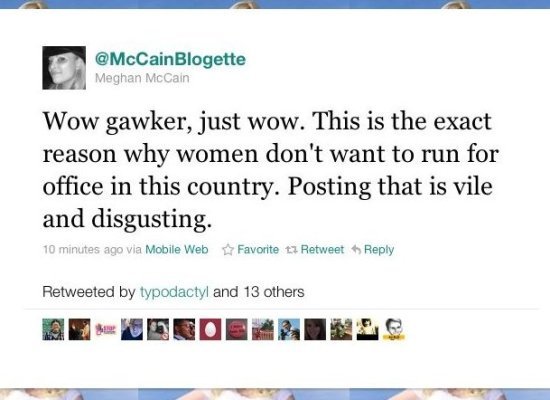 LMKay66

said on 29 Friday 2010 am31 1:04 am:


Meghan says this is the exact reason why women don't run for office in this country. Excuse me? How many women are running for senator and/or governor right now in this country? Quite a few. As a matter of fact, in the tea party there seems to be a growing number of women candidates. And Meghan, if you are complaining about how the media treats a woman, consider the sexist remarks O'Donnell and Angle in particular get away with. Their male opponents respectfully remain quiet.
Total comments:
1163
|
Post a Comment
Subscribe to the HuffPost Hill newsletter!