Harry Reid, The Man Who Never Says Goodbye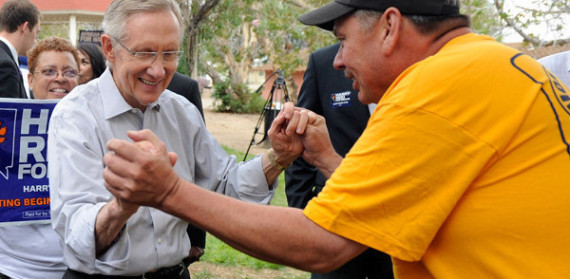 SEARCHLIGHT, Nevada - In the shadow of Harry Reid Elementary School is the Searchlight Cemetery, one of the least welcoming resting places the living mind can conjure. "HUMAN BURIALS ONLY - NO PETS OR ANIMALS," warns a sign on the chain-link fence surrounding it. Harriet Reid and her husband, John, are buried under the rough mix of rock and sand. Their son, Harry, took took his place in this cemetery in June of 1972, after a year of sobriety that capped a life of alcoholism.

His wife, Inez, had called the younger Harry at his law office in Las Vegas to break the news that June day and he drove the 60 miles south to Searchlight to find his father's hand still holding the gun. The elder Reid father had etched, scraped and burned his name into any surface he could find in town, including on the timbers and mine buckets he worked with every day. Digging his father's grave, Reid found a brownish rock more than a foot across with his father's distinct mark, the H merging into the R. Reid and his brothers made it his gravestone, where it still sits today. "It's as permanent a mark as a man can make for himself on this earth. It won't be washed off by the rain. It won't be faded by the sun. It won't be diminished by time. It says: I was here," Reid would later write in his memoir, The Good Fight: Hard Lessons from Searchlight to Washington.
The still-living Harry Reid will wind up here one day, but he isn't one to think about leaving a mark before he goes. "He'd laugh if you asked him that," says Sen. Maria Cantwell (D-Wash.) about Reid and his legacy. "He doesn't care how somebody's going to remember him down the road." Interviews with dozens of senators in both parties simply reaffirmed Cantwell's assertion: Reid just wants to get things done.
Reid, in that respect, is merely the contemporary Democratic Party distilled to its essence. Over the past decade and a half, the party of FDR, JFK and LBJ drifted away from its foundation and found refuge in a transactional politics that is being forcefully rejected by voters. Presented with the chance to make history, Democrats made deals -- with pill makers, with device makers, with hospital executives, with hedge fund managers, with swaps dealers, with auto dealers, with "non-bank financial institutions." As the tide turned, Democrats found those corporate interests scurrying back to the GOP. When the party turned back to its people, they were nowhere to be found. Compromise in pursuit of a broadly popular, unifying agenda is a forgivable sin. Compromise just to put points on the board leads to a blowout.
It's not Harry Reid's fault. Reid is a taskmaster, and his charge was to carry out President Obama's agenda, a man he wanted to see in the White House nearly from the time Obama came to the Senate. In the fall of 2006, Reid and his longtime friend and Searchlight employee Judith Hill were in Reid's living room when Hill spotted a Time magazine graced with Obama's image. That man, said Hill, should be our next president. "Good choice," Reid told her, Hill says, clearly indicating with his smile that Obama was his pick, too. Hill nearly fainted when Obama called her on her cell phone from the White House to thank her for her early lobbying of Reid.
Reid, however, has been much better for Obama than Obama has been for Reid. Obama established expectations he must have known he couldn't meet, abandoned Reid in the middle of the fight over the public option and tied his hands with a series of deals with special interest groups and twice advised tourists not to travel to the economically devastated Las Vegas.
That Reid is even in contention going into Tuesday's election is a testament to his pure determination -- and the outright lunacy of his Republican opponent, Sharron Angle, a candidate who thinks Sharia law has been implemented in American cities, says it's not a senator's duty to create jobs, and has relied on race-baiting hysterics to paint Reid as little more than a freelance coyote who shepherds scary-looking illegal immigrants across the border in his spare time.
Reid thinks the backlash against Democrats is a matter of perception. "The biggest thing we didn't do right is tout what we have done. We were so busy, this hole was deep. Every morning I got up, we got up, and clogged the hole. We really didn't have time to talk about the things we accomplished," he said in a recent interview.
There's something to that. FDR and LBJ, during their bursts of legislative activity, didn't have to contend with an aggressive, 24/7 media covering the details of every deal leading to every advance. And there was no progressive media standing sentry off the Senate floor, magnifying the smallest sign of betrayal, triggering millions of enraged activists to light up the Senate switchboard. But that vigilance is now firmly a part of the Senate landscape.
That outside pressure could feel overwhelming to Reid at times. In September, a Huffington Post reporter bumped into Reid in the Senate reception room just off the Senate floor. Reid ribbed him about his job, and the reporter joked back that it was his task to do whatever it is Arianna Huffington tells him to do. "That's how I feel about it, too, sometimes," Reid quipped.
Subscribe to the HuffPost Hill newsletter!