Emeril Lagasse's Caramelized Cane Syrup Sweet Potatoes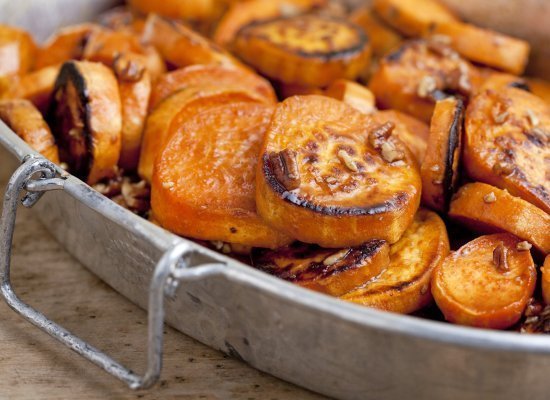 About 3 pounds sweet potatoes, peeled and sliced crosswise into ½ -inch-thick rounds
2 tablespoons canola or grape seed oil
¼ teaspoon salt
4 tablespoons (1/2 stick) butter, melted
½ cup cane syrup (we recommend Steen's)
½ cup packed dark brown sugar
1 cup pecan pieces
1. Preheat the oven to 400°F.
2. Combine the sweet potatoes with the oil and salt in a mixing bowl, and toss to coat well. Place the sweet potatoes on a baking sheet and arrange them in a single layer. Transfer to the oven and cook until they begin to caramelize and soften, about 30 minutes.
3. Meanwhile, combine all the remaining ingredients in a small mixing bowl.
4. Transfer the potatoes to a casserole dish. Pour the syrup mixture over them, and using a spatula, toss to coat well. Return the casserole to the oven and continue to cook, carefully stirring once, until the potatoes are caramelized and tender, about 30 minutes.
Serve hot.
4 to 6 servings
Recipe by Emeril Lagasse, from FARM TO FORK, HarperStudio, New York, 2010, courtesy Martha Stewart Living Omnimedia, Inc.
Gale Gand's Pumpkin Crème Brûlée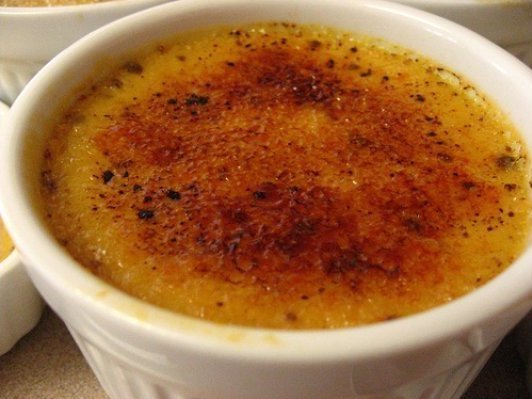 1 ½ cups heavy cream
½ cup whole milk
1/8 teaspoon cinnamon
2 pinches nutmeg
1 pinch ginger
1 pinch ground cloves
4 egg yolks
½ cup granulated sugar
¼ cup canned pumpkin puree
1/3 cup coarse sugar or raw sugar
Preheat the oven to 300 degrees.
In a medium saucepan, heat the cream, milk, cinnamon, nutmeg, ginger, and cloves over medium heat, stirring occasionally, just until it comes to a boil. Immediately turn off the heat and set aside to infuse at least 15 minutes.
In a large bowl, whisk the egg yolks with the granulated sugar. Whisking constantly, gradually pour in the hot cream mixture. Whisk in the pumpkin puree.
Pour the mixture into 4 ovenproof ramekins and arrange in a hot water bath (page 000). Bake in the center of the oven until almost set but still a bit soft in the center, 30 to 40 minutes. The custard should "shimmy" a bit when you shake the pan; it will firm up more as it cools.
Remove from the water bath and let cool 15 minutes. Tightly cover each ramekin with plastic wrap, making sure the plastic does not touch the surface of the custard. Refrigerate at least 2 hours. (Or refrigerate until ready to serve, up to 24 hours.)
Preheat a broiler to very hot (or fire up your kitchen torch). Uncover the chilled custards. Pour as much sugar as will fit onto the top of one of the custards. Pour off the remaining sugar onto the next custard. Repeat until all the custards are coated. Discard any remaining sugar.
Place the ramekins on a baking sheet or in a roasting pan and broil until the sugar is melted and well browned, 1 to 2 minutes. Let cool 1 minute before serving.
Makes 4 servings

Courtesy of Gale Gand
Cat Cora's Pomegranate-Glazed Cornish Game Hens with Wild Rice and Chestnut Stuffing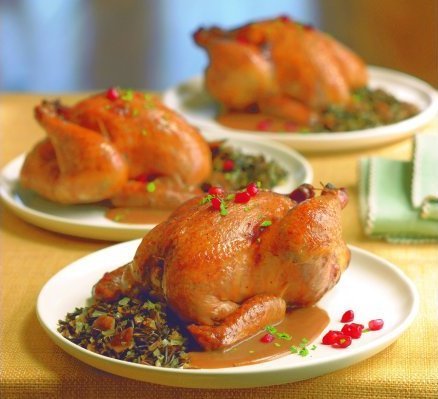 "I make these glazed Cornish game hens for special occasions. I love when the stuffing can include fresh Italian chestnuts that I roast myself over coals, but most of the year this isn't practical. Luckily, most grocery stores carry jars of peeled and cooked chestnuts, which make this part of the recipe easy. (But if you do spot some fresh chestnuts and feel ambitious enough to roast them, the effort won't be wasted if you use them with this recipe.)

"I have included instructions for trussing the game hens. If you choose not to truss, it's not a huge deal, but with trussing these little birds cook more evenly and come out of the oven better looking."
4 Cornish game hens
1 cup raw wild rice
2/3 cup coarsely chopped and toasted chestnuts (either fresh or from a jar or can)
1⁄2 cup finely chopped medium yellow onion
2 teaspoons finely chopped fresh thyme
1 teaspoon finely chopped fresh savory
3 tablespoons finely chopped Italian flat-leaf parsley
2 tablespoons kosher salt
Freshly ground black pepper
1 cup pomegranate juice
1⁄2 cup all-purpose flour
2 to 3 cups chicken stock or water
1/2 cup white wine (optional)
To cook the rice: Rinse the rice in cool water, discard the water, and add the rice to a 2-quart saucepan with a lid. Add 3 cups cold water and a teaspoon of salt. Bring the rice to a boil and stir once. Immediately reduce the heat to low, and cover the pot. Cook over low heat for 45 to 55 minutes, or until all the liquid has evaporated.

Preheat the oven to 325°F. While the rice is cooking, remove the chestnuts from the bottle or can, chop them roughly, and spread them on a baking sheet. Toast them in the oven for about 10 minutes to remove some of their moisture. When the chestnuts are done roasting, turn up the oven to 375°F.

In a large bowl, mix the cooked wild rice, toasted chestnuts, chopped onion, and herbs. Pat the game hens dry with a paper towel. If they have been frozen, be sure they are completely thawed, with gizzards removed. Lightly sprinkle the cavity of each game hen with salt and loosely fill with stuffing, leaving a little space in each for the rice to expand during roasting. Secure the legs, wings, and opening of each hen by trussing with cotton string. (See the note on trussing at the end of the recipe.) You will have stuffing left over. Spoon it into a small casserole with a lid and set aside or refrigerate. During the last 25 minutes when the hens are roasting, slide the casserole into the oven to heat.
Rub the skin of the trussed hens with salt and pepper and place breast side down on a rack set in a roasting pan. Place on the center rack of a preheated oven, and allow the hens to cook for 15 minutes before basting with the pomegranate juice. Continue basting with the remaining pomegranate juice every 15 to 20 minutes until the hens are dark golden brown and the juices run clear when pierced at the thigh. Total cooking time will be about 50 to 55 minutes. An instant-read thermometer inserted into the thickest part of the thigh, not touching the bone, should register 175 degrees to 180 degrees.
Remove the birds from the oven, and transfer them to a platter. Cover them with foil and let them rest for 10 to 15 minutes. Place the roasting pan with the juices on the stovetop over medium-low heat, add about a half cup of the chicken stock (or water) and scrape up any roasted bits from the bottom of the pan. (This is a good place to cook from the hip as you can use stock here, a combination of white wine and water, or just water.) Sift the flour into the cooking juices and mix well. Slowly whisk in another cup and a half of stock (or water) and stir well, and let simmer until the mixture is thick and has no lumps, about 5 to 6 minutes. Add a few more teaspoons of water or white wine if you'd like the gravy to be thinner. Season to taste with salt and pepper.
To serve, place a bird on each plate, nap with the gravy, and garnish with finely chopped parsley. Serve with a little extra rice on the side, if desired.
Cat's Note: Trussing is not a big deal - it just means to tie the legs of the birds together and secure the wings to the sides with toothpicks or wooden skewers that you've broken in half. Trussing keeps the stuffing inside the birds and helps cooking take place evenly. If you don't have toothpicks or skewers, you can make do with kitchen twine. Cut off a piece about 20 inches long. Starting in the center of the string, tie the legs together tightly, loop each side of the string around a wing, and bring the string all the way around the bird tightly to hold the legs together and the wings close to the body.
Option 1: Pomegranate Balsamic Reduction
The same balsamic reduction we made with the Duck's Breast can be used here to add another layer of flavor. This reduction is very easy. Combine equal parts pomegranate juice and balsamic vinegar (a good balsamic but not your most expensive bottle). Heat over medium-low heat for 15 to 20 minutes or until the reduction is syrupy but not as thick as molasses.
Serves 4
Govind Armstrong's Braised Savoy Cabbage with Roasted Chestnuts
2 ea Green Savoy Cabbage, torn into ½ " pieces (core removed and discarded)
2 T. Olive Oil
5 sprigs fresh thyme
3 ea bay leaves
3 tbsp white wine
1 Qt. chix stock or vegetable stock
1 T. Butter

Roasted Chestnuts
1 C. Chestnuts, peeled
1 T. Butter
1 t. Olive Oil
2 Thyme Sprig
¾ C. Chicken or Vegetable stock
Preheat oven to 400˚
In a medium sauté pan, begin by sautéing the chestnuts in butter and oil over a medium heat. Add the thyme sprigs and continue to cook for a total of 8 minutes.. Add chicken stock and cook until reduced. At this point the chestnuts should be fully cooked, if the chestnuts are still a little too dense add some more chicken stock and continue until cooked through. Season with salt and pepper and remove the thyme sprigs.
In a large sauté pan over a medium heat, in batches, begin by searing cabbage pieces in oil until lightly golden on the edges. After each batch, transfer the cabbage in a 2" deep baking pan. Once all the cabbage has been seared add the thyme, bay leave and wine over cabbage. Season with a touch of salt and pepper and add the stock to cover about 3/4 of cabbage. Cover with aluminum foil and bake in the oven for 15 minutes. Once tender, remove thyme and bay, stir in the butter, roasted chestnuts and adjust the seasoning.
Marcus Samuelsson's Herb-Roasted Turkey Breast with Collard Greens
6 to 8 servings
1 6-pound bone in turkey breast
Salt
Freshly ground pepper
4 garlic cloves
2 cinnamon sticks
1/2 medium yellow onion
1/2 cup Herb Mix (see below)
1. Preheat the oven to 400°F.
2. Rinse the turkey under cold water and pat dry. Season with salt and pepper on all sides and in the neck cavity. Stuff the garlic cloves, cinnamon sticks and onion into the neck cavity and seal closed with a wooden skewer or toothpick. Generously rub the Herb Mix over the turkey and under the skin.
3. Place the turkey, skin side up, on a rack in a roasting pan and cover with foil. Roast, basting occasionally with the pan juices, until an instant-read thermometer inserted into thickest part of the breast reads 160°F and the juices run clear, about 1-1/2 hours. Let the turkey rest for at least 20 minutes before carving.
Serve with Stuffing and Collard Greens.
Stuffing
Makes 3 1/2 cups
1/4 cup olive oil
2 tablespoons coarsely chopped peanuts
1/2 loaf white bread, cut into 1-inch cubes
3 garlic cloves, peeled and cut into half
3 shallots, coarsely chopped
1 medium pumpkin, peeled and cut into 1-inch cubes (5 cups)
2 quinces or pears, peeled, cored and cut into 1-inch cubes (4 cups)
2 cinnamon sticks
2 tablespoons Herb Mix (see below)
1 cup chicken stock
1/2 cup orange juice
1 tablespoon honey
2 teaspoons chopped thyme
1 teaspoon salt
1/2 cup raisins
1 tablespoon chopped parsley
1. Heat 2 tablespoons of the olive oil in a large sauté pan over medium heat. Add the peanuts and bread cubes and sauté for 5 minutes, or until golden brown. Remove from the heat and set aside.
2. Heat the remaining 2 tablespoons of olive oil in a large Dutch oven or other large pot over medium heat. Add the garlic and shallots and sauté until golden, about 5 minutes. Add the pumpkin, quince, cinnamon sticks and Herb Mix and sauté another 5 minutes. Stir in the chicken stock, orange juice, and honey, reduce the heat to low, and simmer until pumpkin is tender, about 15 minutes. Add the thyme, salt, raisins, peanuts and reserved bread cubes. Cook over low heat, stirring frequently, until heated through, about 15 minutes. Remove cinnamon sticks and stir in the parsley. Serve with Collard Greens.
Tip: If your local store doesn't sell pumpkin, butternut squash, which is almost always available, makes a great substitute.
Herb Mix
Makes about 2/3 cup
1/4 cup olive oil, plus 2 tablespoons
1 garlic clove, minced
Zest of 1 lemon
2 tablespoons finely chopped rosemary
2 tablespoons finely chopped sage
2 tablespoons finely chopped thyme
1 tablespoon finely chopped parsley
2 teaspoons chili powder
1. Heat 2 tablespoons of the olive oil in a small sauté pan over medium heat. Add the garlic, lemon zest, rosemary, sage, thyme, parsley and chili powder and sauté until garlic is golden, about 4 minutes. Transfer to a small bowl and combine with remaining oil. Store in the refrigerator in an airtight container for 3-4 days.
Collard Greens

6-8 servings
6 bacon slices
1/2 cup coconut milk
1/4 cup soy sauce
1 tablespoon grainy mustard
3 tablespoons olive oil
1 tablespoon unsalted butter
4 garlic cloves, peeled and halved
4 cups (about 6 ounces) very thinly sliced collard greens (about 2 bunches)
4 cups (about 1-1/2 pounds) very thinly sliced bok choy (about 2 heads)
1. Cook the bacon in a large skillet until crisp. Drain on paper towels, and crumble into small pieces. Set aside.
2. In small saucepan, bring the coconut milk and soy sauce to a boil. Remove from the heat and stir in the mustard and crumbled bacon. Set aside
3. Heat the olive oil and butter in a large straight-sided pan over low heat. Add the garlic, and slowly toast until pale golden brown, about 10 minutes. (Be careful not to let it burn). Lift the garlic out of the oil with a slotted spoon and set aside.
4. Add the collard greens and cook, stirring frequently, until the greens start to wilt. Stir in the coconut milk mixture and cook for about 20 minutes, until the greens are tender and the sauce has thickened.
5. In a separate pot bring 3 cups of salted water to a boil. Blanch the bok choy, and fold into the collard greens during the last minute of cooking. Stir the reserved garlic into the greens and serve.

Recipes compliments of Marcus Samuelsson from New American Table (Wiley, John & Sons, October 26, 2009).
Michelle Bernstein's Caribbean Pumpkin Soup with Island Spices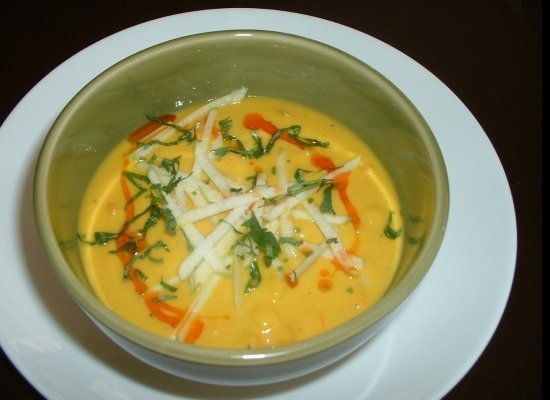 1 2½ pound Calabaza squash or pumpkin, peeled, seeded and cut into quarters; 1 cup cut into small dice
2 cups finely diced peeled Granny Smith apples (about 2 medium apples)
4 tablespoons (1/2 stick) unsalted butter, melted
¼ cup packed light brown sugar
Kosher salt
2 tablespoons olive oil
1 cup finely diced Spanish onion
1 ½ teaspoons minced garlic
½ teaspoon minced habanero or jalapeño (with seeds)
1 tablespoon chopped fresh thyme
¼ teaspoon ground cinnamon
Pinch of ground allspice
5 cups low-sodium store-bought chicken broth
1 cup heavy cream
1 tablespoon sherry vinegar
Freshly ground pepper
2 tablespoons salted roasted hulled pepitas (for garnish)
Preheat the over to 350 degrees. Put 5 cups of the quartered pumpkin, 1 cup of the apples, the butter, and brown sugar in a roasting pan, season with ½ teaspoon salt and toss well. Cover the pan with aluminum foil and bake until the pumpkin is soft to a knife tip, about 1 hour. Remove from the oven and set aside.
Heat the oil in a large pot over medium-high heat. Add the onion and garlic and cook, stirring, until softened but not browned, about 4 minutes. Stir in the chile, thyme, cinnamon, and allspice and cook for 2 minutes. Stir in the stock and pumpkin-apple mixture and bring to a simmer. Remove from heat.
Working in batches, carefully transfer the mixture to a blended or food processor and puree, periodically stopping the motor to scrape down the sides of the bowl with a rubber spatula until smooth.
Wipe out the pot and return the puree to it. Stir in the cream, then stir in the vinegar and bring to a simmer. Stir in the reserved diced pumpkin and diced apple. Cook until the pumpkin and apple are softened but still retain their shape, about 5 minutes. Season with salt and pepper.
Divide the soup among four to six bowls and garnish each serving with pepitas, if desired.
Ming Tsai's Cranberry Frozen Parfait with Rock Candy Crunch
Serves 4
1 bag fresh Ocean Spray cranberries
pinch of salt
1/2 cup granulated sugar
1 teaspoon vanilla extract
juice of 1 orange
2 cups whipped cream
1 cup pumpkin pie puree (the spiced mix, not the unflavored puree)
4 cups best quality store bought vanilla ice cream (soften)
1/4 cup pulverized Chinese rock candy (cover in plastic wrap and crush with flat side of meat tenderizer)
Mint garnish
In a medium saucepan, combine cranberries, salt, sugar, vanilla extract and orange juice until and simmer until sugar is dissolved and cranberries soften about 25 - 30 minutes. Set aside and let cool.
Meanwhile, in a large bowl, fold together whipped cream and pumpkin puree. Add mixture to the soften ice cream. Fold to combine.
Build each dessert as an individual layered parfait, alternating layers of ice cream mixture, cranberry compote and crushed rock candy. Garnish with crushed rock candy and mint.
© Ming Tsai 2010 from Simply Ming
Tim Scott's Holiday Deviled Quail Eggs with Beets and Wasabi
18 quail eggs
1/3 cup mayonnaise
1/8 teaspoon kosher salt
1/8 teaspoon freshly ground black pepper
½ teaspoon wasabi paste
½ teaspoon beet juice (available in health food stores)
Garnish chives, chopped
wasabi peas
Chiogga (candy cane) beets, short julienne
Place the quail eggs in a small saucepan and cover with cold water. Bring to a boil and cook for 5 minutes. Immediately remove and place in an ice water bath to cool.
Once cooled, peel the eggs and cut them in half lengthwise and remove the yolks, trying to leave the white intact. Mix the yolks with mayonnaise and salt and pepper. Separate half of the mixture and add the wasabi paste. Add the beet juice to the remaining mixture.
Using a piping bag, pipe the yolk mixtures back into the egg whites. Garnish the wasabi eggs with the wasabi peas and garnish the red beet eggs with either chives or thinly julienned Chiogga (candy cane) beets.
Makes 36 eggs.
Recipe compliments of Tim Scott.

Tyler Florence's Creamed Spinach with Roasted Cipollini Onions and Toasted Bread Crumbs
"This dish was a happy accident. I wanted to serve creamed spinach for our family Christmas dinner but make it a bit more special. Roasted onions and the crunch of bread crumbs really take this old warhorse to the next level. Pair it with a simple grilled steak or beef tenderloin."
Serves 4 to 6
2 pounds cipollini onions
Extra-virgin olive oil
1 cup balsamic vinegar
1/2 cup honey
1 tablespoon unsalted butter
1 onion, minced
2 garlic cloves, minced
4 (12-ounce) bags fresh spinach, stemmed and washed
2 cups heavy cream
1 teaspoon grated nutmeg
Sea salt and freshly ground black pepper
2 cups panko bread crumbs
Place the unpeeled onions in a bowl and cover with very hot water. Set aside for 15 minutes to soften the skins. Drain the onions, then peel and pat dry. Heat a large skillet over high heat and add a 2-count of oil. Add the onions and saute until they are golden brown all over, about 10 minutes. Add the vinegar and honey, reduce the heat to medium, and cook until the mixture has reduced to a syrup and the onions are soft, about 20 minutes.
Preheat the oven to 400°F.
Heat a large pot over medium heat. Drizzle with a 2-count of oil, add the butter, and stir it around until it melts. Add the onions and garlic and saute until soft, about 5 minutes. Add the spinach in batches, pushing it down into the pan with a wooden spoon to help it wilt and adding more spinach as soon as there is room in the pot. Cook the spinach until it is dry, then reduce the heat and add the cream and nutmeg. Stir and cook for 10 minutes. Season with salt and pepper.
Pour the creamed spinach into a baking dish and top it with the onions and the panko. Bake until the bread crumbs are golden brown, about 15 minutes. Serve hot.
Tom Douglas' Etta's Cornbread Pudding

For cornbread:
1 cup all-purpose flour
¾ cup cornmeal
½ cup grated jack cheese
1 teaspoon baking powder
1 teaspoon salt
2 large eggs
1 cup milk
3 Tablespoons honey
4 Tablespoons unsalted butter, melted plus a little more for buttering pan for buttering pan
For the pudding:
1 Tablespoon unsalted butter plus a little more for buttering pan buttering pan
1 cup thinly sliced onion
¾ cup grated dry jack cheese (or substitute regular jack or sharp cheddar) regular jack or sharp cheddar)
2 teaspoons chopped flat leaf parsley
½ teaspoon chopped fresh rosemary
½ teaspoon chopped fresh thyme
2¼ cups heavy cream
4 large eggs
1 teaspoon kosher salt
½ teaspoon freshly ground black pepper

To make the cornbread, preheat the oven to 425°F. Butter an 8x8-inch baking dish. Combine the flour, cornmeal, cheese, baking powder, and salt in a large bowl. In another bowl, whisk together the eggs, milk, and honey. Add the wet ingredients to the dry ingredients, stirring until just combined. Melt 4 Tablespoons of the butter and stir into the mixture. Pour into the prepared pan and bake about 15 to 20 minutes until a toothpick comes out clean. Cut into one inch cubes. You should have about 8 cups of cornbread cubes, but you only need one third of the cornbread cubes (about 2⅔ cups) for this recipe. (Note: freeze the extra cornbread for future batches of pudding.)
To make the cornbread pudding, lower the oven temperature to 350º F. Put the 2 ⅔ cups of cornbread cubes in a buttered 8x8-inch baking dish. Set aside. Heat 1 Tablespoon butter in a sauté pan on low heat and very slowly sauté the onions until soft and golden brown, at least 20 minutes. Remove from the heat. Scatter the onions, cheese, and herbs over the cornbread cubes. Whisk together the cream and eggs with the salt and pepper and pour over the pan of cornbread cubes. Let sit 10 minutes so the cornbread cubes absorb some of the custard. Bake about 40 minutes or until set and golden. Serve warm.
Yields 6 servings.
Recipe compliments of Tom Douglas from: Tom Douglas' Seattle Kitchen
Recipe courtesy HarperCollins Publishers, January 2001
Todd English's Cornbread & Sausage Stuffing
Serves 6
For the Cornbread:
1 pound all purpose flour
1 pound cornmeal (medium)
6 eggs
2 sticks or 8 oz butter (melted)
1 ¼ tablespoon baking powder
1 ¾ teaspoons salt
1 cup honey
1 teaspoon vanilla extract (combine with buttermilk)
1 ½ cup sugar
1 cup olive oil
2 cup buttermilk
Mix all dry ingredients together in one bowl. In another bowl, mix all wet ingredients. Slowly fold wet ingredients into dry ingredients and mix 2 - 3 minutes with mixer until you have a smooth paste. Pour into 3 qt casserole dish and cook at 325 degrees in oven for around 45-50 minutes or until golden brown. Let cool and cut into ¾ inch cubes.
For the Stuffing:
4 cups ¾ inch cubed cornbread
1 pound Italian sausage, casing removed
1 tablespoon minced garlic
2 cups finely chopped onion
1 1/2 cups chopped celery
3 tablespoons minced fresh thyme
1 tablespoon minced fresh sage
2 tablespoons Dijon mustard
2/3 cup finely chopped fresh parsley
1 stick (1/2 cup) unsalted butter, melted
2 cups turkey or chicken broth
2 cup white wine
1 turkey breast split, ribs removed, 1st joint of wing bone intact ("airline" style)
1 onion, roughly chopped
2 carrots, roughly chopped
2 celery stocks, roughly chopped
1 tablespoon roughly chopped fresh rosemary
½ cup maple syrup
In shallow baking pans or jelly-roll pans arrange the cornbread cubes in one layer, bake them in a preheated 325°F. oven for 10 to 15 minutes, or until they are golden, and transfer them to a large bowl.
Heat a large skillet over medium high heat and sauté sausage, break it apart with fork as it cooks. Remove with a slotted spoon and discard all but 2 tablespoons of fat. Add garlic, onion, celery thyme and sage over moderately low heat, stirring, until the vegetables are softened and transfer the mixture to the bowl. Add the mustard, parsley, melted butter, sausage, salt and pepper to taste, toss the stuffing well, and let it cool completely.
© Todd English 2010