New York City offers a variety of ice skating options that cater to both the seasonal and the more experienced skater. There are rinks that serve alcoholic beverages (great for lessening the pain from inevitable falls on the ice) and rinks with unusual locations and views (the downtown W hotel).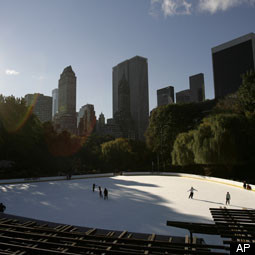 Trump Wollman Rink
Where: Central Park South at 59th Street and 6th Avenue; (212) 439-6900
Hours: Mon-Tues (10am-2:30pm), Weds-Thurs (10am-10pm), Fri-Sat (10am-11pm), Sun (10am-9pm)
Price: $5-$15, skate rental $6.25
Ice skating in Central Park is surreal in an old-fashioned New York kind of way. Surrounded by beautiful trees, the rink might cost more than some of the others but the setting truly can't be beat. It costs $5 simply for spectators and it is cash only.


The Pond At Bryant Park
Where: Sixth Ave between 40th and 42nd Streets; (212) 661-6640,
Hours: 8am to Midnight
Price: Free, skate rental: $13, locker rental: $9
The only free rink in Manhattan, expect long lines, especially during peak times. Before you get in line, grab some popcorn or baklava from the holiday market to help lift your spirits. If you're not in the mood to skate, near the rink there is also a Canadian-themed bar Celsius that offers a view of the rink.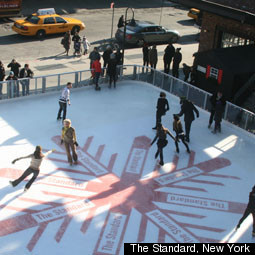 The Standard
Where: The Standard Hotel, 848 Washington Street, New York; (212) 645-4646
Hours: Mon-Weds (11am-11pm), Thurs-Fri (11a-Midnight), Sat (10am-Midnight), Sun (10am-11pm)
Price: $12 plus $3 for skate rental
Trade in your high heels for skates in the Meatpacking at this cute pop-up rink. The Standard's 3,000-square-foot rink is in the front plaza next to a small cabin where you can rent skates. There is also a small stand offering coffee and snacks including a grilled cheese with tomato soup and the option to spike any beverage with bourbon, brandy or dark rum.

The W Hotel Downtown
Where: The W Downtown
Hours: 2pm-10pm
Price: Free, $12 for skate rental
Check out views of lower Manhattan on the W's new fifth floor ice rink. The small rink (about 400-square-feet) has special drinks courtesy of house mixologist Charlotte Voissey including a particularly deadly vodka-tequila Hot Chocolate Martini.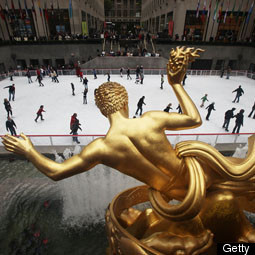 The Ice Rink At Rockefeller Center
Where:30 Rockefeller Plaza between 49th and 50th Streets; (212)332-7654
Hours: 8:30am to Midnight
Price: $9.50-$19, skate rental $9
Still going strong after 74 seasons, the Rockefeller Plaza rink is consistently packed. The best times to get on the ice are early in the morning or late at night.
Sky Rink at Chelsea Piers
Where: Chelsea Piers (Pier 61), W 23rd Street at Hudson River; (212 336-6100
Price: $10.50-$13, skate rental $7.50.
This huge athletic center offers ice-skating all year round. The hours are limited (because of hockey practices and skating lessons) but during the holiday season they are extended. The best part about skating at Chelsea Piers is the super high-quality ice and the slightly less manic environment.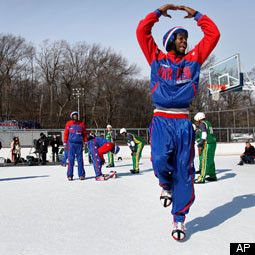 Trump Lasker Skating Rink
Where: Central Park at 110th Street and Lennox Avenue; (917) 492-3856
Hours: Mon, Weds, Thurs (10am-3:45pm), Tues (10am-3:30pm, 8pm-10pm), Fri (10am-5:15pm, 7pm-10pm), Sat (1pm-11pm), Sun (12:30pm-4:30pm)
Price: $2.25-$6, skate rental $5.25.
If you're looking to skate in Central Park but aren't as concerned about the exact location, the Lasker rink is a smaller and less crowded option. Be sure to check the hours for public skating, hockey practices and games occur regularly at the rink.
Abe Stark Rink
Where: Surf Avenue at 19th Street, Coney Island, Brooklyn; (718) 946-6536
Hours: Sat-Sun (1pm-4pm)
Price: $8, skate rental $5
Brooklyn has limited options for ice skating this year (Prospect Park's rink is closed) but if you're determined to stay in the borough, head out to Coney Island to what was once the Ravenhall Baths. The hours are very limited so be prepared to hit the ice right at 1pm.
Aviator Sports & Recreation Facility
Where: Floyd Bennett Field, 3159 Flatbush Ave, Brooklyn
Hours: Mon (11am-3:50pm), Tues, Thurs (11am-4:20pm), Weds (11am-4:10pm), Friday (11am-4:20pm, 7pm-11:00pm), Sat (1:30pm-6:30pm, 7pm-11pm), Sun (Noon-6pm)
Price: $8, skate rental $5
Get away from all the hustle and bustle of holiday skaters and really enjoy the crisp ice of New York City's only twin NHL-size rinks.

SUBSCRIBE AND FOLLOW
Get top stories and blog posts emailed to me each day. Newsletters may offer personalized content or advertisements.
Learn more