Think your commute is bad? How about wasting 53 hours in traffic and blowing $400 per year just to sit in gridlock?
Dallas was the worst city in America for commuters in a new ranking issued by the consumer data site Bundle and The Street. Basing much of their rankings off of information from the Center for Neighborhood Technology, the Bundle/The Street rankings accounted for both time wasted and money spent in traffic.
Disturbingly, America's grand total of time wasted in traffic was 4.2 billion hours, or approximately one full workweek each year for every traveler. Among the worst offenders are San Jose, Calif.; Houston; Miami and even smaller cities like Bridgeport, Conn.
If you're a fan of relatively painless commutes, smaller cities are certainly the way to go, per this ranking. The top commutes include those found in Boulder, Colo; Anchorage, Alaska; Akron, Ohio; and Buffalo, New York.
Check out Bundle/The Street's infograhic below -- and visit Bundle for more information.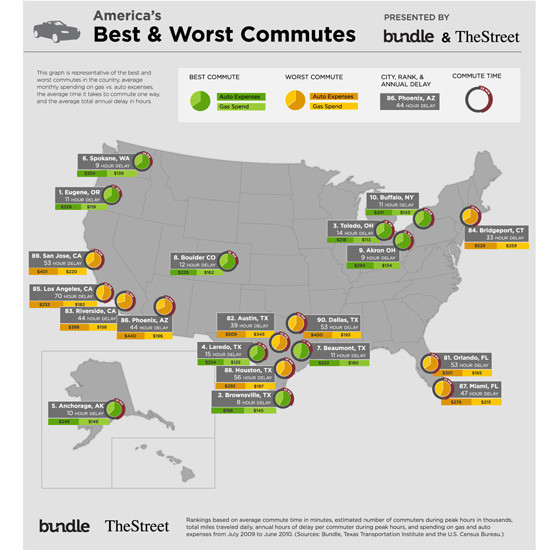 (For a larger image click here.)
SUBSCRIBE TO & FOLLOW THE MORNING EMAIL
The Morning Email helps you start your workday with everything you need to know: breaking news, entertainment and a dash of fun. Learn more