Afternoon tea shouldn't be relegated to your grandmother or your eccentric Anglophile friend. In fact, catching up with friends while noshing on sandwiches sans crusts and warm scones with rich butter as a midday snack break, is a concept stressed New Yorkers should try.
The city is filled with different "tea" places but it can be hard knowing where to go if the place doesn't have "teacup" in its name. We picked our favorites, from the well-known and pricey Plaza Hotel to the laidback and quirky Podunk Tearoom.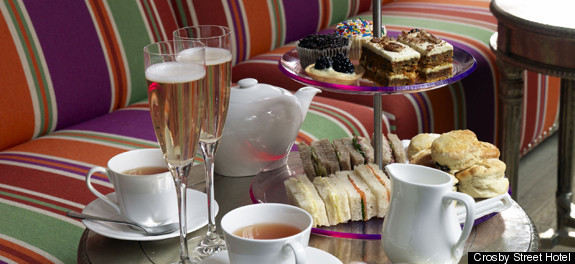 The Crosby Street Hotel
The sophisticated and modern drawing room at The Crosby Street Hotel is the ideal place for savoring their afternoon tea. Although there is the option of ordering a traditional tea with smoked salmon sandwiches and carrot cake, they also offer a light and refreshing "Fresh Fruit Tea" that includes a mango and pineapple salad with cracked pepper and caramelized bananas. Either tea is a substantial amount of food that pairs beautifully with their selection of Harney & Sons Teas.
Harney & Sons
This Soho newcomer to the tea scene is more of a museum than a teashop. Though you can sample the tea of the day and one of the many loose teas along the wall, for a full service experience you must venture to the lounge in the back of the shop. You can order tea by the pot ($6 for a small, $8 for a large) and sweet things like homemade vanilla scones, gluten-free treats from Tu-Lu Bakery's or SoCo Creamery's Harney and Son's tea ice cream in either early grey, chai or green tea. Savory options include cheddar and chive scones, Lapsang gravlax on rice crackers and house-roasted nuts.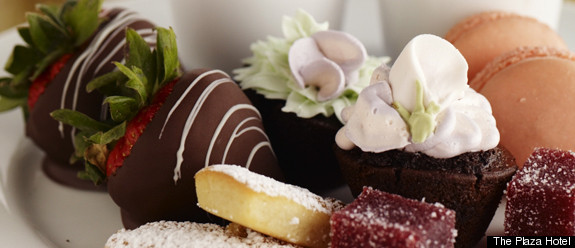 The Plaza Hotel
Tea at The Palm Court in the legendary Plaza Hotel is as fancy and dainty as you would expect. The grand stained glass ceiling and white tablecloths are formal as are the waiters in black suits who scurry to refill your signature "Afternoon Blend" tea. The miniature scones are served warm and crumble under homemade preserves and the truffled quail egg salad is one of the most unusual egg salads you'll find in the city. The experience might not be the most comfortable or relaxing but it is definitely a New York City classic.
Franchia Korean Tea
Experience a tea service rooted in Asian tea tradition at Franchia tearoom. The space is like a spa, calm and serene with a subtle Korean motif. They have a wide selection of teas that are served in white ceramic cups and pots, including their 100% natural Korean Wild Green Tea, the house specialty. They also offer an extensive vegetarian menu of dumplings, sushi and noodles. Their "Royal Tea Tray" includes tasting portions of appetizers like sweet corn cilantro pancakes and soy 'chicken satay' as well as desserts like blueberry coconut cake and mocci.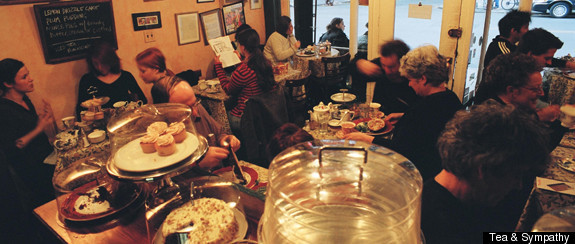 Tea & Sympathy
If having tea is synonymous to you with all things British, then Tea & Sympathy in the West Village is the quickest (not to mention cheapest) way to experience life across the pond. Browse the store for beautiful teapots and loose teas while you wait for your table at the full-service restaurant. Here you can order English black bacon and baked beans on toast with their special blend of English Breakfast. They have the requisite scones with clotted cream and finger sandwiches but don't miss the opportunity to try classics like Welsh rarebit, Coronation chicken salad or Tweed kettle pie.
Podunk Tea Room
Having tea at Podunk in the East Village is akin to having tea at someone's kooky house. Knick-knacks abound and service is sweet and familial. You can have your tea service as formally ("Our Old Friends Tea" with cucumber sandwiches, scones, cakes, cookies, jam, cream and Earl Grey) or as informally as you like ("Truck-Stop Tea" sausage and eggs tart, maple scones, bacon, jam, butter, coffee). They also offer pots of decadent hot chocolate, homemade chai and hot tea punch. The menu suggests sharing most of the offerings, including owner Elspeth Treadwell's Scandinavian-inspired Lefse, or Norwegian potato flatbread.
SUBSCRIBE TO & FOLLOW THE MORNING EMAIL
The Morning Email helps you start your workday with everything you need to know: breaking news, entertainment and a dash of fun. Learn more