HOUSTON -- Rep. Gabrielle Giffords has arrived at a Houston hospital where she'll begin physical therapy after being gravely wounded in an assassination attempt.
Giffords still hasn't spoken since a gunman shot her and 18 other people Jan. 8 as she met with constituents outside a grocery store in Tucson. Six died. All survivors other than Giffords have been released from hospitals.
Giffords will be evaluated the ICU at Texas Medical Center and then taken to TIRR Memorial Hermann hospital, which is in the complex. U.S. Capitol police have set up extra security measures at the facility.
Giffords has been making progress nearly every day at University Medical Center in Tucson. Her husband, Houston-based astronaut Mark Kelly, tweeted Friday: "GG going to next phase of her recover today. Very grateful to the docs and nurses at UMC, Tucson PD, Sheriffs Dept....Back in Tucson ASAP!"
Kelly traveled with Giffords, along with her mother, a doctor and other medical workers. A helicopter took her from the Houston airport to the ICU at Texas Medical Center, where she'll be evaluated before going to the center's rehabilitation hospital, TIRR Memorial Hermann. U.S. Capitol police arrived Thursday afternoon to set up extra security measures at the 119-bed facility.
Despite the steady progress, doctors warn Giffords has a long road to recovery. Doctors are not sure what, if any, disability she will have.
She moves her lips, but it's not clear whether she is mouthing words, nor how much she is able to see.
"Not everyone always gets 100 percent restoration, but we help them to get to a new normal," said Carl Josehart, chief executive of the rehab hospital that will be Giffords' home for the next month or two.
Dr. Gerard Francisco, the hospital's chief medical officer, will coordinate her care.
"It's going to be a very big team that will address different impairments, but they will have to work together," he said.
First, they'll check her vital signs -- make sure her blood pressure and heart rate are good.
Then specialists ranging from physical and occupational therapists to speech therapists and psychologists will give a slew of tests to see what she can and cannot do.
They'll determine the strength of her legs and her ability to stand and walk; the strength of her arms, and whether she can brush her teeth or comb her hair; whether she can safely swallow on her own; how well she thinks and communicates -- not just her ability to speak but also to understand and comprehend.
While she is moving both arms and legs, it's uncertain how much strength she has on her right side; the bullet passed through the left side of her brain, which controls the right side of the body.
Giffords will stay at Memorial Hermann until she no longer needs 24-hour medical care -- the average is one to two months. Then she can get up to five hours a day of physical and other rehab therapies on an outpatient basis, Josehart said.
"It's hard to speculate on the trajectory or course that any one patient will have," he said.
Sometimes, areas of the brain that seem damaged can recover, said Mark Sherer, a neuropsychologist at the rehab center.
"Some of the tissue is temporarily dysfunctional, so the patient appears very impaired very early on after the injury," but may not be permanently damaged, he said.
Kelly said Giffords would be proud of the way Tucson has responded. Memorials continued to grow Friday outside the hospital, in front of her office and at the scene of the shooting.
"I know one of the first things Gabby is going to want to do as soon as she's able to is start writing thank you notes," he said.
Dave Sanderson stood along the ambulance route as Giffords left, along with his dog who had an American flag attached to its collar. Sanderson said he's been coming to the memorial outside the hospital every day since the shooting happened.
"I just wanted to wish her well and the best of luck," he said.
01/21/2011 3:05 PM EST
Welcome To Houston
Giffords' flight has arrived in Houston, KOLD reports.
01/21/2011 2:45 PM EST
En Route To Texas
Rep. Giffords is heading towards Houston. The Arizona congresswoman's trip includes portions via ambulance, helicopter and jet. The AP reports that she will "undergo weeks of rigorous therapy."
01/21/2011 2:43 PM EST
Leaving Arizona
Photos of Rep. Giffords' motorcade earlier on Friday as she began the trip to Houston.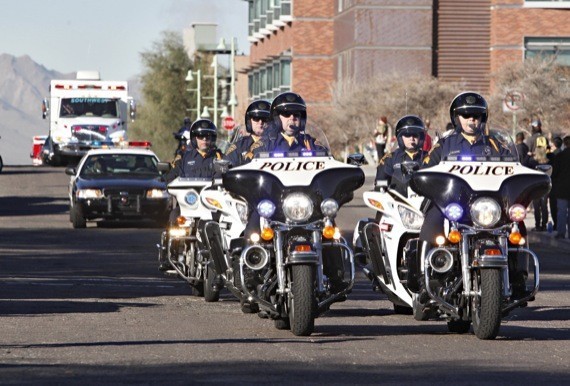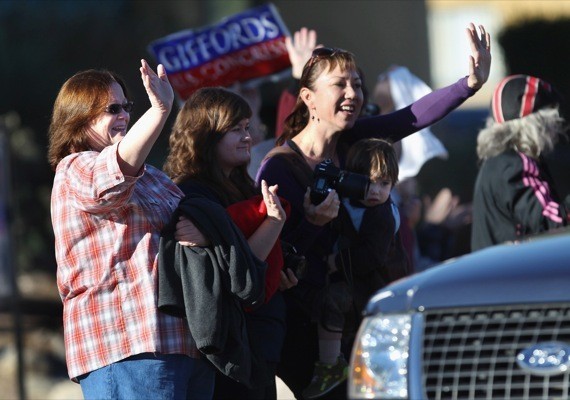 01/20/2011 11:10 PM EST
Shooting Victim Recounts Judge's Heroism
AP reports on one victim's memories of Judge John Roll's heroic actions the day the tragic shootings rocked Tucson:
Ron Barber can remember the small details of the Tucson rampage: The gunman, the crackle of gunfire, lying on the ground, wounded, and the weight of a body on him.

A week and a half later, Barber found out that it was his good friend John Roll.

Then he learned the federal judge may have helped save his life.
Full story here.
01/20/2011 10:32 PM EST
Statement From Judge Roll's Widow
Judge John Roll's wife, Maureen, has issued a statement in response to her husband's tragic death and the events that unfolded in Tucson, AZ Central reports:
There are no words to describe how my world was shattered on Saturday morning, Jan. 8, 2011. Not only did I lose John Roll, my husband and best friend of more than 40 years, but our three sons lost a wonderful father and our grandchildren their beloved papa. But something else happened that day and in the days that have followed.
Read the full statement here.
01/20/2011 10:28 PM EST
PHOTO: Giffords Goes Outside
Giffords' family reported that she felt the sunshine on her face today for the first time since she was shot. Her office released the below photograph of the congresswoman's bed on a hospital deck, with husband Mark Kelly by her side.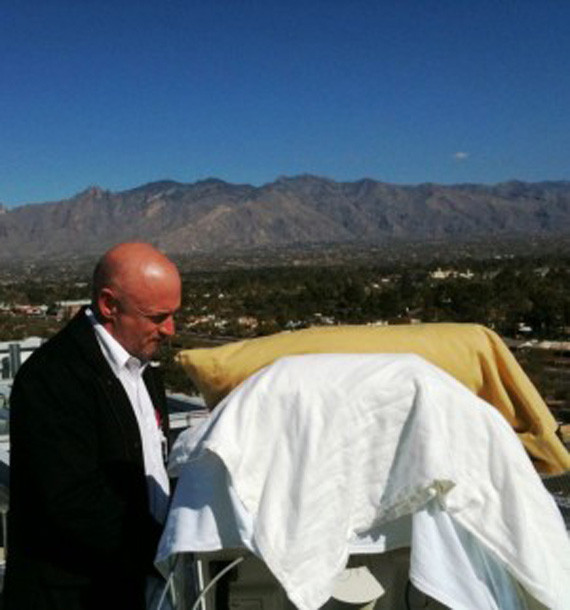 01/20/2011 10:12 PM EST
Giffords Transferring To Houston Friday
Arizona's KFDA reports that Congresswoman Giffords will be transferred to Houston's TIRR Memorial Hermann hospital at 9am local time tomorrow:
Officials at University Medical Center in Tucson say the congresswoman is expected to leave shortly after 9 a.m. local time and travel by ambulance to Davis-Monthan Air Force Base for a medical flight to Texas.

A group of motorcycle riders from a Veterans of Foreign Wars post will escort the ambulance.

Once in Houston, she will be taken by helicopter to TIRR Memorial Hermann hospital.

Traveling with Giffords will be her husband, Mark Kelly; her mother, Gloria Giffords; trauma surgeon Dr. Peter Rhee and an intensive care unit nurse.
Full article here.
01/19/2011 11:05 PM EST
Death Penalty For Loughner?
AZ Central reports on the terms of Loughner's indictments, and what would constitute the death penalty:
Superseding indictments could come as early as 60 days in the murders of U.S. District Judge John Roll and Giffords' aide Gabe Zimmerman. Sources indicated that the indictments would be done piecemeal in order to meet constitutional requirements.

The federal criminal code allows penalties of up to life in prison for an attempted assassination of a member of Congress. When federal murder charges follow, prosecutors could seek the death penalty.
Full story here.
01/19/2011 11:03 PM EST
Surveillance Video Shows Gunman Shooting Giffords
The AP reports on a video that has surfaced of the shooting rampage:
John Roll was called a fair federal judge and a loving family man at his funeral. Now, some are also calling him a hero.

Surveillance footage of the Jan. 8 shooting rampage in Tucson showed that he used his body as a shield to cover an injured man. Roll then took a bullet to the back, and lost his life in the process.
Full story here.
01/19/2011 11:02 PM EST
Giffords Family Weighs Rehabilitation Course
The AP reports:
Giffords' family hopes to move the Arizona congresswoman on Friday to TIRR Memorial Hermann hospital in Houston, where her husband lives and works as an astronaut. The exact day of the move will depend on her health.

"I am extremely hopeful at the signs of recovery that my wife has made since the shooting," Mark Kelly said in a statement released by Giffords' congressional office. The staff at University Medical Center in Tucson "has stabilized her to the point of being ready to move to the rehabilitation phase."
Full story here.
SUBSCRIBE TO & FOLLOW TRUMP'S FIRST 100 DAYS
How will Donald Trump's first 100 days impact YOU? Subscribe, choose the community that you most identify with or want to learn more about and we'll send you the news that matters most once a week throughout Trump's first 100 days in office. Learn more