Venus Williams Injury: Tennis Star Withdraws From Australian Open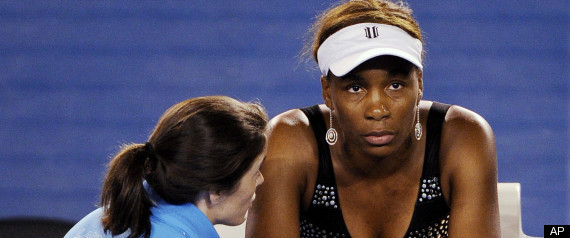 MELBOURNE, Australia — Andy Murray moved another step closer to consecutive Australian Open finals, routing Guillermo Garcia Lopez 6-1, 6-1, 6-2 on Saturday in the third round of the year's first major.
Fifth-seeded Murray, who lost the 2010 final to Roger Federer, has lost just 17 games through three rounds.
Another former finalist was ousted, with 2008 runner-up Jo-Wilfried Tsonga of France losing 3-6, 6-3, 3-6, 6-1, 6-1 to Alexandr Dolgopolov, who will meet No. 4 Robin Soderling in the fourth round.
Big serving Milos Raonic, a 20-year-old Canadian qualifier, knocked No. 10 Mikhail Youzhny out of the tournament with a 6-4, 7-5, 4-6, 6-4 win.
THIS IS A BREAKING NEWS UPDATE. Check back soon for further information. AP's earlier story is below.
MELBOURNE, Australia (AP) – Second-seeded Vera Zvonareva kept alive her bid for a third consecutive Grand Slam final, beating Lucie Safarova 6-3, 7-6 (9) on Saturday to reach the fourth round of the Australian Open.
Zvonareva served for the match twice but was extended to the tiebreaker. Safarova led 4-2 and 5-3 in the tiebreaker before Zvonareva finally sealed it on her fourth match point.
She lost the Wimbledon and U.S. Open finals last year. If she goes one better and wins the Australian title, Zvonareva can move into the No. 1 ranking.
No. 12 Agnieszka Radwanska also advanced in the women's draw, cruising past Simona Halep 6-1, 6-2.
On the men's side, fourth-seeded Robin Soderling beat Czech qualifier Jan Hernych 6-3, 6-1, 6-4 to extend his 2011 winning streak to eight matches, and 20-year-old Canadian qualifier Milos Raonic upset 10th-seeded Mikhail Youzhny of Russia, 6-4, 7-5, 4-6, 6-4.
Raonic, who clocked the fastest serve in the first two rounds at 143 mph, fired 32 aces and had only two double faults against Youzhny. It was his second win over a seeded player in as many matches after beating No. 22 Michael Llodra in the second round.
Soderling started the year by winning the Brisbane International, beating Andy Roddick in the final.
Soderling's match was delayed for about 10 minutes in the third set when a bubble seemed to appear on the court surface at Hisense Arena. A similar bubble delayed the start of a match on the same court the previous night.
Tournament organizers said moisture from recent rains had gathered under the court's Plexicushion layer in the unseasonably cool conditions and evaporated as temperatures rose, causing a pocket of vapor that lifted part of the surface. Stadium staff repaired the problem quickly both times.
Venus Williams' bid for a first Australian Open title evaporated quickly Friday night.
The seven-time major winner had played 251 Grand Slam matches and never once been forced to retire because of injury.
It took all of four minutes for that streak to end.
Williams spent more than 48 hours agonizing over whether she'd be ready for the third round of the Australian Open. She decided to go ahead, hoping enough adrenalin would kick in to allow her to play through the pain.
Williams was ailing after her second-round victory, her ability to move severely restricted. Waiting for her in the third round was 30th-seeded Andrea Petkovic. Williams took the court on a cool Friday night at Rod Laver Arena "just hoping for some magic."
Williams won just one of the seven points she played before she bent over in pain, clutching her right side. She knew she had to stop.
"A lot of times when you play ... you get this adrenalin that blocks pain," she said. "But I just didn't get enough of that today. Obviously, I just couldn't play. I couldn't move. It was too painful."
The lunge to her right side on the last point aggravated a muscle in her hip that she hurt Wednesday night against Sandra Zahlavova.
"It's super disappointing because this is just not how I envisioned my Australian Open being," she said.
In the men's draw, defending champion Roger Federer was back to his best in a 6-3, 6-3, 6-1 win over Xavier Malisse, and No. 8 Andy Roddick overcame a slow start before powering to victory with 32 aces, stopping Robin Haase 2-6, 7-6 (2), 6-2, 6-2.
No. 6 Tomas Berdych, No. 9 Fernando Verdasco and No. 19 Stanislas Wawrinka also advanced. Wawrinka defeated No. 12 Gael Monfils 7-6 (4), 6-2, 6-3 and will meet Roddick in the next round.
No. 3 Novak Djokovic, the 2008 Australian Open champion, was leading Viktor Troicki 6-2 when his Serbian Davis Cup teammate retired because of a stomach muscle strain.
Top-seeded Rafael Nadal plays 18-year-old Australian wild card Bernard Tomic on Saturday night. The Spaniard is trying to become the first man since Rod Laver in 1969 to hold all four major titles at once. Nadal made a quarterfinal exit in Australia last year, then won the French Open, Wimbledon and the U.S. Open.
Williams wasn't the only high-profile loser in the third round. Justine Henin lost 6-4, 7-6 (8) to Svetlana Kuznetsova.
Henin reached the final here last year in her comeback to Grand Slam tennis but her season was cut short because of an elbow problem.
No. 1 Caroline Wozniacki advanced to the fourth round with a 6-4, 6-3 win over Dominika Cibulkova and can hold the top ranking just by reaching the semis. She's never won a major.
Also advancing were French Open champion Francesca Schiavone, Li Na of China, No. 8 Victoria Azarenka and 2008 Australian Open champion Maria Sharapova.
Copyright 2013 The Local Paper. All rights reserved. This material may not be published, broadcast, rewritten or redistributed.