Taking Mom And Pop To The Cleaners: How The Small Business Lobby Hurts Small Business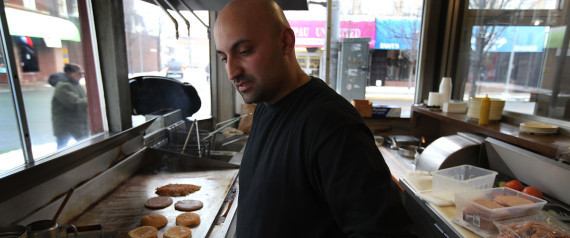 Throughout Wednesday's House floor debate over the repeal of President Barack Obama's signature health care overhaul, Republicans frequently claimed that the 2010 law will cost the U.S. economy 1.6 million jobs if it isn't rolled back. They were citing a statistic from an organization that -- on the surface -- is as unimpeachable a source in Washington as can be found: The National Federation of Independent Businesses, a lobbying heavyweight which dubs itself "The Voice of Small Business."
Yet for the past two years, the NFIB has been less an advocate for small businesses than an arm of the Republican Party. When the interests of the GOP and the needs of small firms have collided, the NFIB has repeatedly sided with Republicans, jeopardizing billions of dollars in credit, tax benefits and other federal subsidies that are critical to the small enterprises that form the backbone of the U.S. economy. Key legislative priorities for small businesses were delayed, diluted or abandoned -- including a major small-business bill -- while the NFIB spent its resources on legislative battles with only tangential connections to small firms, battling climate-change legislation, pushing to extend the Bush tax cuts for the wealthy or opposing a stimulus offering tens of billions in giveaways for, yes, small business.
The U.S. Chamber of Commerce, NFIB's bigger brother of sorts, has received greater attention for its outright political warfare against Democrats. The NFIB has maintained a lower national profile, and is still routinely referred to in the media as "the small business lobby." But inside the Beltway, the NFIB's raw partisanship is increasingly isolating it from key policy circles, as lobby groups such as the National Small Business Association, the Main Street Alliance and others expand their influence among entrepreneurs and mom-and-pop enterprises.
By yoking itself to the GOP, the NFIB is employing a strategy routinely embraced by the Chamber on one side of the aisle and labor unions on the other. The strategy makes sense for labor and major corporations in that their competing interests neatly fit atop the platforms of their respective parties. It makes less sense for U.S. small businesses, whose interests are often served by either party.
Democrats who deal with the NFIB regularly, even those on the business-friendly end of the spectrum, find it extremely difficult to get any traction with the group. In an interview, Senate Small Business Committee Chair Mary Landrieu (D-La.) fully extended her arm to the right to demonstrate just where on the spectrum the NFIB positions itself. "The small-business lobby is a broad coalition that ranges, I guess, from the right, by the NFIB, the Chamber of Commerce coming -- still right, but closer to the center -- and then you have more of your progressive and left-leaning small business groups," she said.
"Sometimes the NFIB cuts off their nose to spite their face," Landrieu said of the lobby's decision to obstruct the small-business bill to win points with Republicans.
On Capitol Hill, the NFIB has been associated with the GOP since the Reagan era, and enjoyed a particularly close relationship with the party during the presidency of George W. Bush. But in 2006, the organization made a significant leadership change, bringing on Todd Stottlemyer as president and CEO just as Democrats appeared on the cusp of a major victory in that November's midterm elections.
When Stottlemyer arrived, he found an organization that had drifted a long way from its small-business base. The NFIB's highest priorities included items with little relation to the way firms operate, efforts such as abolishing the estate tax and fighting cap-and-trade legislation.
"The first thing he did when he got there is he looked at their top-priority issues -- estate tax, and a couple other things -- he sat down with the board and said, 'I don't really understand why these are your priorities. I've actually been in business, run a small-to-midsize business. I don't really think about any of these things, ever,'" recalled a top Senate Democratic aide who has worked closely with Stottlemyer and the NFIB. "There was some friction with the board, but I think they respected his background and the fact that he was a good spokesman for small business."
Stottlemyer was an atypical Washington lobbyist. He came up through the business world, rather than political channels, having run a technology startup and chaired a Virginia county Chamber of Commerce. He worked to win over Democrats, earning praise from several liberal and centrist lawmakers.
"Todd did the best he could to be fair and nonpartisan and focus on what it was that his association members felt was good for them -- and not in a partisan way, but in a policy way," Allen Boyd told HuffPost. Boyd, a former Blue Dog Democrat from Florida who lost his reelection bid in November, is a close ally of House Minority Whip Steny Hoyer (D-Md.), a key Democratic liaison to business.
As health care policy became a central campaign issue during the 2008 elections, Stottlemyer not only backed reform, he led the creation of a new reform coalition called Divided We Fail. According to people involved with the group, Stottlemyer reached out to AARP chief Bill Novelli to form the coalition, which expanded to include a longtime NFIB nemesis, the Service Employees International Union.
"Todd was a problem solver interested in exploring new options that met his members' goals -- even if it was contrary to past decisions," then-SEIU President Andy Stern, now with the Georgetown University Public Policy Institute, told HuffPost. "He brought a small-business can-do mentality, and was more a watchdog for his members' interests rather than an adjunct to any political party." (Novelli is now at Georgetown's business school.)
Health insurance is a major expense for businesses of all sizes, but it is particularly hard on small firms, which are unable to leverage a large base of employees to secure lower pricing from insurers. Many small-business owners can't break into the group health-insurance market at all -- forcing them into an individual insurance market ripe with ripoffs, improperly-denied claims and customer-service havoc -- driving up the cost of doing business and making hiring and retaining workers more difficult than such processes are for big firms.
"Today it's not enough to say 'no.' We want to be part of the solution," Stottlemyer said in a May 20, 2008 interview with the Henry J. Kaiser Family Foundation, a health care think tank established by the Kaiser Permanente founder. "We're participating in a coalition called Divided We Fail with some uncommon organizations that we don't have a lot in common with historically ... There are a lot of things we don't agree on, but we do agree very much that health care needs to be on the agenda for the next President of the United States ... We need to do something about health care, because it's strangling our small-business owners."
So long as the government did not place the burden for universal health coverage on employers by forcing all companies to offer their workers a group health-insurance plan-- the so-called "employer mandate" -- Stottlemyer was open to negotiations. He pooh-poohed concerns about the cost of fixing what he called a "crisis" in health care, noting that it was a question of who paid to correct the imbalances in the system, not whether the country could afford it.
"The United States today, as a western industrialized nation, [health care is] 16 percent of our gross domestic product. It's higher than in any other country," he said. "The dollars are there, it's how we spend the dollars."
Subscribe to the HuffPost Hill newsletter!