For the past year, Food52.com readers have been voting in weekly showdowns of reader-submitted recipes on a given theme. The winning recipes of each week will end up in Food52's upcoming cookbook, along with bios of the people who submitted them (Food52 explains the process in simple detail here).
Food52 and its co-founders Amanda Hesser and Merrill Stubbs have invited HuffPost Food readers to vote on week 18's contest (of the second year, and the second book).
This week's showdown is for the best dip recipe.
Roasted Fennel and White Bean Dip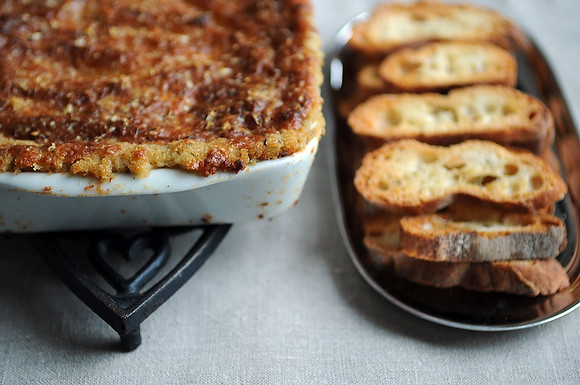 Photo: Sarah Shatz
Amanda and Merrill's notes on Roasted Fennel and White Bean Dip on Food52.com:
Most dips involve dumping a bunch of ingredients in a bowl and mixing them until smooth. If the ingredients are good quality, you'll end up with something worth dipping a chip into, but if you're like singing_baker and you tweak some of those ingredients, you'll end up with an unforgettable hors d'oeuvre. First, you roast the fennel and garlic, to bring out their sugars and intensify their flavors. You simmer the white beans (we used canned) in a fragrant garlic-and-rosemary oil. You blend the beans and fennel with more oil so the mixture lightens like a good whipped salt cod and potato puree. And, finally, you spoon it all into a baking dish, cover it with cheese, and slide it into a hot oven so the top of the dip toasts, leaving you with a crisp veil over the pillowy dip. You won't even remember the work that went into it once you're showered with praise. - A&M
View the Roasted Fennel and White Bean Dip recipe here.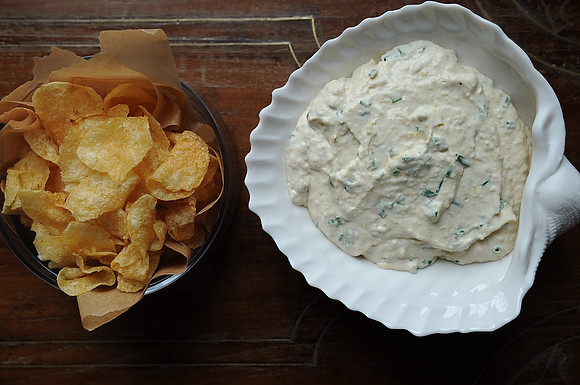 Photo: Sarah Shatz
Amanda and Merrill's notes on Caramelized Onion Dip on Food52.com:
Patience pays off here -- take your time caramelizing the onions. First, the onions will give off a lakeful of liquid. Let it boil off slowly, and by the time the onions begin to caramelize -- it took ours at least an hour -- they'll be as soft as pudding and deeply concentrated in flavor. Their sweetness infuses the entire dip, and while the rest of the ingredients are the classic onion dip foundation -- sour cream, cream cheese, and chives -- this one will be better than any you've had before. - A&M
View the Caramelized Onion Dip recipe here.
SUBSCRIBE AND FOLLOW
Get top stories and blog posts emailed to me each day. Newsletters may offer personalized content or advertisements.
Learn more