The Latest Victims Of The Foreclosure Crisis: Low-Income Apartment Renters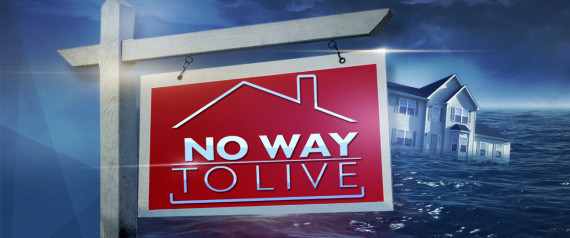 The following is produced in partnership with The Dylan Ratigan Show's weeklong "No Way To Live" series on the financial crisis and its impact on ordinary Americans.
NEW YORK -- First, a heating pipe broke in the adjacent apartment, sending a powerful blast of steam into his home along with an unrelenting stench. Then, chunks of the ceiling started falling into his bathroom, and black mold began creeping up the walls. Cockroaches thrived in the suddenly tropical apartment. In December, mice popped up from the gaps between the walls and the baseboards.
But each time Sergio Cuevas sought the attention of the landlord, hoping to arrest the deterioration of his apartment in the Bronx, he got nowhere. It was like the management company had ceased to exist.
This was not the result of another derelict slumlord, but rather an example of a lesser-explored aspect of the national foreclosure epidemic: Cuevas and some 400 other tenants living in ten apartment buildings in a working poor stretch of the Bronx have found themselves stuck in the legal cracks of the American real estate reckoning, their homes claimed by no one. When trouble arises, there is effectively no landlord to call.
The investors who bought their buildings at the height of the real estate bubble, hoping to flip them for quick profit or jack up stabilized rents, have washed their hands of a bad bet. The bank that has initiated foreclosure says it does not yet have legal title, meaning it lacks responsibility. The court-appointed receiver who controls the property says he doesn't have enough money to attend to the burgeoning problems.
The scene here in the Bronx is emblematic of a growing national problem. In apartment buildings scattered in low-income neighborhoods from New York to Phoenix to San Francisco, families with scant resources and uncertain legal rights are literally watching their ceilings crumble and their floors collapse as they wait and hope for a resolution.
Some cities have sought to compel banks to attend to the real estate seemingly under their control, but complain that they have limited authority to inject themselves into private property deals. When they do take action--writing up building code violations--a lack of clearly defined ownership means there is no one from which to demand action.
By now, stories of investors availing themselves of cheap credit to buy into speculative new subdivisions in sun-belt stretches of Florida and California have become legion. But the real estate boom also enticed speculation on the continued spread of gentrification in low-income communities, drawing in investors from far and wide.
This is how a Los Angeles-based company called Milbank Real Estate came to possess this motley collection of apartments in the Bronx.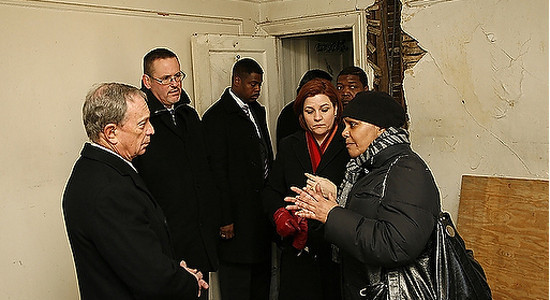 (New York City Mayor Michael Bloomberg (left) and City Council speaker Christine Quinn (center) speak with Milbank resident Maggie Maldonado in early January.)
The buildings were built in 1920s, erected to house a then-exploding New York City population whose ranks were being swelled by immigration. The Bronx beckoned as a marker of upward mobility, its concourses and new apartment blocks offering a respite from more densely populated neighborhoods in Manhattan.
Despite the neglect in more recent decades, many of the buildings retain hints of their former glory. Ornate moldings are still visible under layers of lumpy plaster patch-work. The more expansive apartments have generous kitchens and dining rooms, along with three bedrooms and two bathrooms.
Some of the tenants who have lived in the buildings for decades have managed to hang on to original parquet floors. They remember the fireplaces and wrought iron benches in the lobbies, the flowers in the courtyards. They feel a strong sense of pride in the neighborhood.
But as the city declined, and as the Bronx burned, the original owners gave way to a parade of some of New York City's most notorious slumlords. Each landlord collected rent checks and spent as little as possible on repairs, doing the bare minimum to stay legal. The same courtyards that had once boasted landscaping eroded to bare dirt. Drug dealers set up shop under staircases and in vacant apartments--those units now marked with spray-painted logos, black Xs on red front doors.
By the time Milbank Real Estate entered the picture in 2007, most of the buildings were already in a state of considerable disrepair according to the Northwest Bronx Community and Clergy Coalition, which works with tenants in the buildings.
The collection of five and six-story brick buildings were out of character for the company, which specialized in taking rundown commercial buildings and sprucing them up--from the Figueroa Tower in downtown Los Angeles to a trio of office buildings on the airport approach in Houston.
But buying into a piece of the Bronx and taking on tenants seemed to make commercial sense. New York was home to millions of renters willing to hand over ever-larger monthly sums for housing, and pressing further and further away from Manhattan in pursuit of extra space and¬ good value.
Milbank bought a total of 17 buildings in the Bronx, 10 with one $35 million mortgage, and the other seven with individual mortgages. All are in different stages of foreclosure.
The 10 buildings in the Bronx were walking distance to subway lines reaching offices in Manhattan, and they were renting at far below market rates because they were rent-regulated. If Milbank could chase out tenants who were behind on their rent, renovate the apartments, and then start charging market rates, it could capitalize on the spread of gentrification to the outer rings of the city, all the way to the Northwest Bronx.
Milbank's calculations were not being made in a vacuum. Other investors were also eyeing properties in low-income neighborhoods, and aiming to push out rent-regulated tenants. A British company, Dawnay Day, gave newspaper interviews about how easy it was to duck rent controls before openly offering East Harlem tenants small sums of money to leave. A Queens venture, Vantage, repeatedly filled housing court dockets with dubious claims that tenants hadn't paid rent as a means of pressuring them to leave, according to the New York Attorney General's office, which ultimately secured a $1 million settlement.
Subscribe to the HuffPost Money newsletter!