With only 22 days left until the city elections (and early voting under way) things are progressing rather normally: the congenial spirit of the first televised debate made way for reality show-worthy name calling, and allegations of intimidation! Happy Monday, Chicago!
Stay tuned to HuffPost Chicago from now until February 22 for "The Countdown," a daily roundup of election news, gossip and other fun tidbits. You can also sign up to receive "The Countdown" via email daily by checking the "Chicago Brief" box here.
GYM-TIMIDATION

Have you heard that Rahm Emanuel has a temper? It turns out, Emanuel is known for dropping f-bombs and being kind of a bully when it comes to getting what he wants. Despite his painfully over-reported reputation for hostility, Emanuel has been very well behaved in public throughout the campaign. He has been cordial to his opponents and handling repetitive questions from reporters quite well.
Perhaps that's because his supporters and campaign staffers are in the background flexing their muscles.
On Monday, Gery Chico continued his tour of places that might-but-probably-won't-be-affected by Emanuel's proposed tax on luxury items. Chico's campaign set up a news conference at a neighborhood gym, where the candidate would tell reporters and supporters that Emanuel's plan would put neighborhood gyms out of business. Is it true? Not really. So, an Emanuel supporter called the gym and told them so. The gym canceled Gery's conference. The Chicago Sun-Times reports:
Chico's campaign scrambled to line up the second gym, in West Town. Then the Emanuel campaign called that gym. But owner Sharone Aharon told the caller he planned to let Chico do his news conference there anyway.
Now, Chico and the West Town gym owner are accusing the Emanuel campaign of intimidation and making business owners "fearful about taking a position."
A few thoughts: Chico should not be telling voters that Emanuel's tax plan might put neighborhood barber shops or gyms out of business when he has no idea if that is the case. At the same time, Emanuel should be holding his own press conference or releasing a detailed list of services that would be taxed under his new plan instead of contacting individual businesses that obviously support Chico. Though, as Rich Miller of the Capitol Fax blog pointed out Monday, the whole tax-swap plan will be dead in the water without support from the Illinois General Assembly. (Read more about today's gym drama here.)
VOTING BEFORE SNOWTORIOUS BIG

Thankfully, I did not come up with "SnowtoriousBIG." Some RedEye readers did when voting on a name for the impending Chicago blizzard. The city could see up to 18 inches of snow in the next few days, which is causing everyone to FREAK THE EFF OUT. If you are unfazed by the countless puns that equate a snow storm to the apocalypse, than perhaps you'll consider leaving your house and voting early! Today, Rahm Emanuel and Miguel del Valle did just that!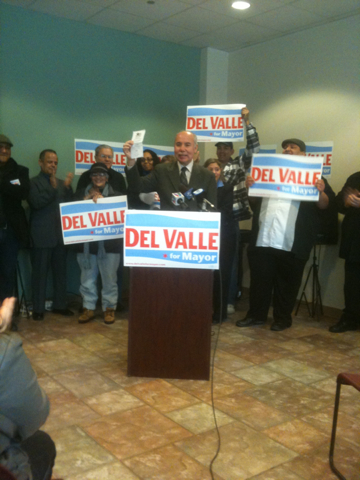 del Valle shows off his voting receipt.

"I encourage all decided voters to voice their opinions in these early rounds of voting," del Valle said after voting in Logan Square Monday, according to the Tribune. "For all those Chicagoans who have not decided, I encourage you to keep listening, thinking, and asking questions of every candidate."
The candidates weren't the only ones voting early. The Chicago Board of Elections reports that 6,367 ballots were cast Monday (the unofficial number), which is higher than all but one opening day of early voting--the 2008 Presidential Election.
Learn a lot more about del Valle here, and learn a lot more about early voting here.
CRACK IS WHACK

Perhaps you heard about Carol Moseley Braun's latest outburst? If not, the gist of it is that she can't handle criticism at all and flew off the handle when another candidate suggested that she has been absent from Chicago's communities for 20 years. Obviously, the grown-up thing to do was to call the candidate a crack head.
The painful exchange (watch it here) led most to question Braun's candidacy in general, and others to question her possible future as a reality television star. From NBC Chicago's "Ward Room":
Another reason Moseley Braun's outburst came off so badly was that it echoed media stereotypes of catfighting women. Internet posters compared the scene to "The Real Housewives of Atlanta," or the Dave Chappelle skit, "When Keeping It Real Goes Wrong."
Though the outburst certainly isn't her first of the election season, it got the most attention. Patricia Van Pelt-Watkins probably isn't holding her breath for an apology, though.
TWEETS OF THE DAY

@MayorEmanuel: Jesus fucking Christ, I just woke up in the back of the Wilco van. My bongo hand feels like it's fucking broken.
@John Fritchey: Oh no she didn't! Carol Moseley Braun shows yet another 'crack' in her campaign efforts. It was just a matter of time...
@ourmaninchicago: Who knew Carol Moseley Braun was going to out-Rahm Rahm?
If you have any juicy gossip about the Chicago elections, or a story you think we should see, send us an email at chicago@huffingtonpost.com.