2012 DNC Site Charlotte Feeling Housing Pain
With Charlotte cemented as the site of the Democratic National Convention, it's a little unfortunate that words like "housing" and "foreclosure" aren't making their way into the State Of The Union address, don't you think? (Well, "housing" made it in one time: there was mention made of "five different agencies that deal with housing policy" during the part about cutting government programs that set up the "salmon" joke that everyone remembers.)
North Carolina, happily, doesn't crack the top ten of states with the highest foreclosure rates in the United States. But the state has plenty of foreclosure pain. In particular, Mecklenberg County, where Charlotte is located, has the fourth-highest foreclosure rate in the state: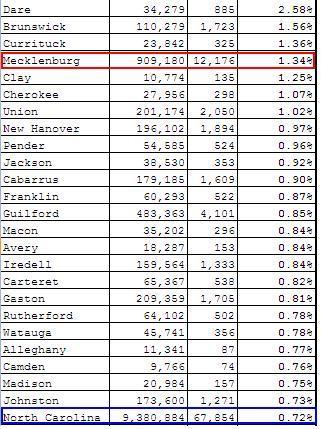 The Queen City in particular stands out for its housing problem. Let's cast our minds back to this Jan. 25, 2010 story from the Washington Post:
The closely watched S&P/Case-Shiller report shows that housing prices, compared year-over-year, have declined nationally for six consecutive months. The downward path suggests that housing prices could, by spring, hit their lowest level since April 2009, said David Blitzer, the index committee's chairman.

Already, nine major cities have dipped to new lows, the report shows. They are Atlanta, Charlotte, Chicago, Detroit, Las Vegas, Miami, Portland, Ore., Seattle and Tampa.
(As noted earlier, the Republican National Convention is going to be held in Tampa.)
Venture outside Charlotte and Mecklenberg County, and the picture doesn't get any rosier. Of the 10 metropolitan areas with the fastest growing foreclosure rates, four of them are in North Carolina: Wilmington, Hickory-Lenoir-Morganton, Fayetteville and Asheville.
As near as I can determine, North Carolina does not have much of a salmon industry, so I'd imagine that the Obama administration will have come up with a better answer for North Carolinians.
[Would you like to follow me on Twitter? Because why not? Also, please send tips to tv@huffingtonpost.com -- learn more about our media monitoring project here.]