Super Bowl 2011 LIVE: Online Updates For Pittsburgh Steelers Vs. Green Bay Packers
Super Bowl 45 is finally here. The Pittsburgh Steelers and the Green Bay Packers will duke it out for the Lombardi Trophy at 6:30 p.m. ET. Ben Roethlisberger will look for his third Super Bowl victory since 2005 and Aaron Rodgers is going for his first in just his third year as Green Bay's starting quarterback.
Three-time Super Bowl champion Roger Craig has been in Dallas all weekend and is sending photos and updates from Cowboys Stadium. Craig made the Pro Bowl four times as the San Francisco 49ers running back and he played along side Joe Montana and Jerry Rice. Scroll down for live updates from Super Bowl XLV and don't forget to predict the winner!
02/06/2011 11:37 PM EST
FINAL WORD
On the way back, Pack! Aaron Rodgers came out focused. He got the Packers off to a fast start. You have to make Pittsburgh play catch up. Ben did a great job of coming back and keeping it close. I'm very happy for Aaron. I've always been impressed with the way he has handled himself, even with the Favre situation a few years back. He waited his turn as the backup and never complained or said anything negative. He has always been a class act, so I'm happy that he was awarded with the MVP.
02/06/2011 11:36 PM EST
Postgame With Roger Craig
I'm in a limo right now. We finally got out from the Super Bowl. It's a great stadium, but entering and exiting was tough with 100,000 people. Thank God it wasn't raining or snowing. Although my shoes got muddy. I'm going to have to send Jerry the bill. The game itself was so much fun, though. The atmosphere inside was great. There was a lot of energy and the Black Eyed Peas put on a great performance. Lots of celebrities too. They put the camera on guys like Ashton Kutcher and George Bush, and they even showed my teammates Ronnie Lot and Steve Young on that big screen!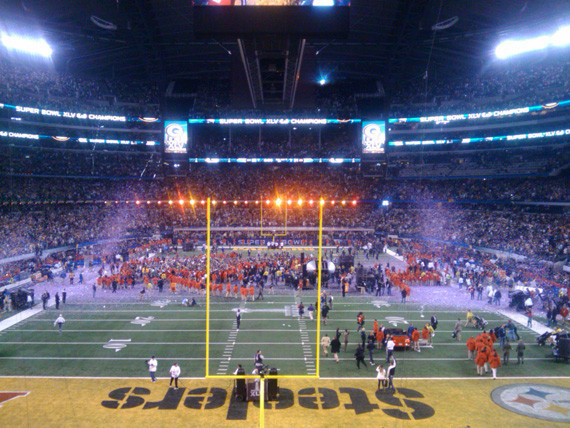 02/06/2011 10:07 PM EST
PACKERS WIN
PACKERS ARE SUPER BOWL CHAMPIONS FINAL SCORE: 31-25 GREEN BAY
02/06/2011 10:05 PM EST
INCOMPLETE
BIG BEN THROWS AND INCOMPLETE PASS. GREEN BAY TAKES OVER AT THE PITTSBURGH 33 YARD LINE. 49 SECONDS TO GO. STEELERS ONLY HAVE ONE TIMEOUT.
02/06/2011 10:04 PM EST
4th Down
Roethlisberger overthrows Mike Wallace. 4th down and 5. SUPER BOWL ON THE LINE!
02/06/2011 10:03 PM EST
Thrown Away
Big Ben throws it away on 2nd and 5. 3rd down coming...
02/06/2011 10:02 PM EST
Heath Miller
Big Ben hits Heath Miller for 15 yards.
02/06/2011 10:02 PM EST
TWO MINUTES
TWO MINUTE WARNING
02/06/2011 10:01 PM EST
Crucial Flag
After the kickoff, a personal foul is called on Pittsburgh's Keyaron Fox, moving the Steelers back to their own 13-yard line.
02/06/2011 9:56 PM EST
IT'S GOOD
31-25 Green Bay after a Mason Crosby field goal. 2:07 remaining.
MORE:
NFL
,
Super Bowl
,
Green Bay Packers
,
Pittsburgh Steelers
,
Predict The News
,
Super Bowl 2011
,
Super Bowl XLV
,
Super Bowl 45
,
What Time Does The Superbowl Start
,
Super Bowl Time
,
Super Bowl Live
,
What Time Is The Super Bowl 2011
,
Superbowl Live
,
Steelers Vs Packers
,
Super Bowl 2011 Time
,
Super Bowl Online
,
Packers Vs Steelers
,
Watch Superbowl Online
,
Superbowl Online
,
Super Bowl 2011 Live Online
,
Super Bowl 2011 Start Time
,
Super Bowl 2011 Live Stream
,
Super Bowl 2011 Online
,
Super Bowl Live Online
,
Superbowl Live Online
,
Super Bowl 2011 Live
,
Prediction