Emma Roberts And Dave Franco Make Out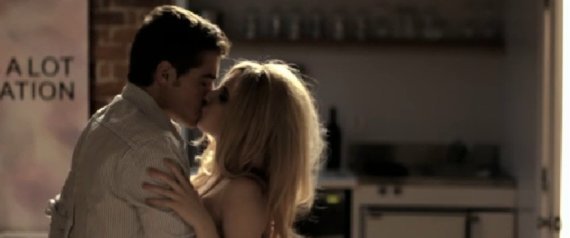 In the newly minted MTV series 'Supervideos,' directors and actors team up to create music videos. The first video in the series was set to the almost-extinct LCD Soundsystem's anthemic jam "Pow Wow" and starred Up In The Air actress Anna Kendrick. The second and most recent installment features Dave (younger brother of James) Franco and Emma (niece of Julia) Roberts commingling to Cult's infectious single "Go Outside." Directed by Patrick Hoelck, the piece is an homage to French New Wave Cinema, most notably Jean-Luc Godard's cult classic 'Le Mepris' ('Contempt').
Roberts plays an ersatz Brigitte Bardot come to life, much to the joy of Franco's character, whose television she emerges from. The two spend the night cavorting, partying, and smooching. Throughout an evening of romancing (and trying to bridge the gaps in cultural horizons that arise from time-travel via television) Franco desperately tries to hold on to his femme fatale.
The clip is not Cults' official music video for "Go Outside," though Cults' did give their permission to use the song as part of the MTV series. Cults made this clear on their Twitter page, noting, "Official video will be coming out SOON!" Check out the "supervideo" below: