Late Returns: Huntsman In 'Limbo'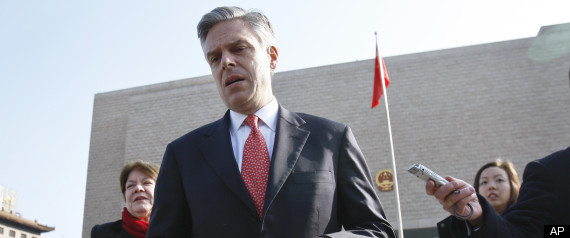 Ben Smith and Alexander Burns have a piece up today about the position that potential presidential aspirant Jon Huntsman finds himself today, namely, "a politically bizarre and legally tricky two-month limbo."
That's because while Huntsman has resigned, he will continue to serve in one of America's most sensitive diplomatic posts until the end of April, reflecting a deal struck between the ambassador to China and the White House that an array of prominent political lawyers described as puzzling and risky.

"This is a really bad idea," said Richard Painter, who was White House chief ethics lawyer during President George W. Bush's second term. "He ought to just come on home immediately -- like immediately -- and have an acting ambassador over there."
Read the whole thing. In other Huntsman-in-China news, he was recently spotted in the crowd at a "Jasmine Revolution" demonstration. Shanghaiist has video, and a transcription of a brief exchange:
In the 1:30 clip (see video after the jump), a Chinese man in the crowd calls out to him, "Hey Mr Ambassador, what are you doing here?"

Huntsman responds, "I'm just here to look around."

The Chinese man asks, "You want to see China in chaos, don't you?"

"No, I don't," came the reply.
Since then, the Chinese government, well known for clamping down on Internet communication, has officially designated Huntsman's name as a "sensitive term."
_______________________
Donald Trump is not surprised by a poll -- which I bet will come to be known as one of the great outlier polling results of the 2012 season -- that found him in a close race with President Barack Obama. Says Trump: "The poll came out, and we're in a virtual tie and I haven't campaigned." Yes. My guess is that if Trump starts "campaigning," these polling results will quickly revert to a more logical statistical realm. [Political Wire]
The Daily Princetonian profiles Indiana Governor Mitch Daniels, chronicling his rise after getting into some very typical collegiate trouble. [Daily Princetonian]
Mike Huckabee won't be reviving the specter of Jeremiah Wright on the 2012 campaign trail (not to worry, someone else inevitably will), saying that "a lot of the focus on Jeremiah Wright was misplaced." [Christianity Today]
But is Mike Huckabee "bored by foreign policy?" [War Room @ Salon]
Sarah Palin is going to India! Allow me to point out the obvious precedent, below. [Politico]
[Would you like to follow me on Twitter? Because why not? Also, please send tips to tv@huffingtonpost.com -- learn more about our media monitoring project here.]

Subscribe to the HuffPost Hill newsletter!