College Professor Rankings In Texas Spark National Debate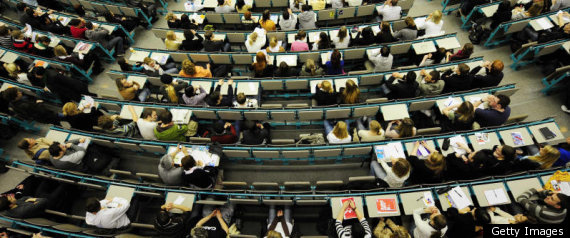 For years, state legislators, parents, and even his own boss had been hectoring Frank Ashley, the vice chancellor of academic affairs for the Texas A&M University System, to tell them whether his highest paid professors were worth their often fat paychecks.
Ashley responded with a spreadsheet that listed each of his faculty members according to how much money they made or lost for the university.
The study calculated an individual professor's "revenue" based on the tuition he or she brought to the school -- a product of the number of students taught -- and the amount of research awards and grants he or she obtained, among other factors. The greater the number of classes and students taught, the greater the revenue. If a professor's annual salary was lower than the amount of revenue generated, it was black. Otherwise, it was red.
Of the 50 highest compensated faculty members, only five appeared to be in the black and earning their keep. The rest were crimson.
Although the study, still in draft-mode, was meant for internal use only and, by Ashley's own admission, deeply flawed, the Texas A&M University System was forced to release the 265-page document on its own website after The Eagle, a local newspaper, filed an open records request.
The data revealed, for example, that while one faculty member at Texas A&M earned more than $500,000 each year, the average counterpart at its College Station campus made around $120,000.
The Texas A&M University System removed the spreadsheet from its website within days, after discovering that much of the data was found to be inaccurate. It is no longer available. (Click here to download the spreadsheet, provided courtesy of the Center for College Affordability and Productivity.)
Ashley's spreadsheet was, of course, a touchstone for many of the anxieties that riddle the ongoing debate around higher education reform. Academia is clubby, professors' performances hard to gauge, and parents and students can easily become financially indentured in their quest for a small piece of the American Dream.
And in Texas, like everywhere else, these issues have hardly disappeared. Similar to most states, Texas has weathered enormous budget cuts. Texas A&M, like other public institutions, has been especially hard hit, with as much as 15 percent, or $32 million, sliced from its budget in recent years. According to Jason Cook, Texas A&M's spokesman, the university stands to lose an additional $53 million in state funds over the next two years.
With the university forced to further cinch an already tight belt, Ashley, as if on cue, is at it again. Despite his detractors, he has assembled a second appraisal of professor productivity, using data from the current academic year. It's a move he predicts other schools, particularly in Texas, are likely to follow.
"With the economy where it is right now, everyone wants to make sure they're getting the most out of what they're paying for," says Ashley, who spent much of the last month finalizing the data, double and triple checking for any miscalculations. Of prior criticism, Ashley is the first to admit that the original spreadsheet was nothing if not a work in progress. He's hoping for a second shot at redemption.
Its fate now rests with the school's 10-person board of regents, who could opt to make it public. Or, as was the case last fall, an open records request may force its release. Recently elected board chairman Richard A. Box calls such an outcome "almost inescapable, since anyone can request it and the information exists in the public domain."
Whether a matter of days or weeks until the information is again made public, Ashley holds firm. "There's this widespread belief that the professoriate is a nice job," he says. "We want to make sure that we're being transparent and good stewards of the money that taxpayers provide for us."
LIES, DAMN LIES, AND STATISTICS
Texas Governor Rick Perry and the Texas Public Policy Foundation, an Austin-based conservative think tank, have come out in favor of Ashley's metric.
But University of Texas President William Powers Jr. -- A&M's arch rival -- remains unconvinced Ashley has proven anything. He's also opposed to the use of such bean counting at his Austin campus.