Facebook is hosting a press conference on Thursday starting at 10AM PT/1PM ET to offer a "behind-the-scenes look at the latest technology powering Facebook."
Facebook will be livestreaming the announcement and you can watch it below or via Facebook Live. We'll also be live blogging the news right here. Note: Live blog is not an official transcript, but a compilation of quotes (indicated where relevant with quotation marks) and paraphrased statements.
04/07/2011 2:24 PM EDT
That's all folks!
The event is over. Check out more on Facebook's announcement here.
04/07/2011 2:23 PM EDT
How important is the Open Compute Project?
Malik asked the panelists to compare the innovation and significance of the project.
Panelist Jason Waxman says, "It's like the launch of the Prius. [Facebook is] putting something viable on the map," only in this case, by making the hardware designs open to all, it's "like [Facebook is] showing people how they made the Prius."
04/07/2011 2:11 PM EDT
From the panel discussion:
| | |
| --- | --- |
| | @ fxnscitech : Facebook Takes Over the World, Part 2: you can buy Dell servers that use FB motherboards. |
04/07/2011 2:01 PM EDT
Facebook's introduction to the Open Compute Project
Watch their just-released video, which was screened at the press conference, below:
A press release is available here and an illustrated guide to the tech specs is available here.
04/07/2011 1:56 PM EDT
Zynga's CTO says the company is considering using Facebook's Open Compute Project technology and is "intrigued" by it.
04/07/2011 1:55 PM EDT
Another look at the servers in the data center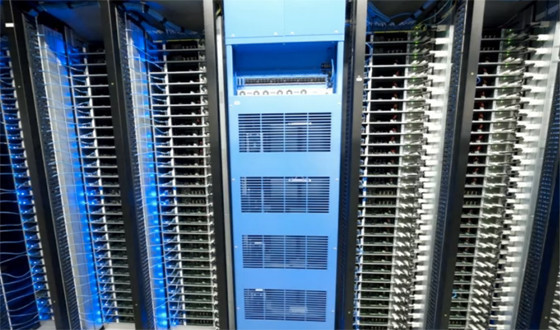 04/07/2011 1:52 PM EDT
Facebook: "It's time to stop treating data centers like 'Fight Club' [and time to] demystify them."
An industry panel moderated by Om Malik is kicking off.
04/07/2011 1:44 PM EDT
The original data center design
Facebook's Jay Park said that he sketched the first data center design on a napkin, shown below: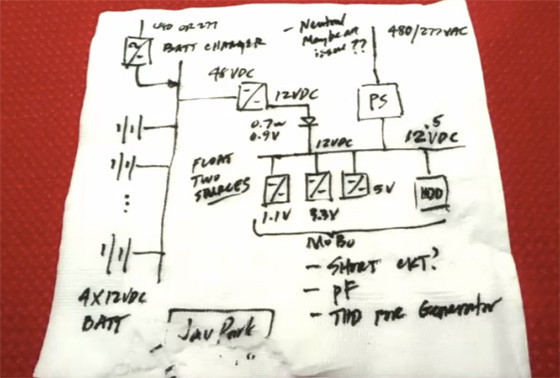 04/07/2011 1:41 PM EDT
A view inside Facebook's data center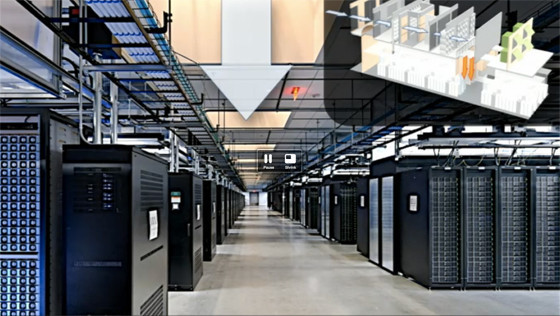 The arrow represents the cool air coming down into the data center.
04/07/2011 1:39 PM EDT
There are three key innovations Facebook Prineville data center incorporates, according to Facebook:
1. 480 volt electrical distribution system providing 277 volts directly to each server 2. Localized uninterruptible power supply each serving six racks of servers 3. Ductless evaporative cooling system
SUBSCRIBE AND FOLLOW
Get top stories and blog posts emailed to me each day. Newsletters may offer personalized content or advertisements.
Learn more