Vera Wang and David's Bridal seem to be a match made in sartorial heaven.
Just several months after the designer debuted her White wedding dress collection for the chain store, she has released the first image from the accompanying bridal collection, Women's Wear Daily reports. A set of seven dresses will be offered in hues like amethyst, orchid and champagne come June, with price points from $158 to $200.
A one-shoulder short dress with a bubble skirt adorned with oversize rosettes is geared for style-minded wedding parties. But there are also more traditional choices such as a short dress with horizontal pleats and a sleeveless chiffon column dress with swag skirt.
There's also long skirts -- "I never thought we would see that come back but it has," Wang told the fashion newspaper.
So, what's next in this happy marriage? Shoes! A series of four styles by Vera will be shelved in David's Bridal for summer.
Take a first look at Vera Wang's bridesmaid dresses for David's Bridal: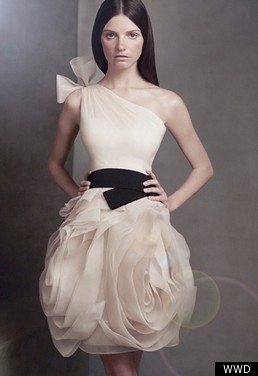 Read the rest at WWD.com. And for more Vera, check out the FN Shoe Star online reality show competition -- she's the judge for the Bridal Challenge.