Sarah Burton, the current creative director of Alexander McQueen, spoke with Vogue about a handful of the late designer's dresses slated to be featured in the upcoming Costume Institute exhibition "Alexander McQueen: Savage Beauty," opening May 4 at the Met in N.Y.C.
It seems there really is a fascinating story behind every piece. About the dress below, at left, from the Fall 2006 "Widows of Culloden" collection, Burton said:
"The collection was about the 1745 massacre of the Scottish Jacobites by the English, which Lee felt so passionately about because of his Scottish family heritage, which his mother had researched. The women were the widows of the slaughtered army. This dress was actually based on my wedding dress--I got married two years earlier. We had to figure out how to make lace work in the round with those ruffles because Lee hated gathering. So we cut out all of the flowers from the lace and reappliquéd it on tulle to make our own fabric. This is the collection most people remember as the one with Kate Moss in a hologram. Oh, my God, it was so beautiful. He loved that show."
As for the one at right, from the Spring 2001 "Voss" collection, Burton remarked:
"So much of this show was about the collective madness of the world. It was presented in a two-way mirrored glass box in London, and the girls had bandaged heads, acting like inmates of a mental asylum. Lee wanted the top of this dress to be made from surgical slides used for hospital specimens, which we found in a medical-supply shop on Wigmore Street. Then we hand-painted them red, drilled holes in each one, and sewed them on so they looked like paillettes. We hand-painted white ostrich feathers and dip-dyed each one to layer in the skirt."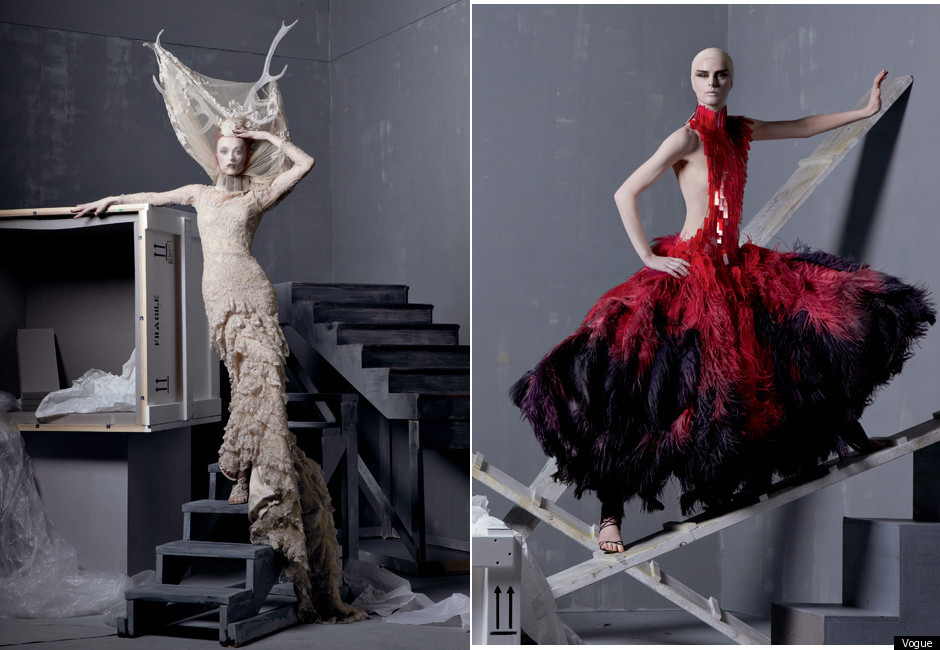 Bigger view: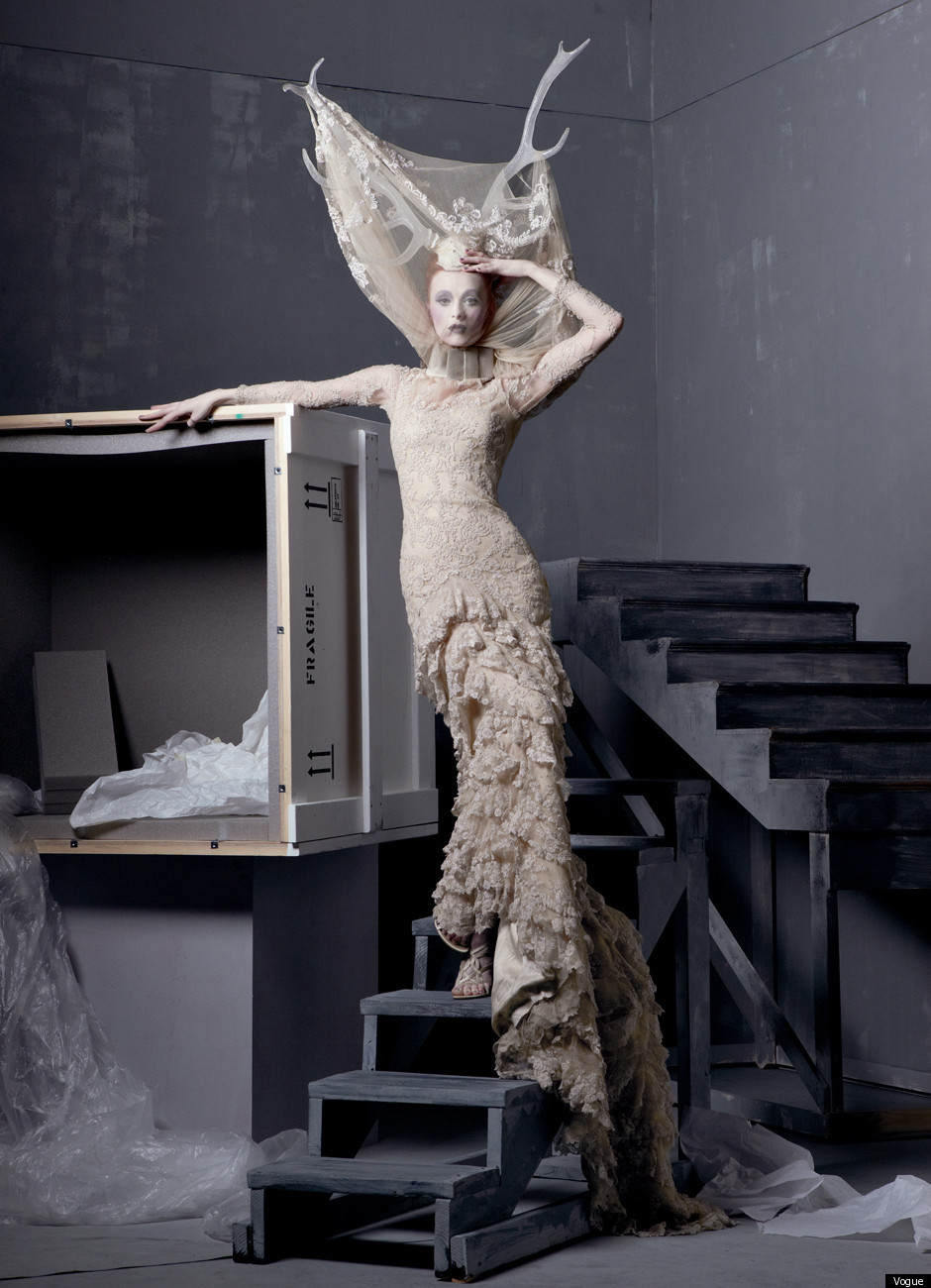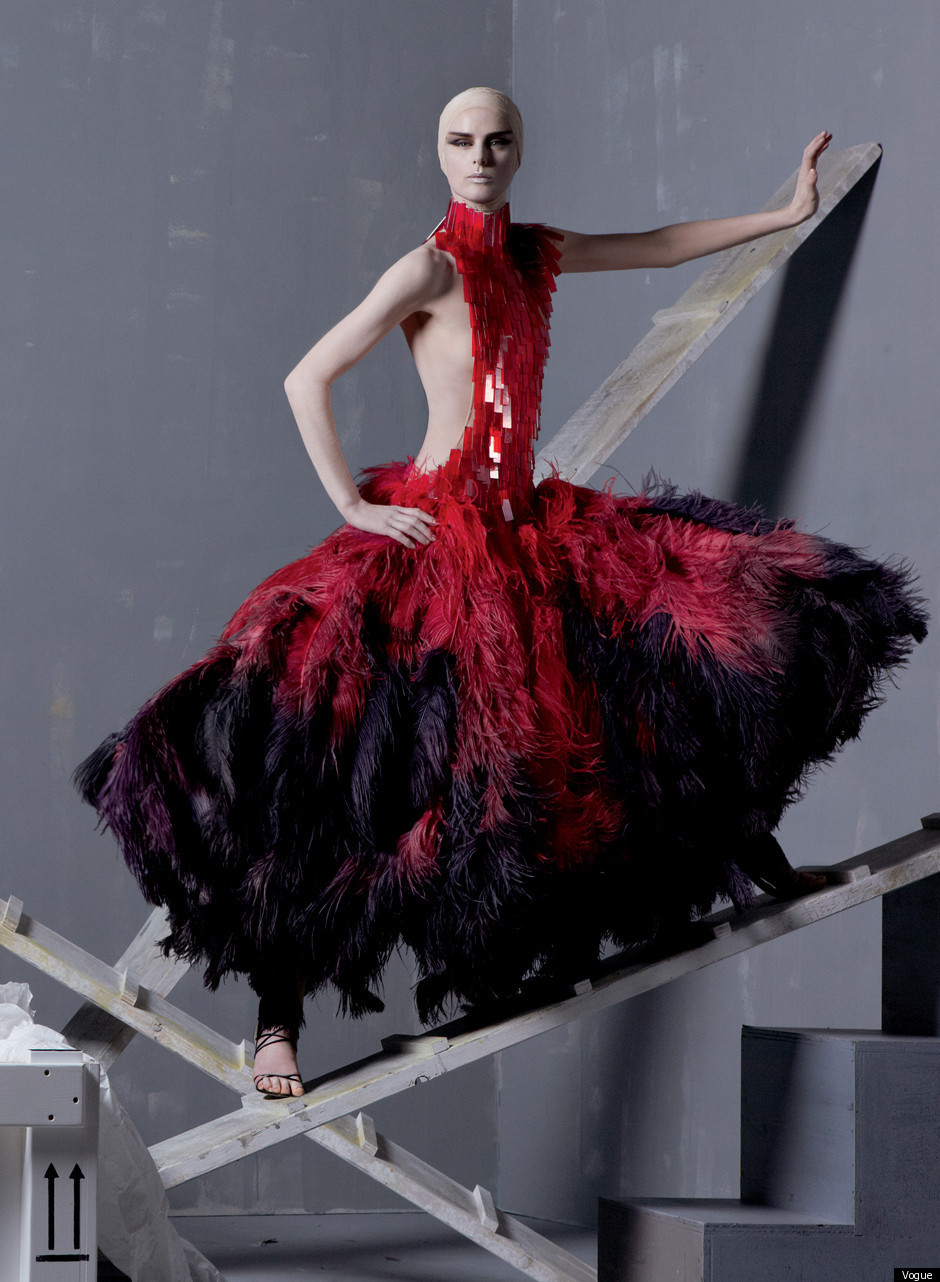 Head over to Vogue.com for more looks. And visit the Met Museum's website for information on this year's Costume Institute exhibition.