Joe Biden's Choice: The University Of New Hampshire's Rape Prevention Efforts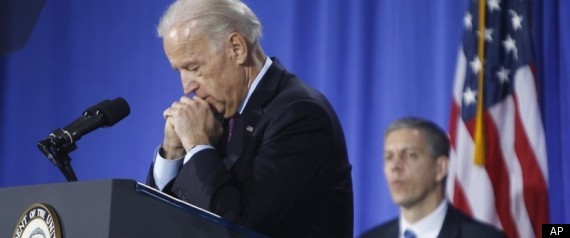 When Vice President Joe Biden and Secretary of Education Arne Duncan wanted to kick off a nationwide campaign on sexual assault awareness, they chose to herald it at the University of New Hampshire.
"You guys are doing it great," Biden told the University during his speech in early April. "You're the model for the country."
He was referring to the university's rape research, prevention efforts, crisis center and awareness campaigns -- initiatives that deal with rape head-on at a time when it is often easier for universities to simply ignore.
"All of this is making sure that everyone on this campus and [in] this community is a part of the solution," Biden said. "They're telling you how to safely intervene. … I wish all colleges had a little more UNH Wildcat in them."
Not all universities, though, are exemplary, according to Duncan.
"Every school would like to believe it is immune from sexual violence but the facts suggest otherwise," Duncan told the crowd. According to data provided by the United States Education Department, nearly 20 percent of college women will be victims of attempted or actual sexual assault. So will about six percent of undergraduate men.
Biden's staff saw the program up close last September, when professors Victoria Banyard, Robert Eckstein and Sharon Potter briefed Lynn Rosenthal, the White House advisor on violence against women, about their work. They also attended a reception at Biden's home to celebrate the 16th anniversary of the Violence Against Women Act.
"Sexual assault is a problem that most universities deal with in silence," said Victoria Banyard, a professor of psychology at UNH who directs its Prevention Innovations: Research and Practices for Ending Violence Against Women on Campus and serves as an advisory board member at its rape crisis center. "There's always been an ambivalence about dealing with this. But it happens everywhere. If we can acknowledge the problem, we can be so much more effective at addressing it than if we just pretend it's not our problem."
"Every school has this problem," said Alison Cares, an assistant professor of Criminal Justice & Criminology at the University of Massachusetts, Lowell. "No school wants to admit it."
While no UNH personnel claim a dramatic decrease in reported assaults -- in fact, the opposite is often observed, since more awareness generally leads to more reporting -- universities around the country have taken notice of what they see as a change of tone at UNH: more students are willing to engage in conversations about the tough issues surrounding rape.
HISTORY OF A CRISIS CENTER
In 1987, a highly-publicized dormitory room gang rape rocked idyllic Durham, NH.
A little after midnight on February 19, three UNH sophomores emerged from a bar after drinking about six beers each. Upon returning to their dorms, they found an 18-year-old freshman named Sara, who had been drinking at a fraternity party. Each had sex with her, one at a time. They boasted about it.
"It was a pretty typical story," Banyard said. "The people at the residence hall gathered around as onlookers, but nobody did anything to help her."
After a public disciplinary hearing -- in which Sara's sexual history was raised -- each perpetrator was found not guilty on May 7. Incensed by the injustice, the campus exploded. Students felt the need to intervene, protesting in deans' offices and across campus. They had had enough.
"It was a real call to action," Banyard said.
Eventually, the university created an ad hoc crisis center, which evolved into the University of New Hampshire Sexual Harassment and Rape Prevention Program. It includes a 24-hour prevention line, peer advocates to help survivors and prevention efforts.
Since the 1987 incident, a group of faculty has conducted studies, funded by the office of the university president, about rape on UNH's campus. "This allows us to really look at what's going on in our community," Banyard said. "It allows us to ... see which prevention measure works in terms of changing attitudes in behavior. We're taking some steps in the right direction."
Similarly, Rutgers University in New Jersey began its rape prevention programming in the early 1990s, in response to an assault. A task force formed around the handling of the event, and an entire department formed around sexual assault and crime victim assistance.