Bad news, stumblers: StumbleUpon's website appears to be down.
A visit to StumbleUpon.com shows a drawing of two bunnies that are apparently hard at work getting StumbleUpon back up and running.
"Looks like there's a problem. But don't worry, we're working on it!" the adorable 404 page reads. "We're working quick like a bunny to fix it, and everything will be back to normal soon."
StumbleUpon has been down at least 20 minutes. StumbleUpon tweeted at around 3:10PM ET, "Growing pains again, folks. While we're down, how about you find your favorite YouTube music video and submit it to SU when we're back up?"
LOOK: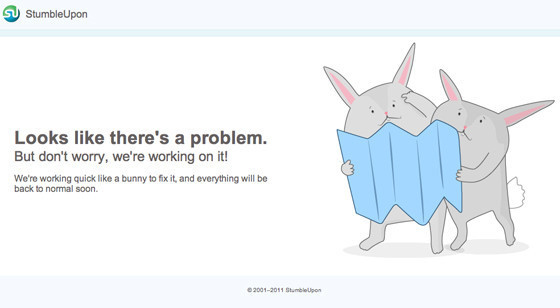 SUBSCRIBE AND FOLLOW
Get top stories and blog posts emailed to me each day. Newsletters may offer personalized content or advertisements.
Learn more