Chris Romer, Michael Hancock Will Face Denver Mayoral Runoff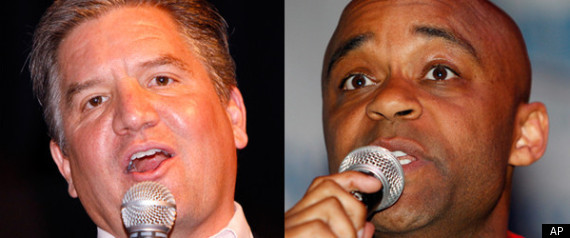 DENVER -- The son of a former governor and a city councilman have emerged as the two top vote getters in the first round of Denver's mayoral election.
Sen. Chris Romer finished first in Tuesday's election. He's the son of former Gov. Roy Romer. Unofficial results show he got 28.5 percent of the vote. Denver City Councilman Michael Hancock finished second with 27 percent.
Since neither won 50 percent of the vote in the 10-way race, they'll meet in a runoff election on June 7.
The results show former school board member James Meija (mah-HEE'-yah) finished about 1,500 votes behind Hancock in third place but hasn't conceded.
The seat was vacated when former Mayor John Hickenlooper was elected governor.
Copyright 2014 The Local Paper. All rights reserved. This material may not be published, broadcast, rewritten or redistributed.