Can Obama Keep The Youth Vote Amid A Bleak Job Market?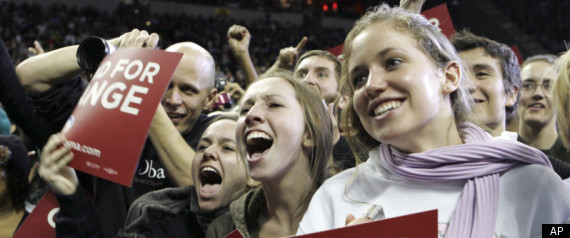 NEW YORK -- At 17, Rachel Marshall spent most of the 2004 presidential election sulking because she wasn't yet old enough to vote.
Four years later, Marshall more than made up for lost time by co-founding the local chapter of Ball State University's Students for Barack Obama.
Early on in Obama's bid for the White House, Marshall, now 24, was drawn not only to Obama's charisma and idealism, but to his authentic ability to connect with young voters.
"You could tell he genuinely cared about our generation and was really focused on the future of this country and what kind of legacy he would make sure to leave for us," says Marshall, who grew up in West Chester, Ohio, where House Speaker John Boehner resides. She is the lone Democrat in a family of Republicans.
After graduating from college during the peak of the recession, Marshall moved back home, unable to find a job. Two years later, she still lives in her mother's basement.
Marshall is not unlike the legions of other 20-somethings who have fallen on hard times since demonstrating a historic show of support during Obama's 2008 presidential campaign
But as so many recent graduates struggle with joblessness, student loan debt and a frustration with what some describe as Obama's unfulfilled promise of change, it is unclear whether the president will be able to resurrect the magic that inspired a generation of young people to pay attention to the political process and to stand behind him.
"I think Obama cracked the code in 2008 in terms of how to engage young people -- he spoke in an inspiring way, he used technology to his benefit, he disproved conventional wisdom," says Matthew Segal, the 25-year-old founder of Our Time, a national membership organization for young Americans under 30.
"This time around, he's running as an incumbent who's confronting many stark realities in terms of what's possible," says Segal, who advises that pragmatism might be substituted for hope and change. To win over young voters, Segal says Obama would do well to work harder at bolstering the number of jobs available for 20-somethings. 
Subscribe to the HuffPost Hill newsletter!