On Thursday morning, Twitter revamped its webapp, and later updated its official client for Mac.
The new Mac app gets a few new much-needed features and some subtle visual tweaks.
The biggest new feature is multi-window support. Now that you can pop out a window with @replies or your lists, you'll no longer feel constrained by the single-window interface.
Having several windows is reminiscent of third-party app Tweet Deck's multi-column layout. However, Twitter's Mac app makes you resize your windows by hand, and they can quickly clutter up the screen.
The Mac app also features a new navigation bar at the top for moving back through pages, as well as auto-complete for hashtags and usernames.
It's available as a free download on the Mac App Store (requires Snow Leopard 10.6).
LOOK: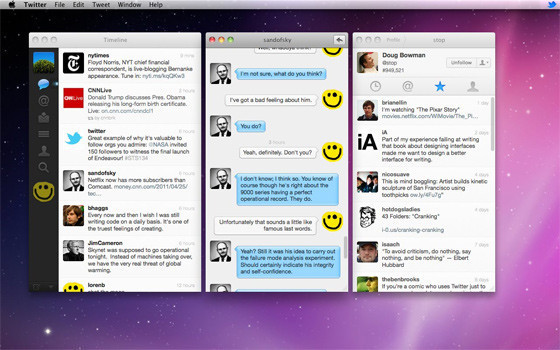 Do you think this new Mac app resembles Tweet Deck?
WATCH: