This post is part of a new series from HuffPostTech, Socialized, that will profile a different social startup--from apps to services to websites--every day. Want to be featured on the site? Email us about your startup, which should have a social media component and be less than two years old, at socialized@huffingtonpost.com.
What's social, free, close, and good for you?
Pick-up sports games, which a new startup, Sportaneous, wants to make easier than ever to organize, find, and play in.
What it is: Sportaneous is a bit like a Craigslist for sports enthusiasts: via its app and website, it provides a way for people to find and schedule group fitness activities, from soccer matches to yoga classes.
The goal is to use social networks like Facebook together with location-based technology to enable users to connect online, then off, to exercise, meet new people, and play sports without the headache of convincing people to commit to weekly league dates. Whether you got off work early or your city got some surprise sunshine that has you itching to go outdoors, Sportaneous enables users to organize spontaneous sports matches without much advance planning (or even many sporty friends).
How it works: Sportaneous allows users to peruse all the suggested games in a particular neighborhood. It is currently available only in San Diego and New York City, though more cities are coming soon.
The site presents a list and map of all the events that have been proposed or confirmed in a specified location. Users also have the option to sort the results by their interests—choose from among 9 categories, including soccer, ultimate Frisbee, rugby, volleyball, boot camp, and yoga—and can both create pick-up games, as well as invite others to join. Each game has a profile that lists the minimum required number of attendees (if there is one), information on when and where the game will be held, as well as a message board attendees can use to plan.
Why you'd use it: Many people would rather work out with others than spend an hour alone on the treadmill, though organizing even a casual sports team can quickly become a headache, given players' competiting schedules, last minute conflicts, and lack of interest. Sportaneous co-founder Omar Haroun recalls an informal sports team he organized with coworkers was forced to forfeit every game of the season because not enough people showed up for each match.
"The heart of the idea was that I've always been someone who prefers playing sports to working out alone and...unfortunately I've found organizing sports games really annoying," Haroun told the Huffington Post. "In Manhattan, you know at any given time that there are people within a 10 mile radius who feel like doing what you feel like doing, but there hasn't been any way to connect with those people before. That's how we had the idea for Sportaneous."

Haroun also sees Sportaneous evolving into a kind of Seamless Web for fitness. He notes that a slew of personal trainers and other instructors have contacted the service to see if they could host lessons and classes for people via Sportaneous as a way of attracting more clients.
"Where Sportaneous is heading eventually is toward yoga and other fitness classes on demand," explained Haroun. "So the same way you order Chinese food on demand, you could order a yoga instructor, who could come to you and a group of people."
Enthusiastic exercisers also stand to earn real-world rewards from Sportaneous, which is offering tickets and special passes to the New York users that play the most games during a month-long period. Or users could meet their next significant other: one user met his current girlfriend via a Sportaneous-organized pick-up game.
How to get it: Visit Sportaneous.com or download the iPhone app from the iTunes App Store.
Take a look: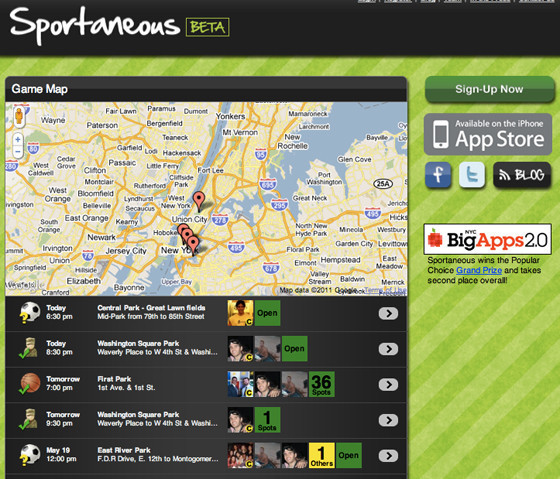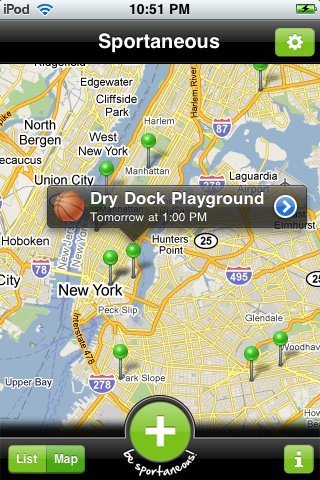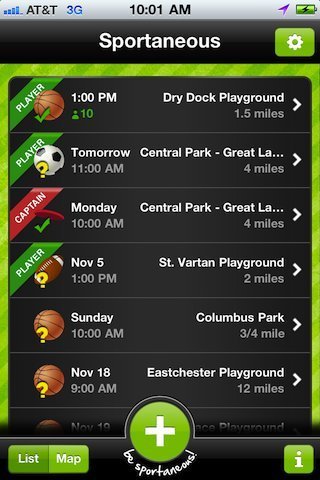 FOLLOW HUFFPOST