Vin Mazzaro Allows 14 Runs As Indians Crush Royals 19-1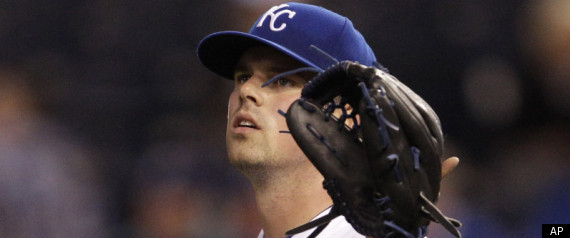 KANSAS CITY, Mo. — Carlos Santana and Asdrubal Cabrera both homered and Travis Hafner hit a bases-loaded double, powering Cleveland past Kansas City 7-3 Tuesday night for a two-game sweep of the Royals.
One night after the Indians romped 19-1 and tied the record for KC's biggest losing margin, Hafner unloaded his three-run double in the first inning off Sean O'Sullivan.
Santana hit a solo home run off O'Sullivan in the fifth and Cabrera made it 7-2 with a leadoff home run in the seventh off left-hander Everett Teaford, who made his major league debut.
Carlos Carrasco (2-2) went 5 1-3 innings for the victory, Cleveland's fifth straight over the Royals. He was charged with two runs on five hits, with two walks and five strikeouts.
It was the third straight win for the revitalized, first-place Indians and took them to 26-13, the best winning percentage in the majors. At this point a year ago they were 15-24.
Royals rookie Eric Hosmer tripled and scored on Matt Treanor's single in the second inning and had an RBI single in the sixth, going 2 for 4.
O'Sullivan (2-3) got off to a horrible start, giving up a leadoff double to Michael Brantley, hitting Shin-Soo Choo and walking Santana. Hafner then made it 3-0 with a bases-clearing double. He also doubled in the fifth following Santana's home run and scored on a single by Travis Buck, who was called up on Monday when Grady Sizemore went on the disabled list. Orlando Cabrera singled in the fourth and eventually scored on Brantley's sacrifice fly.
O'Sullivan, who has made five of his six starts at home, gave up eight hits and six runs in five innings. He had two walks and two strikeouts.
Teaford, called up from Triple-A Omaha to replace Vin Mazzaro, the right-hander who was charged with 14 runs on Monday, went 1 1-3 innings and allowed two hits, including Cabrera's home run.
Santana, who walked three times and doubled in the 19-1 win on Monday, reached base three times with a walk, home run and single while scoring two runs.
Melky Cabrera had an RBI single off Chris Perez in the bottom of the ninth.
Notes: The Royals are taking rookie reliever Nate Adcock out of the bullpen and giving him the start on Sunday against St. Louis. ... After a two-game series in Chicago, the Indians end an unusual four-game road trip and return to Cleveland for a six-game home stand.
Copyright 2014 The Local Paper. All rights reserved. This material may not be published, broadcast, rewritten or redistributed.