The price of oil eroded Americans' spending power over the last several months, according to new post from the Commerce Department.
As oil prices have shot up and gas prices at the pump have followed, consumers and businesses have been forced to pay more for fuel. The average household monthly motor fuel expenditure increased by more than 22 percent between October and March, the post by Commerce Department Chief Economist Mark Doms showed. Even though oil prices abruptly dropped earlier this month, crude has since pared some of its losses, and pump prices remain high, suggesting that fuel will continue to sap household finances.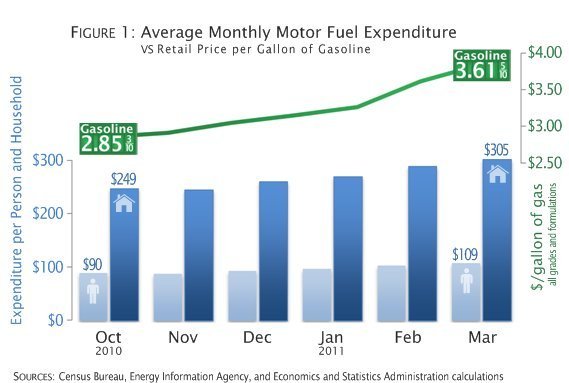 From the Commerce Department
At this rate, the net amount of money the nation pays to other countries for oil is on track to reach about $3,000 per household in 2011, an increase of 25 percent from last year, the note said. This fuel trade deficit per household grew by two-thirds between October and March, and in the first quarter of the year, petroleum-related products made up nearly 60 percent of the total U.S. trade deficit, the note showed.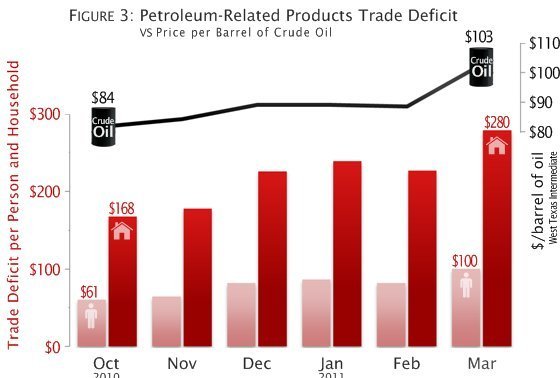 From the Commerce Department
Faced with higher gas prices, some Americans have reported cutting back on driving. But people need to get to work and shop for food -- they can only cut back so much. Every penny increase in the cost of gasoline tears more than a billion dollars from the economy yearly, economists say.
As conflict in the Middle East has stoked commodity investors' fears of a supply disruption in recent months, oil prices have skyrocketed. Even after the price of crude dropped by 10 percent in one day earlier this month, prices are still at levels that recall the summer of 2008, when months of record-high fuel prices helped drag the economy into recession. The price of Brent crude, an international benchmark, is now more than 50 percent higher than it was this time last year.
Clarification: An earlier version of this article stated that the Department of Commerce warned of a continued erosion of Americans' spending power. The Commerce Department does not make economic predictions.
FOLLOW HUFFPOST