This post is part of a new series from HuffPostTech, Socialized, that will profile a different social startup--from apps to services to websites--every day. Want to be featured on the site? Email us about your startup, which should have a social media component and be less than two years old, at socialized@huffingtonpost.com.
If you love online shopping but miss the fun of tackling fellow shoppers out of the way during big sales, sneakpeeq may have a way to scratch your itch. The site combines the speed of flash sales, the discounts and luxury products of a site like Gilt, and a social gaming side that rewards users for frequency and engagement. Sneakpeeq ultimately sets shoppers against each other in a race to buy preferred items first.
What it is: On sneakpeeq, users can browse an array of in-season items that change from day to day. But, unlike traditional sites, only the item itself is shown and prices are invisible until users "peeq" at them for fifteen seconds. The first user to buy the item receives the item, but prices drop as more users look at the product.
"We wanted to create the hustle and bustle of offline and bring it online," said Henry Kim, co-founder along with Harish Abbott, and president of sneakpeeq. "You see pictures flashing when you mouse over, you get to see which friends are actually looking at products--that's how people shop in malls."
How it works: To get started, users first connect through Facebook. Once on the site, they can immediately begin peeqing and shopping. Items are displayed without the price showing. To see the price, they "peeq," revealing the price, and opening a 15 second window in which they can choose to buy the item. Each time someone peeqs at an item, the price is reduced. However, if someone else buys the item before you decide to, it will no longer be available to other, slower shoppers, though it could potentially reappear. Items expire after 24 hours.
Users begin with 10 peeqs per day, and can drive up their number of allotted peeks by bolstering their engagement on the site. Each peeq gives a user one point, while each friend referral gives them 10. A purchase gives a user 100 points. As users gain points and rise in status, they receive more and more peeqs, discounts on shipping, and access to exclusive sales.
"I think game mechanics let us replicate what people are used to: People are used to going into malls," said Kim. "Why do people go into malls? A lot of people are just bored, a lot of it is entertainment, so putting game dynamics into a shopping site makes sense."
Members on the site can look at what other members are peeqing and look at what else they've purchased on the site. Users can send products to friends, or get advice directly through the site. Sneakpeeq also curates each user's homepage offerings based on data taken from their activity on sneakpeeq and Facebook.
"You go to malls and a lot of the purchases are serendipity driven," said Kim. "Right now, nothing out there is really social. There are sites that are e-commerce that have social aspects but you can't suggest something to a friend right away. Everything on our site is happening in real time."
Why you'd use it: While the downside of sneakpeeq may be that users could potentially miss out on items they want, when they do manage to snatch what they desire, the surge of triumph at victory might make up for it. Sneakpeeq takes the excitement of the flash sale and adds incentives for users to peeq (lower prices) and buy (beating other users). And, since items refresh each day, users have a reason to return to the site even if the merchandise on one day is not to their taste.
Rewards for frequent users are plentiful as well. The potential to receive free shipping is certainly a significant lure, as are even more exclusive private sales.
Mainly, though, users may be drawn to the site's attempt to recreate the happenstance of offline shopping. Sneakpeeq shifts the activity of shopping away from simply buying towards browsing, sharing, and discovering.
"Shopping is inherently social, so saying 'social shopping' is just very weird," Kim said. "We're trying to work on the social aspect and what better way than to look at the way people have shopped through history, which is going to malls, to brick and mortar stores. Historically online shopping has been task driven: you know exactly what you're going to get, you type it into search, you get a few prices and you go where you feel safe to buy and that's it, you're done."
How to get it: To sign up, just visit SneakPeeq's website, where you can set up an account using Facebook Connect, or sign up directly on Facebook.
Tell us what you think:
Take a look: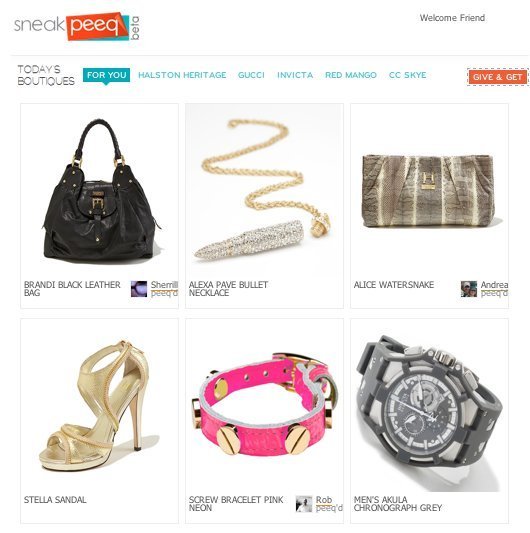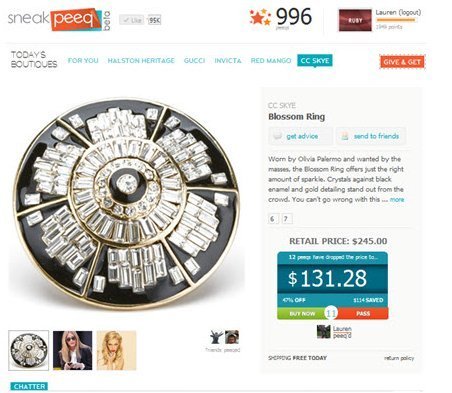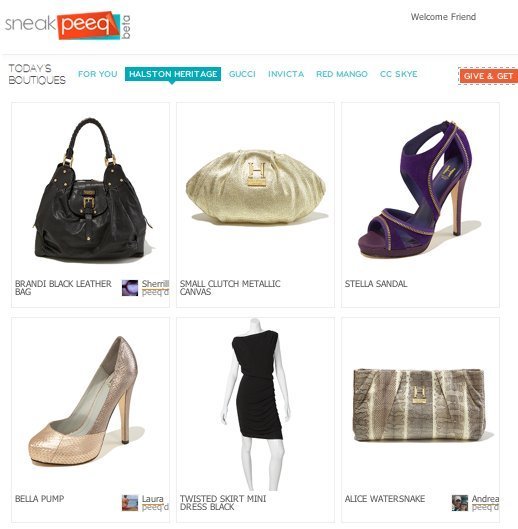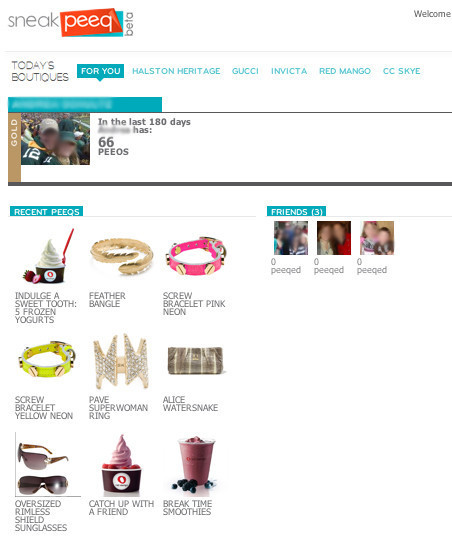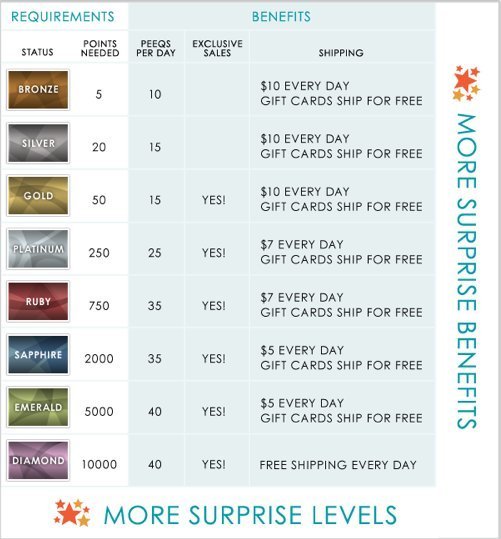 SUBSCRIBE TO & FOLLOW THE MORNING EMAIL
Start your workday the right way with the news that matters most. Learn more