A box office record-setting 3D film, the first of its kind featuring groundbreaking anatomy and created buzz all around the world.
No, not "Avatar." This one's bigger. America, get ready to enter "3D Sex and Zen: Extreme Ecstasy," the Hong Kong-produced 3D porn film -- the first of its kind -- that beat out James Cameron's epic at the city's box offices.
The Hollywood Reporter relays that the film has been purchased for American distribution by China Lion Film Distribution, though a release has yet to be confirmed. The film, about a sexually frustrated teacher in ancient China who finds herself in a harem, made $351,000 on its first day in theaters in Hong Kong, selling out for its entire first week on screens.
More recently, it beat box office competition down under in Australia and New Zealand, beating out the likes of "Scream 4" and "Fast Five" in per-screen gross.
"We're looking at as wide as possible a release for this groundbreaking film in North America and are currently working with our theatrical partners AMC for the US and Toronto, Cineplex for Vancouver and Consolidated in Hawaii," China Lion CEO Milt Barlow told THR. "Announcements are expected in the next few weeks."
WATCH:
PHOTO: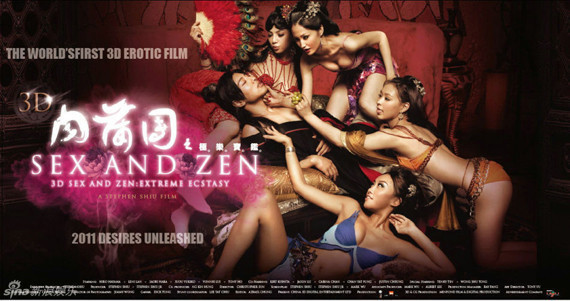 SUBSCRIBE TO & FOLLOW THE MORNING EMAIL
The Morning Email helps you start your workday with everything you need to know: breaking news, entertainment and a dash of fun. Learn more