Lebanon Bomb Wounds 6 U.N. Peacekeepers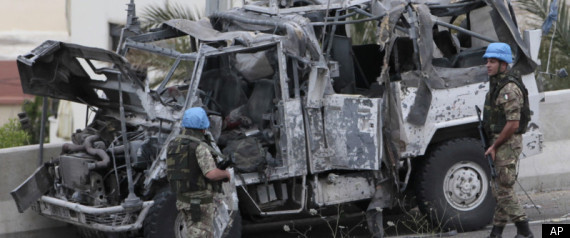 BEIRUT — A roadside bomb ripped through a U.N. convoy carrying Italian peacekeepers in southern Lebanon on Friday, wounding six of them in the first such attack since 2008, officials said.
"It was an attack against UNIFIL," said Italian Gen. Santi Bonfanti, second-in-command of the mission known as UNIFIL, ruling out that the blast was specifically aimed at Italians.
Bonfanti, speaking on Italian state TV, said that one soldier had undergone surgery while another was still in surgery. He said the other soldiers were in good condition.
The explosion struck as the peacekeepers' vehicles traveled south on the main highway in Sidon, leaving a crater in the road and scattered debris from the charred U.N. vehicles. Police said the bomb contained up to 25 pounds (12 kilograms) of explosive material. Two civilians also were wounded.
The U.N. Security Council and Secretary-General Ban Ki-moon strongly condemned the attack.
The U.N. will work closely with Lebanese authorities "to have a full and swift investigation on the attack to bring the perpetrators to justice," Ban said in France, where he was attending the G-8 summit.
The council welcomed Lebanon's commitment to launch an investigation and punish those responsible.
Italian state TV said the blast was caused by a homemade bomb placed just behind the low concrete barrier lining the highway and that two vehicles in a four-vehicle convoy were struck.
"This is a despicable act that is clearly directed at undermining U.N. Security Council resolution 1701 and stability in the south," Singh said. He was referring to the resolution that ended the 34-day Hezbollah-Israel war in 2006, which killed more than 1,200 Lebanese and 160 Israelis.
The peacekeeping force is deployed in southern Lebanon to monitor the border with Israel.
The last bomb attack on peacekeepers was in January 2008, when a roadside bomb struck a U.N. vehicle traveling along the coastal highway south of Beirut, lightly wounding two peacekeepers.
The deadliest attack was in June 2007, when a bomb hit an armored personnel carrier near the Israeli border and killed six Spanish peacekeepers.
No group has claimed responsibility for any of the attacks.
Friday's explosion comes amid rising tensions in Lebanon, which has been without a government since January after the Hezbollah militant group and its allies walked out of the Cabinet. A deadlock between Hezbollah and its Western-backed rivals in Lebanon has delayed the formation of a new government.
There are also concerns that unrest in neighboring Syria, which has seen more than 10 weeks of protests against the autocratic government there, could spill over into Lebanon.
Damascus has long held significant influence in Lebanon.
In Washington, State Department spokesman Mark Toner condemned the attack and said the U.S. would work with the U.N. to gather details. He called on Lebanon's government to "conduct a full investigation into the incident, the circumstances of the attack, and to ensure that the perpetrators are swiftly brought to justice."
Asked about Syria's possible involvement in the attack, Toner said the U.S. didn't know who might be responsible.
The explosion came the same day that UNIFIL commemorates the International Day of United Nations Peacekeepers to honor colleagues who lost their lives in the line of duty.
Italian Foreign Ministry officials had initially said one peacekeeper was killed in Friday's blast, but the joint chiefs of staff's office later said nobody was killed.
There are nearly 1,800 Italian soldiers, including a naval component, in the UNIFIL mission.
Italian Premier Silvio Berlusconi in a statement expressed solidarity with the wounded "and to our young people involved in the peace mission."
A minister from the Northern League party that is Berlusconi's main coalition partner reiterated his party's line that Italy should reduce its participation in foreign military missions.
"I will keep contending that we are committed in too many missions and in too many countries," Roberto Calderoli told the ANSA news agency.
Northern League leaders recently criticized Rome's decision to participate in NATO's bombing missions in Libya. Italian soldiers also participate in the NATO mission in Afghanistan.
___
Associated Press writer Frances D'Emilio contributed to this report from Rome.
___
Zeina Karam can be reached at http://twitter.com/zkaram
Copyright 2014 The Local Paper. All rights reserved. This material may not be published, broadcast, rewritten or redistributed.