Huma Abedin: Biography Of Anthony Weiner's Wife (PHOTOS)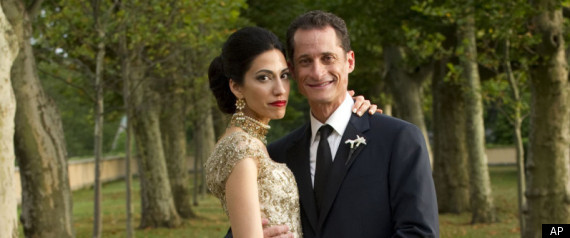 By all accounts, Huma Abedin, the wife of Rep. Anthony Weiner (D-New York), has been unwittingly pushed into the spotlight following her husband's admission on Monday that he sent lewd photos to women he had met online.
Abedin, who's 35, was noticeably absent at the press conference when a tearful Weiner, 46, confessed to the inappropriate relationships but also said that he and his wife "have no intention of splitting up over this."
So just who is Huma Abedin?
Known as "Hillary Clinton's secret weapon," Abedin began working for the secretary of state as an intern in 1996, before the first lady herself became a focus of attention as a bystander in the Clinton-Lewinsky sex scandal.
Since then, the Michigan-born but Saudi Arabia-raised Abedin has ascended the ranks, with positions as a personal aide and advisor to then Senator Clinton as well as "traveling chief of staff" during her presidential campaign. She currently serves as a deputy chief of staff to Sec. Clinton. She was named this past fall to Time magazine's "40 Under 40" list of New Civic Leaders, where the profile referred to her as Hillary Clinton's "shadow."
Abedin, who speaks Arabic fluently (her father, who passed away in 1993, was of Indian descent and her mother, a professor in Saudi Arabia, is from Pakistan), is a practicing Muslim. Her husband, who's Jewish, has been known to fast with her during Ramadan.
She's also known for her impeccable style, favoring designers like Marc Jacobs and Prada. Oscar de la Renta, a friend, designed her dress for her wedding to Rep. Weiner last summer.
In a 2007 New York Observer profile (it should be noted that Abedin declined to be interviewed for it) then Hillary Clinton press secretary Philippe Reines called Abedin "one in a million," but conceded "that would mean there are 5,999 others in the world just like her, and there simply aren't."
"She is truly one of a kind, one in a billion. We are all in awe of her poise, grace, judgment, intellect and her seemingly endless reserve of kindness, patience and energy."
Read more about Huma Abedin in this 2007 New York Observer profile.
Scroll through the slideshow below for pictures of Huma Abedin.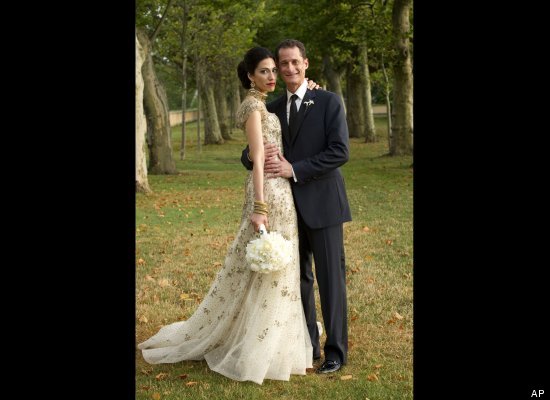 Laurie Watkins

said on 7 Tuesday 2011 pm30 8:21 pm:


She appears to be an intelligent, lovely person. Too good for a junior high nutbag with a raging libido. Looks like if she leaves him, it will be a very big loss for this man. A bigger loss than his seat in Congress or his political reputation.
Total comments:
1696
|
Post a Comment
Correction: Abedin's age has been corrected. She is 35, not 34.