Detroit Announces New Authority For Failing Schools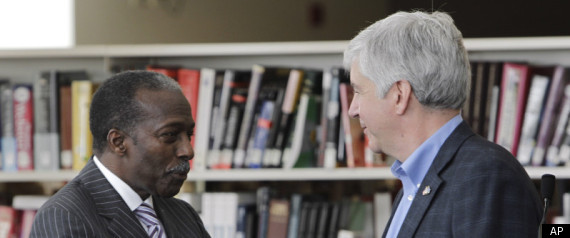 HOW IT CAME TO BE
The state planted the seeds for implementing this type of reform in 2009 by passing legislation to pad its application for federal Race to the Top grant dollars, said Michael Addonizio, Associate Professor of Educational Leadership and Policy Studies in the College of Education at Wayne State University, in Detroit.
"This idea of the 'lowest five percent' [of schools] has been around for awhile," Addonizio told HuffPost.
Despite passing the required reforms, Michigan lost the Race to the Top competition. But officials say EAS, with all its bells and whistles, comes under the auspices of those laws.
"When we did Race to the Top, the failing schools had to be addressed," said state Sen. Phil Pavlov, a Republican involved in crafting the EAS plan. "This partnership is another tool to help implement that."
Snyder first approached EMU several months ago, according to Roy Wilbanks, chair of the Board of Regents at the university.
"If we can be of service to any of the k-12 districts out there, I think it's incumbent upon us to provide any service and expertise we can," he said. But when pressed for specifics on the day-to-day management of the schools, he told HuffPost, "You probably know more about this than I do."
The plan was developed to mirror earlier efforts by former DPS emergency manager Robert Bobb, as revealed in documents subpoenaed by a lawsuit, said Donna Stern, national representative of BAMN, an activist coalition in Detroit. Bobb's plan called for an aggressive conversion of failing DPS schools into charter schools, but had been since tempered by Roberts.
When asked whether EAS would focus on creating charter schools, Wilbanks pointed to the eight charter schools EMU runs across Michigan. "That's one mechanism we might use to improve performance," he said.
The FAQ on EAS says the system will include input from "top quality charter authorizers" in developing its "objective criteria for identifying high quality schools."
"Performance against these criteria will be the basis for all decisions made within the EAS," the fact sheet reads.
Anthony Adams, president of Detroit's school board, said he had heard bits and pieces of the plan over the last week.
Before Monday's announcement, the school board -- which has been stripped by the emergency manager of its powers -- met with Roberts to learn about the plan's details. That meeting resulted in a heated exchange, Adams said, when one member asked for details on eliminating the district's debt.
"One of our board members wanted more detail regarding the deficit elimination portion of the plan," Adams told The Huffington Post. "The emergency manager didn't necessarily like the questions. People here are very aggressive."
Requests for comment from Roberts following the news conference were not returned.
IMMEDIATE OPPOSITION
The official announcement took place at Renaissance Academy, a high-performing magnet school.
Some teachers were curious to hear about the changes to their schools, but they were turned away at the door, so they started picketing, forming a crowd of about 20.
Joined by several students, they chanted: "No layoffs, no cuts, Detroit won't get to the back of the bus."
Among the student protesters was Leroy Lewis, a 16-year-old rising senior at Southeastern High School.
"They were holding a press conference to destroy public education, so I wanted to see it," he told HuffPost. "My school is on the list of failing schools. I'm prepared to fight around it and gather up support."
"They took our teachers away, cut our fine arts program. It's very difficult to learn here," he added.