G.I. Bill Cuts: Veterans Enrolled In College Face Uncertain Futures
MADISON, Wis. -- Nearly two years ago, Stephen Lee uprooted his wife and two children from their home in Clarksville, Tenn., to study political science here at the University of Wisconsin.
As a 31-year-old Army veteran, Lee took advantage of one of the most successful tuition assistance programs in the nation's history -- the G.I. Bill. In exchange for his nine years of military service, the federal government agreed to pay for Lee's college education.
But on a brittle February night, the rules suddenly changed. At a Vets for Vets meeting on campus, Lee listened in disbelief as a university official told his classmates that the government had reneged on its original promise. In December, Congress voted to cut their G.I. Bill benefits.
Lee closed his eyes and bowed his head. The official said that, beginning in August, out-of-state residents at the university would face caps on their tuition assistance pegged at whatever in-state students had to pay. Lee, who became a Tennessee resident while stationed at Fort Campbell, now owed an extra $8,000 per semester. Beginning next fall, he and 56 other out-of-state residents attending the university on the G.I. Bill needed to come up with $16,000 in order to finish out the year -- an increase in cost none of them could afford without going into debt.
When Lee, a first-generation Korean-American, moved his young family to Wisconsin, taking out loans in order to graduate wasn't part of the deal. The Post-9/11 G.I. Bill promised to cover his educational expenses in exchange for his military service during the previous decade. But then the rules changed.
"When I came to school here, the Post-9/11 G.I. Bill meant that I wouldn't be on the hook for any tuition -- it meant that I'd be covered," says Lee, over beers and brats one recent afternoon on the banks of Lake Mendota. He now feels let down by his country. "I see my time in the military as my service. I volunteered to do it. And while I don't think it necessarily entitles me to have the country now bend over backwards for me, if you say you're going to do something, you should do it."
Since going into effect in August 2009, the Post-9/11 G.I. Bill has provided generous educational support for veterans returning home from war. It is the successor to the original G.I. Bill, or the Serviceman's Readjustment Act of 1944, which enabled millions of World War II veterans to attend college. In addition to money for school, the original G.I. Bill provided loan guarantees to 19 million veterans, enabling them to purchase homes and farms and start small businesses.
In America prior to the Second World War, only relatively affluent elites owned homes or went to college. The G.I. Bill helped lower the barrier of entry for the average citizen. It suddenly made the American Dream of homeownership and a college education accessible to a new generation of young people.
According to the U.S. Department of Veterans Affairs, nearly half of the 16 million WWII vets used the original G.I. Bill for college between 1945 and 1956. Over the past two years, the ranks of veterans attending American institutions of higher education has again swelled -- with more than 500,000 now using the Post-9/11 G.I. Bill.
Under the first version of the bill, a veteran who served for a minimum of three years after Sept. 11, 2001 received a full tuition subsidy from the government if they enrolled at a public college. He or she also received a monthly housing allowance, which varies according to residency, and a $1,000 annual stipend for books. Yet another provision, the Yellow Ribbon Program, enabled veterans to attend private schools as well as graduate and doctoral programs.
All of that changed in December of last year when Congress voted to amend the enhanced G.I. Bill by capping tuition assistance for out-of-state residents according to in-state public rates. Meanwhile, veterans attending expensive private schools will face a $17,500 cap on tuition. Prior to the change, caps varied widely. For instance, student veterans in Mississippi were capped at $805 per semester, while veterans attending schools in Florida were capped at $43,660 per semester. The new rules increased benefits for some while decreasing coverage for many others.
In recent months, Rep. Jeff Miller (R-Fla.) and Sen. Charles E. Schumer (D-N.Y.) have introduced separate pieces of legislation aimed at grandfathering in veterans currently enrolled in private schools whose tuition would skyrocket in August -- or about 30,000 veterans, according to Miller's office. Currently, no provision exists to cover out-of-state veterans attending public schools.
The V.A. doesn't track where student veterans reside, so the precise number of out-of-state students these changes affect is unknown. Student Veterans of America, a national coalition of student veteran's groups on college campuses, estimates that it may involve upwards of 80,000 out-of-state residents -- veterans that aren't protected under either Schumer or Miller's grandfather clause.
"The goal was to cover the greatest number of veterans impacted by this change, while using the limited amount of available money to do the most good," says a spokesperson for Miller. Schumer's office declined to comment on why his proposed legislation doesn't include out-of-state veterans attending public institutions.
In mid-May, Miller's bill made it through the House Committee on Veterans' Affairs. Schumer's bill now awaits a markup with the Senate's Veterans' Affairs Committee, which is chaired by Sen. Patty Murray (D-Wash.). The markup is scheduled for the middle of next week. While out-of-state student veterans at public schools could be added, additional tuition assistance is unlikely. Even for veterans, most increases in federal spending are simply untenable in the current economic and political climate.
What all of this seems to boil down to is that future veterans returning home will face limited options for higher education. Going forward, most will attend a public institution as an in-state resident -- or forgo the dream of a college degree altogether.
For veterans, the in-state requirement is a particular burden. Their twenties are commonly peripatetic. Many decide to establish residency in a state where their military base is located or maintain residency in the state where they last lived in high school. When their service is up and civilian life beckons, many scatter and choose to put down roots in states where they haven't lived previously. Several states, Wisconsin included, don't allow full-time students to become residents while they're enrolled in school.
Faced with a bleak job market, many young veterans are finding it difficult to make a seamless transition from military service back to civilian life. Over the past two years, unemployment payments to returning servicemembers have nearly doubled. And according to the U.S. Bureau of Labor Statistics, the jobless rate for male veterans between the ages of 18 to 24 is 30 percent. For young people in the population at large, the jobless rate is 18 percent.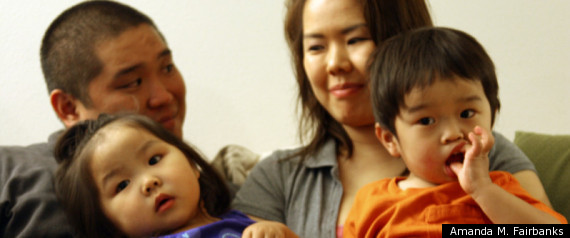 Lee with his wife, Ayumi, and their twins, Amelia and Lawrence.
In the weeks following the announcement about tuition caps at the University of Wisconsin, Lee debated whether he should drop out for a year in order to establish residency. He also weighed the option of relocating to another state. But abandoning Wisconsin and his lifelong dream of a college degree wouldn't only affect Lee.
He mostly fretted about how to break the news of the G.I. Bill cuts to his wife. They currently live on his fixed income of $1,300 a month, combined with their savings. Taking on more debt in order for him to graduate simply isn't an option. They were barely scraping by as it was.
"When I came to school here and ran those numbers, we made the decision as a family based on how affordable it would be," says Lee. While he realizes a college degree is no longer a path of guaranteed riches or stability, entering an unstable job market as a 31-year-old with only a high school diploma seemed a far riskier bet. "I ran those numbers in good faith based on the promises our country made not just to me, but to my family. It really feels like a bait and switch."