Dominique Strauss-Kahn Freed: Timeline Of The Former IMF Head's Sex Scandal (PHOTOS)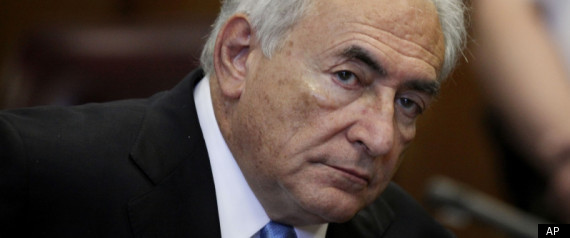 After being confined to a New York City loft for weeks on house arrest, former International Monetary Fund leader Dominque Strauss-Kahn was released Friday amid speculations that he was the victim of a political set-up.
As the Associated Press is reporting, the charges against Strauss-Kahn -- which include attempted rape of a Manhattan hotel maid -- have not been reduced. However, the credibility of the 32-year-old maid making the allegations has now reportedly been called into question, with defense lawyers now saying the alleged sexual encounter may have even been consensual. "It is a great relief," Strauss-Kahn's attorney, William Taylor, is quoted as saying. "It is so important in this country that people, especially the media, refrain from judgment until the facts are all in."
French Strauss-Kahn supporters cheered his surprise release, and many now hope his now-disgraced political career could be reborn, according to the Washington Post.
Take a look at a timeline of events in the case below:
Loading Slideshow
May 13

Strauss-Kahn checks into the Sofitel Hotel near Times Square in New York City.

May 14

A 32-year-old hotel maid contacts police, claiming that Strauss-Kahn emerged nude from the bathroom in his $3,000-a-night suite and sexually assaulted her. Strauss-Kahn is arrested at John F. Kennedy Airport where he had boarded a Paris-bound flight.

May 16

After appearing in court where he is formally charged, Strauss-Kahn is sent to New York's Rikers Island instead of being granted bail. He is placed on suicide watch while at Rikers.

May 18

Strauss-Kahn <a href="http://www.guardian.co.uk/world/2011/jul/01/timeline-strauss-kahn-case" target="_hplink">formally resigns</a> as managing director of the IMF and denies all the allegations. He is formally indicted by the grand jury and the seven charges against him are confirmed. He faces a potential maximum of 74 years prison if convicted.

May 20

Strauss-Kahn is released from Rikers and moves into a temporary apartment near Wall Street, where he must submit to round-the-clock surveillance under house arrest. He later moves to a Tribeca townhouse rented for a reported $50,000 a month.

May 27

Just days after media reports suggest that that traces of Strauss-Kahn's semen have been found on the maid's shirt, French President Nicolas Sarkozy calls the case a "sad" affair.

June 7

The former head of the IMF <a href="http://www.guardian.co.uk/world/2011/jun/07/dominique-strauss-kahn-denies-attempted-rape" target="_hplink">pleads</a> not guilty to allegations of attempted rape and the sexual assault of a hotel maid. Hundreds of hotel workers<a href="http://www.guardian.co.uk/world/2011/jun/07/hotel-workers-fury-strauss-kahn" target="_hplink"> reportedly</a> gather outside the Manhattan courthouse, where they shot their disapproval at Strauss-Kahn.

June 28

After weeks of speculation, Christine Lagarde is <a href="http://www.huffingtonpost.com/2011/06/28/lagarde-imf-christine-elected_n_886148.html" target="_hplink">formally appointed</a> to replace Strauss-Kahn as IMF managing director.

July 1

Strauss-Kahn walks out of court without bail and free from house arrest after prosecutors <a href="http://www.huffingtonpost.com/2011/07/01/dominique-strauss-kahn-released_n_888593.html" target="_hplink">acknowledge</a> there were questions about the credibility of the hotel housekeeper who accused him of sexual assault.