Mohamed Magid: A Portrait Of An American Imam
STERLING, Va. -- In the middle of the night a few years ago, Imam Mohamed Magid got a peculiar phone call from a young man who attended his Northern Virginia mosque. The man, who was in the car with a woman, wanted to know if the imam could perform a marriage "right now" in a parking lot so the man could wouldn't feel bad if he had sex.
"I'm not 7-Eleven," Magid shouted back.
Recently, another man came to the imam's office crying because his wife was acting as a surrogate mother for a relative who could not carry a baby. The man couldn't handle seeing his wife pregnant with a child that wasn't his. He asked: Was the pregnancy allowed by Islam's rules?
The imam didn't know what to say. "Islamic scholars centuries ago never faced these issues," said Magid. He started researching religious rulings on marriage and sex. Surrogacy is fine, he told the man, before adding that the man's biological child could never marry the surrogate child. "Being an imam in America, it's shocking sometimes," he said, "but my first duty is to comfort others."
For 14 years, Magid has been the imam of the All Dulles Area Muslim Society, a Muslim congregation on the outskirts of the Washington, D.C., suburbs that has quickly grown from a high school gymnasium prayer site to a multimillion-dollar mosque and community center that serves 5,000 Muslims. It's one of the largest Muslim congregations the United States.
Unlike many of the 1,500 mosques around the country, which often function for little more than Friday prayers, ADAMS has several full-time staffers and a gamut of activities and services. They range from badminton and basketball games in its prayer hall during off hours to Muslim Boy and Girl Scout troop meetings on its lawn, martial arts courses, health seminars, Arabic and Quranic recitation classes and a community garden. Magid is at the center of this network, which spans 10 buildings in Northern Virginia and Washington, D.C.
Magid, 45, was elected in September as president of the Islamic Society of North America, the largest Muslim group on the continent and one that will bring 40,000 Muslims to its annual national conference this weekend in Chicago. He has become known among Muslims-Americans -- sometimes controversially -- for forging relationships with people with whom the community has strained relations, from pundits and politicians to federal agents, and he has increasingly become a sought-after figure in spaces that are sacred and secular.
"To establish a better Muslim image, we need to actually talk to people," said Magid. It's a mission that has led Magid to many high-profile calls for understanding.
Recently, at the invitation of hip-hop mogul and Foundation for Ethnic Understanding chairman Russell Simmons, Magid found himself on the top floor of a midtown Manhattan skyscraper with Donald Trump, summoned to a meeting to soothe tensions and convince Trump to tone down anti-Islamic rhetoric. He described Trump as "friendly" but indicated that the businessman didn't make any concessions about his words on Muslims. "Sometimes, we can be arrogant. We walk into situations thinking people don't want to like us," said Magid.
By definition, an imam leads Muslims in prayer, a function that can be fulfilled by any Muslim man that has memorized Islamic prayers. Increasingly, however, imams are playing broader roles akin to ministers and rabbis, even seeking professional training, as growing Muslim populations look for services such as Islamic relationship counseling, immigration assistance and help with Islamic financing.
"I never planned to be an imam," says Magid, who was born to a well-known northern Sudanese family in Alrakabih, a village by the Nile River. Magid studied Islam from an early age under his father, one of the top Sunni scholars in the nation, and under his contemporaries. As a teenager, he aspired to be a professor and entertained the idea of teaching at his father's alma mater, the prestigious Al-Azhar University in Cairo.
Those plans were upended in 1987, when Magid moved to Washington with his ailing father, who needed a kidney transplant. With scant qualifications beyond his theological training, Magid had to find work.
Magid soon became enamored with the region's diversity. "My dad had two doctors. One was Jewish, the other was Muslim. It was the first time I had met a Jewish person," he says. "I remember my dad saying, 'look at the beauty of America, you can have these two men working side by side.' "
Leading prayers and teaching classes at the Islamic Center of Washington and at Howard University, he realized that Muslim Americans -- many who were also immigrants -- needed more than just a prayer leader. Magid enrolled in college courses in psychology and family counseling and, at one point, holed himself up at home to watch "Eyes on the Prize," a 14-hour documentary on the civil rights movement. "I wanted to understand my place as an imam of color," he explains.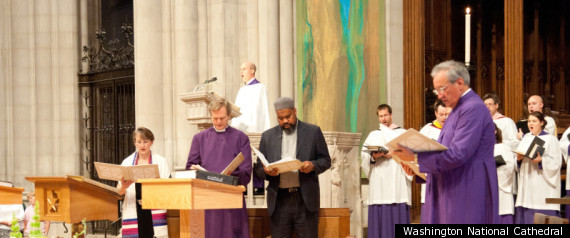 Imam Mohamed Magid reads from the Quran on June 26, 2011, at Faith Shared, an interfaith event at the Washington National Cathedral organized by Interfaith Alliance and Human Rights First.
When Magid talks about other religions, he often refers back to that first experience of a Jewish doctor treating his father and to his Catholic in-laws (his wife converted to Islam before they met) who live in Colorado.
"Today, many people claim that it's their faith that drives them to dislike and wrong other people. They are misunderstanding," he recently said in a sermon to hundreds of worshipers who packed ADAMS for Friday prayers. He told congregants to "be good neighbors" because "the more they get to know Muslims, Americans have better perspective of and views of them."
Magid serves on several interfaith organizations and in recent years has rented two prayer spaces from synagogues for Friday prayers. He often peppers his sermons with praise of his "Jewish and Christian friends" and the discussions he has with them. Not long before this particular Friday, he had met with the Episcopal Bishop of Washington, D.C., to discuss the congressional budget. A group of Christian leaders had recently formed an alliance to call on the federal government to not cut social services to the poor, and the imam and bishop were initiating a similar multi-faith effort. "The budget is a moral document," the imam kept saying, urging congregants to practice Zakat, an Islamic obligation to give to the poor.
"There are many mosques out there working with other houses of worship, but Imam Magid is out at the forefront," says Rabbi Amy Schwartzman of Temple Rodef Shalom, a Reform congregation in Falls Church, Va., that has partnered with ADAMS on interfaith dialogue groups.
But beyond being motivated by personal experiences, the imam's involvement in interfaith relations in his community is also a strategic move.
"I'm under a microscope," Magid said recently while driving the 45-minute commute to ADAMS Center from Washington, D.C., where he had read the Quran from the pulpit as part of a national day of interfaith services. "As an imam, people are always watching what I do."
Magid has spoken out loudly against Islamic radicalism. "The first thing God almighty will ask on the day of judgement," he often tells congregants, "is about the taking of innocent life." He also openly acts as a liaison to the government, reporting suspicious characters who enter the mosque to the FBI.
"If somebody is confused about their ideology, he says. "I want to show them the right way, but if somebody is determined to commit violence, it's not my job to stop them, it's the law enforcement. I have to report."