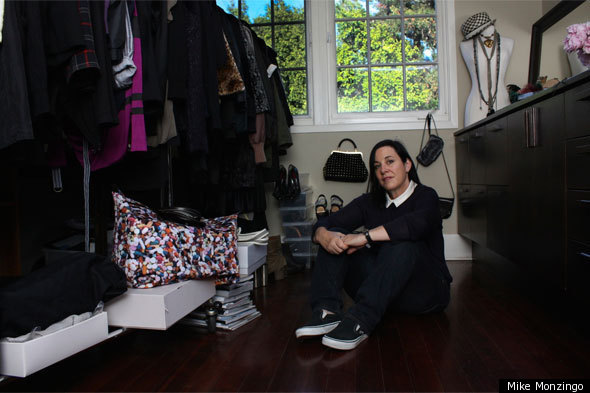 Closet Case is a new column in which we invade the wardrobes of our real life style icons. Here Arianne Phillips, costume designer, fashion editor and stylist, lets us in to her closet. In addition to being Madonna's stylist for over a decade and being nominated for both a BAFTA for her work on Tom Ford's "A Single Man" and an Oscar for "Walk the Line," Phillips has worked at Harper's Bazaar, Vogue, Numero, W and The Face magazines as well as on campaigns for brands like Dolce & Gabbana, St. John, Valentino and many more. Phillips lives in Los Angeles:
How do you organize your closet?
My closet is always at best- nothing but controlled chaos. I try to keep it organized by using black hangers, clear plastic shoe boxes, and lots of hooks to hang my bags.
What item do you have the most of?
Jackets & shoes
What is your daily uniform?
It used to be black , now I am wearing more color.
Do you own anything that you will never wear again?
No I have the 1 year rule. If I haven't worn it in a year, I get rid of it.

What is your favorite recent purchase?
A Norma Kamali bathing suit, I have wanted one for 20 years !
What do you keep in your handbag?
My bag is my mobile office in it I have sunglasses, car keys, blackberry, iPad, mints, Tom Ford lipstick, wallet, zip wallet for receipts only, loose change, mini post-its, highlighters and various pens.
Craving more of Arianne? Take a peek in our gallery to see her dressing table and closet up close!
FOLLOW HUFFPOST